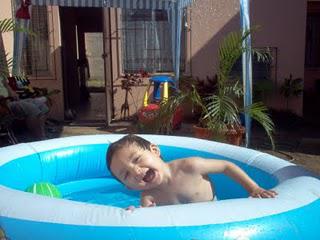 We have a kiddie pool at my house, but we don't leave the water in it. I dump it out after every use. That means the water is super cold and my kids freeze for the first hour, but you never know whether a kid will walk into your yard and jump into the pool when you're not looking. So I don't leave water in it. It's too risky. I do hate it when I see kiddie pools in backyards in my neighborhood. It makes me so nervous. I think people just don't realize how easy it is for kids to drown in those things. And like this article states, drowning in a kiddie pool is quiet and fast. It's really scary. It's one reason we usually just turn on the sprinkler on at our house on hot, humid days!
FROM NBC: A warning about those inflatable kiddie pools many parents set up in the backyard: A new study shows a child drowns every 5 days in this country in a portable pool during the summer months.
3-year-old Jaelynn Mckinney died in her backyard last year - when she drowned in her family's portable pool. She'd been left alone for less than 5 minutes. Dr. Gary Smith - Nationwide Children's Hospital, Columbus, Ohio: "Drowning is quick, it's silent, and it's final." A new study from Nationwide Children's Hospital in Columbus, Ohio finds between 2001 and 2009 more than 200 children drowned in kiddie pools.
The vast majority were kids under age 5. most drowned in their own backyard. Dr. Gary Smith/Nationwide Children's Hospital in Columbus, Ohio: "Parents that understand the hazards of an in-ground pool may not appreciate that the same hazards exist for a portable pool."
The Association of Pool and Spa Professionals says parental supervision is key -- and adds: "Supervision means actively watching your child without any other distractions." Experts give moms and dads the same advice they'd give their own children: when you're finished playing, clean up.
Elisabeth Doherty - Frager's Hardware, Washington, DC:"When you're done, drain the pool, just turn it upside down, let it dry, just to make sure there's no water in it. Kids can potentially drown in 2 inches of water, so you just need to make sure your pool is drained." The pool industry also supports the use of alarms and covers for permanent backyard pools.
-NewsAnchorMom Jen
Skin Dimensions, SB products are manufactured with Pharmaceutical-Grade ingredients. Products are not just "Feel Good Products," as they contain unique and innovative ingredients in concentrations that can assist you in the achievement of your own personal skincare objectives. Our products contain higher percentages of Glycolic, Vitamin A, C, E, Co-Q10, green tea, than what you can usually purchase over the counter.