Those of you who have read this blog for a while might be able to cast your minds back to 2014 (when we were all so young and beautiful) when I wrote
a post
on visiting Farringford, home to Alfred Lord Tennyson.  At that time the hotel was under a great deal of restoration and the such-like but in recent years a transformation has occurred and now common folk, like what I am, can pay their shilling and have a good old shufty around the majestic home of the Laureate.  So I had a damn good wash and got on a ferry...
When I visited half a decade ago I was tempted to lurk in a hedge like a Tennyson groupie, but this time you are directed to a nicely appointed car park at the other end of the garden.  Having got myself booked in to my tour (there are a few every day and I went for the lunchtime one) I got to potter around a beautiful garden where some bumble bees were getting lushed on giant thistles.
Bumble bee, getting plastered in pollen and rightly so
Making my way towards the house, I skirted round to find the Watts sundial.  Designed by Mary Seton Watts as either a gift and/or a memorial, it reminded me naturally of the chapel at Compton.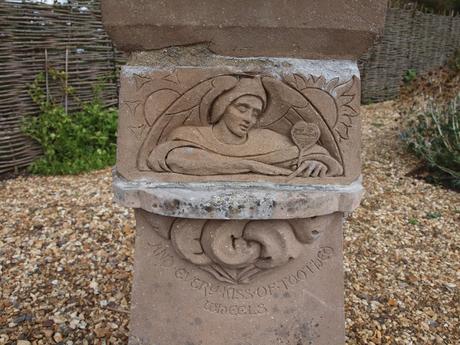 One side of the wonderful sundial...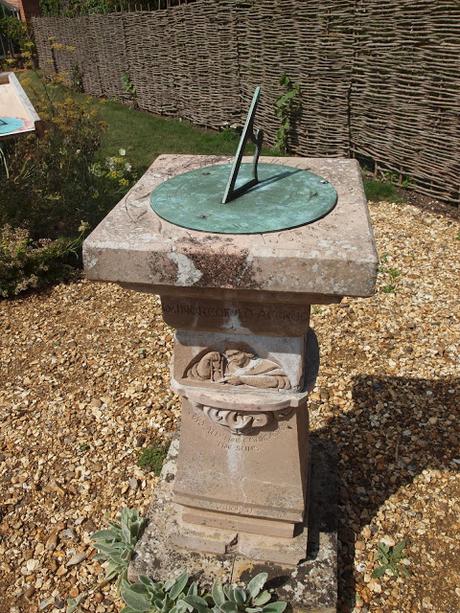 Oh look, it's time for my tour!
Well, that's just splendid and nestles in a little cutting just off the main path to the house.  I was fortunate that the day I visited was hot and sunny (unlike the rest of the week) so I got to see the garden in all its glory, but onwards I tramped, up towards the house...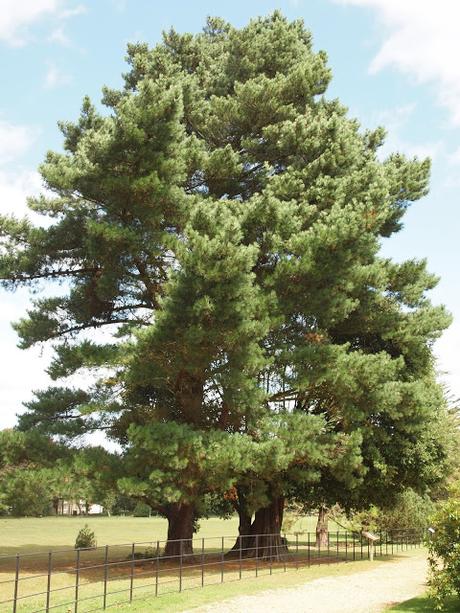 Massive important tree!
I had to wait a bit before being collected for the tour and so I made my way onto the lawn rolling down from the front of the house and visited the massive Wellingtonia tree opposite the front door which bears a very battered plaque...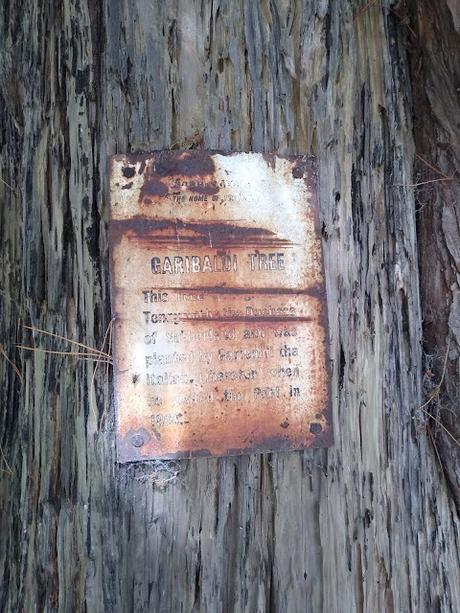 When Giuseppi Garibaldi, illustrious military leader and biscuit, visited in 1864, he planted the tree and now it towers grandly out the front, well part of it anyway.  I got to have a bit of a lounge on the front lawn before being admitted to the house itself...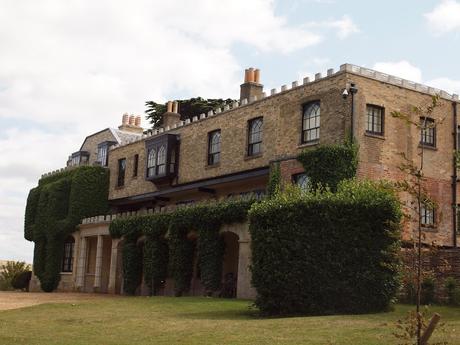 You are let in as part of a small group so that you are neither hurried nor crowded.  We were escorted through to a small room by the conservatory in order to collect our audio guide and be relieved of bags and coats.  There is no photography in the house, so the photos of the interior below come from Farringford's own site...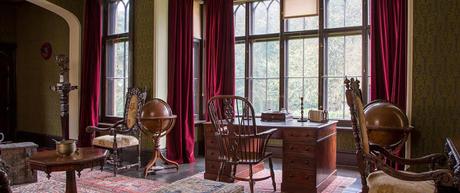 Tennyson's study, with two globes, one terrestrial and one celestial
Actually, it's a bit of a relief not to have a camera because you are not worrying about taking images, nor getting in the way of anyone taking their own snaps. You are free to just immerse yourself and have a good wallow because what has been achieved in the interior of the house is stunning.  The first room you visit on the tour is a room of such breath-taking blue that it is almost overwhelming.  Seriously, the price of entrance is worth it for that room alone. Around the top is the Parthenon frieze from Julia Margaret Cameron, a fragment of the original still clinging on for dear life.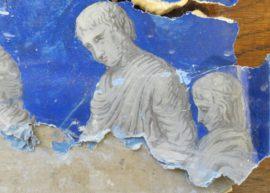 Precious fragment of the classical frieze
The Tennyson family lived in the house from 1853, when they fled London and the interest from growing groups of celebrity hunters, until Tennyson breathed his last in one of the rooms you visit, in 1892.  Within the walls poems such as
Maud
were penned, children grew up and friends were entertained.  While this is undoubtedly the house of one of the 19th century's most imposing figures, it is also the home of a family who weathered a fair few tragedies.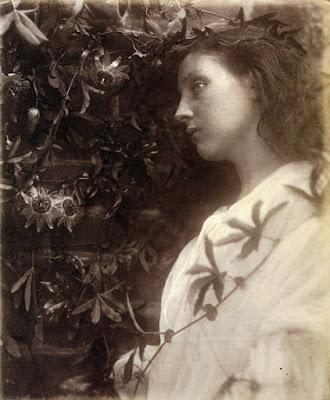 Maud (1875) Julia Margaret Cameron

You tour the house with a little audio guide which gives you a description of each room with the option for more information if you want it.  A team of lovely guides shepherds you discreetly from one room to the next, at your own pace and you are never hurried, which is a blessing as the walls are absolutely covered in art.  Paintings by G F Watts and photographs by Julia Margaret Cameron are everywhere, not to mention the furniture, books and details such as Tennyson's pipes and smoking hat (I do love a smoking hat).  The poet's famous billowing cloak and 'wide awake' hat (it has no nap) are tucked in a little nook that scared the life out of me as I caught sight of a figure out of the corner of my eye, stood in shadow.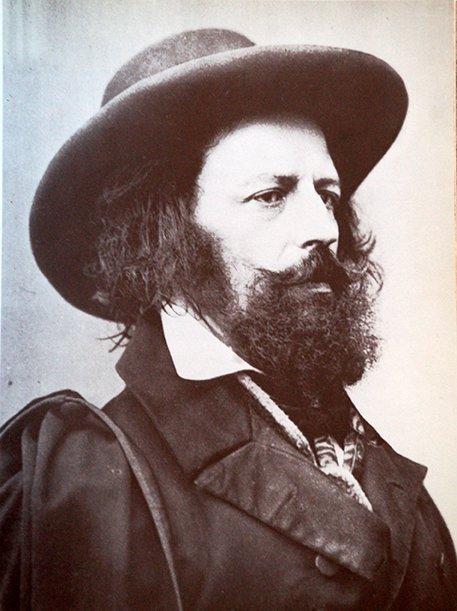 Yes, but which of us hasn't sidled up to a hot chap only to discover it was only a hat and cloak?
After going up and down stairs and ending up in the most magnificent study, I really felt I had an insight into the home life of the Poet Laureate and his family and it was a rather sweet and lovely insight too.  Rather than being left with the impression of an imposing but distant establishment figure, Tennyson came across as a devoted husband, delighting in games with his sons and being joyfully bullied by his rambunctious neighbor.  The fact that he seemed to have been liked immensely by people who came to his house was also telling.  He also didn't overpower the narrative of the house either with Emily's story coming through clearly as well as that of Hallam and Lionel (poor Lionel), and Audrey, Hallam's first wife.  I was delighted to find May Prinsep represented strongly as well as Watts and Mrs Cameron.  This is a house not of a single man but a series of relationships, all fascinating.  It is also a house in which you feel welcome, something I also suspect the Tennyson family would have approved.
The house is open during the season from April to October and pre-booking is wise as it is popular.  Information can be found
here
and I can't recommend a visit enough.  I certainly shall be returning.