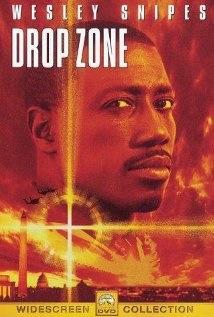 Director: John Badham
Writer: Peter Barsocchini, John Bishop (Screenplay) Tony Griffin, Guy Manos, Peter Barsocchini (Story)
Starring: Wesley Snipes, Gary Busey, Yancy Butler, Michael Jeter, Corn Nemec, Kyle Secor, Luca Bercovici, Malcolm-Jamal Warner
Plot: A tough cop teams up with a professional skydiver to capture a renegade computer hacker on the run from the law.
There may be spoilers the rest of the review
Verdict: High Flying Pulse Pounding Adrenaline Filled Action
Story: Drop Zone starts with a prison fight before meeting Pete Nessip (Snipes) and his brother and partner Terry (Warner) heading to meet a prisoner. The brothers both US Marshalls have to transport a prisoner Earl Leedy (Jeter) a man who is going to testify against a gangster. What seems like an easy job takes a turn for the worse when the plane gets hijacked by a group led by Ty Moncrief (Busey) who takes the prisoner hostage before killing Terry and escaping mid-flight.
The authorities believe the case to be closed and seem to be blaming Terry more than the terrorist. We see that the hijackers have got away with Leedy and have a plan, we also watch how Pete is trying to get to the bottom of the incident which cost his brother's life. Pete's investigation leads him to find skydiver Jessie (Butler) who teaches him about the art of skydiving and whether it could have been possible. It isn't long before Pete starts putting the pieces together and has to team up with Jessie to get undercover with the skydivers and solve the case.
Drop Zone manages to complete the idea of action with over the top action with a wildly outrageous concept of skydiving criminals. This follows in the footsteps of having surfers. The story continues to give us the determined cop trying to prove himself after being wrongfully shamed by the force. Everything does pan out nicely keeping everything at a steady pace throughout and is what a lot of action films are, relaction where you can just enjoy. (7/10)
Actor Review
Wesley Snipes: Pete Nessip is a US Marshal who witnesses his brother die on the job leading him to investigate what could have happened before going undercover with skydivers to find the people responsible. Wesley does a good job in this role where he does get to show vulnerable side during the skydiver and not just being a tough cop. (7/10)
Gary Busey: Ty Moncrief is the mastermind behind the hijacking who has plans for Leedy that will make him a very dangerous man as he will kill anyone who gets in the way of his team. Gary always makes a good villain and we always see his character's mind ticking through this film. (7/10)
Yancy Butler: Jessie Crossman is a world class skydiver who teaches Pete the ways while helping him with his investigation. Yancy makes for a tough partner in solving the crime and gets extra laughs by knowing more than Pete. (7/10)
Michael Jeter: Earl Leedy is the computer expert who is being transported but ends up being kidnapped into helping the criminals. Michael makes for a good computer hacker having the look down well as well as pulling off the reluctant part of the film. (7/10)
Support Cast: Drop Zone has a larger supporting cast that includes the villain team who all have their own motives, we also have the good guys working with Pete to solve the crime all while they have to have skydiving.
Director Review: John Badham – John does a good job turning what would be a regular action film into something much bigger with the added skydiving side to it. (7/10)
Action: Drop Zone has plenty of action moments mostly involving skydiving. (8/10)
Thriller: Drop Zone does keep things on the edge of your seat as you watch the skydiving you are left wanting to see who makes it. (8/10)
Settings: Drop Zone uses the settings well with most being in the sky though, but it does help the film. (8/10)
Suggestion: Drop Zone is one for all the action fans out there to enjoy. (Action Fans Watch)
Best Part: Skydiving scenes are all good.
Worst Part: You know what will happen.
Action Scene Of The Film: Skydiving.
Funniest Scene: Pete gets dropped from the plane by Jessie.
Believability: No (0/10)
Chances of Tears: No (0/10)
Chances of Sequel: No
Post Credits Scene: No
Similar Too: Point Break
Oscar Chances: No
Box Office: $29 Million
Budget: $45 Million
Runtime: 1 Hour 41 Minutes
Tagline: Something Dangerous Is In The Air
Overall: Drop Zone is a fun filled action film that will keep your blood flowing throughout.
Rating