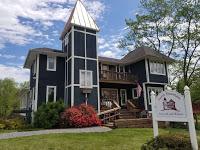 In the early 1740s two brothers, Charles and George Hottel, traveled a well-known route among German immigrants from Lancaster, Pennsylvania to Virginia's Shenandoah Valley. After finding available farmland at the foot of North Moutain at the headwaters of Toms Brook, they returned to Lancaster to lead their father Johannes Hodel (John Hottel) and other family members including their sister Barbara Anna, and her husband, George Keller back to the valley. Upon settling in the Shenandoah, they received land grants from Lord Fairfax, ending a twenty-plus year journey from Alsheim-Gronau Germany. In between, the family had arrived in Philadelphia, initially settled in Lancaster where Barbara Anna met and married Hans Georg Keller, a fellow emigrant from Germany who arrived in Philadelphia one month after the Hottels.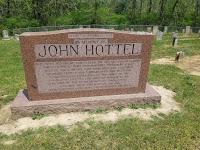 At Toms Brook, located northwest of Woodstock, George Keller would rise in esteem as a churchman and eventually being named by Governor Dunmore as one of the first eight Justices of the Peace in Dunmore (now Shenandoah) County. Their daughter Ann Keller married Henry Fravel, the son of Swiss immigrants, and whose family farm was ten miles away from the Kellers. In 1786 Elizabeth Fravel (the daughter of Ann and Henry Fravel) married Johannes Huber - another descendent of German immigrants and the great-grandfather of my grandfather's mother, Cora Agnes Hoover.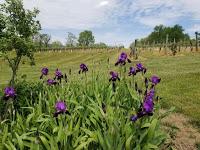 These early settlers are buried in various cemeteries in the area with John Hottel's grave marker now unknown in the old Keller Cemetary. However, his descendants erected a new memorial in the cemetery that was dedicated on September 11, 1982 -- 250 years to the day when the Hottel family arrived in America. That same year North Mountain Vineyards was established, most likely on land once farmed by one of these relatives. In fact, the winery is located on Swartz Road, a family name that married into the Hottel line and whose descendent circled back to the Kellers through a descendent of Henry and Ann (Keller) Fravel. Today the winery grows several cold-climate grapes such as Riesling, a grape the Hottels, Kellers, and Hubers would have recognized from their Rhine homeland. They might even recognize the European styled architecture of the winery.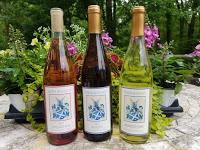 North Mountain's estate vineyard is planted in primarily silty loam soils with the newer Sonnenberg Vineyard, located in the eastern half, and dominated by layers of sandstone. This vineyard is planted with Petit Verdot, Cabernet Sauvignon, Grüner Veltliner, Zweigelt, and Riesling.  The original western vineyard is distinguished by a layer of limestone and includes Chambourcin, Vidal Blanc, Traminette, Chardonnay, Cabernet Franc, and Cabernet Sauvignon vines.
During the partial re-opening of Virginia wineries, we stopped by North Mountain for curbside pickup for the 2017 Riesling ($25),  Grüner Veltliner ($24), and 2017 Zweigelt Rosé ($24). We will be opening these wines during the next few weeks and posting updates with the tasting notes. In the meanwhile here are the winery's notes for the Riesling and Zweigelt. The Grüner appears to be a non-vintage blend from multiple vineyards within the Shenandoah Valley AVA. Cheers.
2017 Riesling ($25)
100% Riesling grown on the west-facing slope of Sonnenberg, our hill behind the winery building. Peaches, pear, and apple on the nose, palate, and finish. A subtle minerality lingers throughout.
2017 Zweigelt Rosé ($24)
Our Winery, nestled in the Shenandoah Valley of Virginia, presents this refreshing rosé wine with hints of pomegranate, zesty citrus, and ripe strawberries. Zweigelt is a native to Austria and was created in the 1920s by Professor Fritz Zweigelt, by crossing Blaufränkisch with St. Laurent.