During my trip to Finland, I tried to be as Finnish as possible.  I went snowshoeing on the Baltic Sea and dog sledding in Iso-Syöte.  I traveled like a local, heck I even went ice fishing and ate reindeer meat in Oulu, Finland! So naturally my research wouldn't be complete if I didn't also drink like a Finn and sample a few Finnish drinks – even if I am a complete lightweight who rarely indulges in more than a glass or two of wine.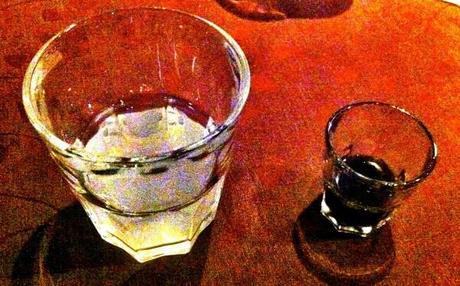 Lonkero, my favorite Finnish drink on the left and Salmiakki which tastes like salty black licorice on the right.
First up was Lonkero, a nice orientation into Finnish drinks.  "Lonkero" is a type of premixed ready to drink alcoholic beverage.  In this case it tasted like lemonade.  I really liked it.  It was sweet and I could imagine drinking it on a hot sunny day – yes Finland does have hot sunny days which are perfect for canoeing or kayaking, just ask GoArctic!.
My orientation to Finnish drinks complete, my host at Hotel Iso-Syöte  next suggested Salmiakki, a dark drink that's drank as a shot.  I was excited to hear that it tasted like black licorice, since I'm a fan of sambuca.  Salmiakki is an acquired taste though and while it does taste like black licorice, it was way stronger and saltier than any sambuca I've ever had.  I struggled to do the entire shot as it was so strong, but I liked the essence of it.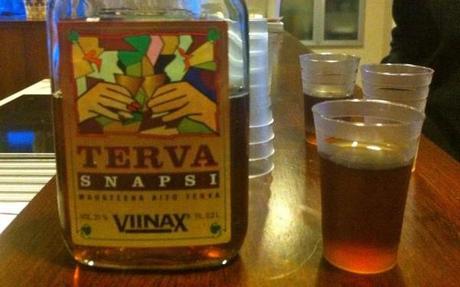 Terva Snapsi is a popular Finnish drink, but it was my least favorite - maybe it was the pine tar that didn't do it for me.
Next up was Terva Snapsi, a liquor made with pine tar – (yes pine tar!) that has a smokey flavor.  This was my least favorite, but judging by the number of different occasions it was offered to us, I'm guessing it's a popular Finnish drink.
Research complete it was time our next dose of Finnish culture – a karaoke bar!  All those Finnish drinks give many Finns the liquid courage to become performers, and karaoke bars are thriving in Finland.  I decided my research was done for the night – no amount of liquid courage was going to persuade me to get up and sing.
Have you ever drank like a Finn?  I would love to hear your impressions about Finnish drinks.
After a long hiatus, Food Friday is back.  Check back next Friday to post a link to your own food or drink post.