Charity £2,000 cocktail at Kushion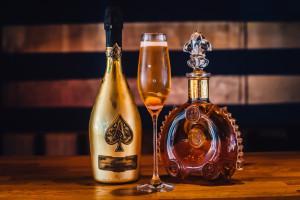 Kushion are offering a free cocktail worth £2,014 to any gold medal winners who come to Kushion during the Games. The cocktail is a mix of Cognac and Ace of Spades Champagne and comes hand in hand with VIP treatment at the club. Also, anyone who comes to Kushion to claim their free cocktail will see  £1,000 made to the charity, Springboard, which works with underprivileged and unemployed people who are keen to pursue a career in hospitality and catering.
The charity looks to build the confidence of the people it works with by providing them with the necessary skills and education needed to pursue a career in the hospitality industry.
Anne Pierce, CEO of Springboard, said:
"The Springboard Charity helps young, unemployed and disadvantaged people of any age  into  sustainable employment within hospitality, leisure and tourism. We are delighted to be the chosen charity of this exciting fundraising initiative in Scotland.
"The funds raised will go towards supporting Springboard beneficiaries to help them to succeed in a career within hospitality, leisure and tourism.
By making a contribution to the vital work of the charity, The G1 Group will directly help young people, safeguard their future employment and give back to an industry that provides enjoyment to so many."