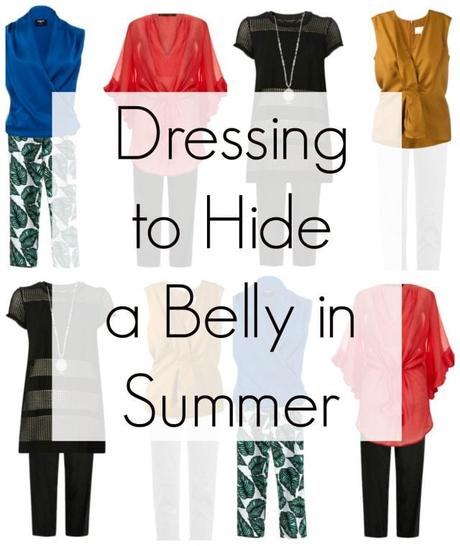 I have a large stomach that can easily pass for being seven or more months pregnant if I let it hang out and do not camouflage. Wearing A-line garments is tricky because I inevitably get asked if I'm pregnant. My "uniform" is slacks, a fitted tee or shirt, and a sweater or jacket, but you can see how this becomes tricky in the summer heat. Also, to accommodate my stomach, my pants often end up baggy in the rear (I have a tiny ass and thin legs). I want pants that fit but don't call attention to my stomach, aren't saggy in the bottom, and that is classic or on trend. My preferred style is classic and polished. What do you recommend?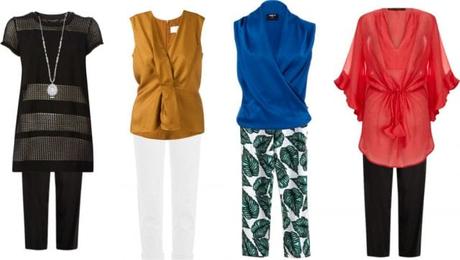 How to Hide a Belly in Summer: Dress over slim pants, strategic draping, pattern on the bottom, choosing tops that focus on your waist instead of above or below.
These exact items are no longer available but are featured to illustrate the post and give sartorial inspiration. Within the post, you will find links to items that correspond with the advice offered.
Oh pants, they can be such a pain when you have curves. But they're so versatile and easy to style, and so perfect for so many occasions. When it comes to really great pants in plus size that look classic and polished, I have to recommend the Kady pant from ELOQUII. It's made of this thick, tightly-knit doubleweave stretch fabric that looks professional yet can dress down. The fabric is made that it holds its shape, no saggy bum or diaper effect after a day sitting at your desk. They're an ankle length, which is also flattering and perfect to pair with summer shoes. They also come in petites, and for those reading who are more of a pear shape, check out their Viola fit. The images below will direct you to different styles of the Kady pant available at the ELOQUII website:


If you're looking for jeans, I highly recommend Talbots. I bought a pair of their white ankle jeans and wore them on a cross-country flight I found them so comfortable. Even more amazing, when I arrived at my destination the jeans weren't stretched out! They wash like a dream, come in regular, petite, long/tall, women, and women petite. And if you think Talbots is for a certain age you haven't tried their clothes lately... you'll be pleasantly surprised. Click below to shop my picks from Talbots jeans:

As for tops, steer clear from trapeze or a-line tops like you mentioned, as well as anything with an empire waistline (below the bust, above the natural waist). Those are stereotypically found in maternity fashion. Instead, you want something fitted, or that is gathered to create the effect of a at or below your natural waistline. Surplice or faux wrap style tops and wrap dresses are great for this. Also don't be afraid of tops that have a gently elasticized waist or a self-belt at the waist. Instead of adding bulk, it will help create the effect of an hourglass shape.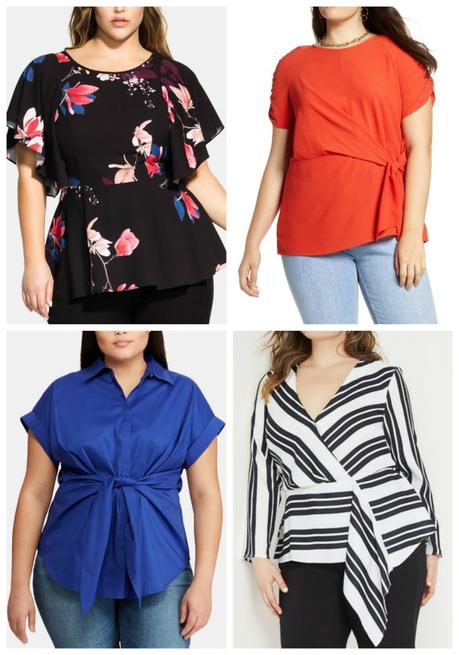 This carousel of images below showcases tops of this type currently available in stores. You can use the arrows to scroll through the images to find a top you like. Click on the photo and a separate browser window will open directing you to the site offering the top.


Since you say you have slim legs, I am betting you also have arms that you don't mind being seen. Showing your arms will not only keep you cool in the summer but also elongate your frame and balance your figure. Sleeveless, semi-sleeveless with a ruffle covering the top of the shoulder, or even a cap sleeve will likely flatter and look polished. Having that bit of shoulder detail will balance the body and keep the eye looking up. Steer clear of deeply cut armholes, racerbacks, or halters as even when the top is fitted, they create a triangle shape to the body, emphasizing the midsection.
As for length, I think it's up to you for comfort. I've seen women with large stomachs look phenomenal in tucked-in blouses or tops that hit right at the waistband, while others look better in tops that hit mid-hip. Tunics can be tough as again that's a length that is popular in maternity fashion; if you prefer some length to cover the rear I say go even longer. The dress over pants look is back in style (and honestly if you do it right, a style that is never unstylish). Consider longer tops or shorter dresses in lightweight fabrics over slim but structured pants (not leggings, again that's too typical maternity and not polished) for a very chic and modern look. Below I have another carousel of tunic and shorter dresses that will look chic with longer shorts or lightweight capris, leggings, and such:


While many style gurus recommend wearing a column of color (same color top as trousers) to slim the figure, I think in this case it may emphasize your belly. Having a top with interest - gathers, a ruffle or , a tie neckline, a - will camouflage your midsection without effort. Prints are our friend as they create an optical illusion. Graphic prints (brushstrokes, cubist patterns, etc.) camouflage better than classic dots and florals because they confuse the eye.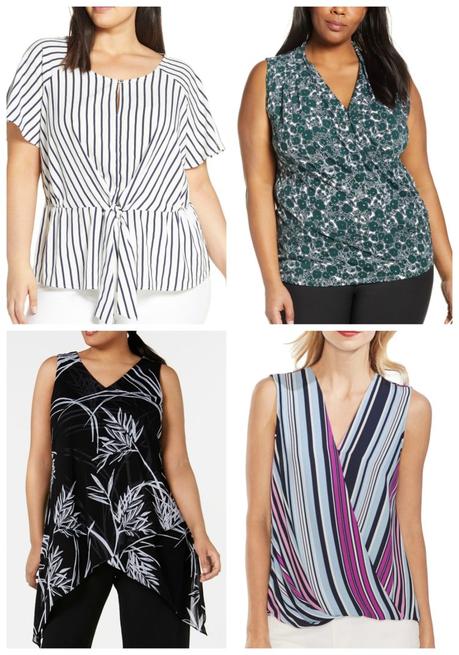 Examples of tops that use prints to create an optical illusion.
I find the best optical illusions come from black and white patterns and they look so crisp with white pants and can winterize easily when the temps cool. Again, I offer another carousel of tops that create an optical illusion with prints. Scroll through and click on any image to visit the retailer's website:


And speaking of patterns, they don't have to be reserved for the top. A fabulously printed pant can draw attention away from your midsection. Especially when paired with a black top (which recesses), this can be a very chic look. I love a black and white printed ankle pant; add a colorful sandal for even more style points and to again draw the eye away from the torso.
Accessories can make a major difference. As I mentioned, colorful shoes can add style but also bring the eye down. The same holds true for colorful statement earrings. Earrings are better than shorter necklaces or bold bracelets for making a statement as they are farther away from your midsection. If you do wish to wear a necklace, look for a long chain with a pendant that will elongate the frame. Have fun with sunglasses - big plastic frames, '70s inspired aviators or rose-tinted shades, anything that creates a bit of a statement while adhering to your personal style.
With bags, a big bulky shoulder bag that hangs at waist- to hip-length will only enlarge that part of the body. And in the summer heat, who wants to lug around a big heavy bag anyway? Consider totes, single strap backpacks to carry lots of gear and clutch bags when you don't need to bring much.
This post was originally published in June 2017 and was updated in May 2019.
And finally, the most important accessory to wear is confidence. When you feel good, you look good. You stand taller, you have better posture, you rock your outfit, and people notice the whole package, the amazing woman, not one specific body part.