"Dressing Gown to Filter Out Bad Chi" at the Rochester Contemporary Art Center
Posted by sila on March 26, 2011 · Leave a Comment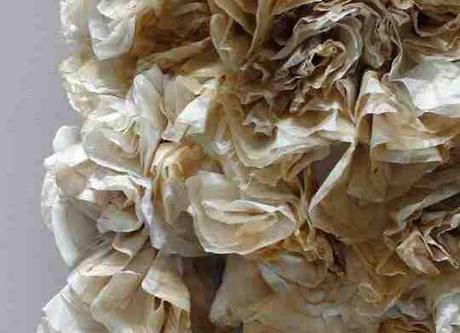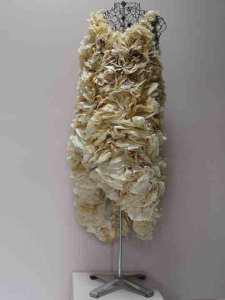 "Dressing Gown to Filter Out Bad Chi" from Carol Ann Rice Rafferty
It is too bad that most coffee drinkers in the western world get to see coffee only in a cup or as what will end up in a cup. The culture, growth and knowledge that must take place before coffee seeds impart their wonderful aroma and flavour are seldom witnessed, unless our passion is great enough that we investigate and perceive outside the cup. Visiting a coffee plantation contributes towards knowing more about the complexity of coffee as well. However, only few get to see coffee outside the drinking and culinary worlds.
Many creative minds and hands do work with coffee as an instrument or/and inspiration, resulting in coffee visual arts. Some of my favourites are the Spaniard Miquel Aparici, the German painter Hans-Peter Müller, or the Thai Pornchai Lerthammasiri. A bit apart from the common visual arts world using coffee to draw and paint, some have been using coffee and coffee filters to creat fashion. Fashion is however nothing new to the coffee world. In Ethiopia it is custom that the women doing their coffee ceremony all wear the designated gown. In the western world coffee fashion has another meaning, as shown by women like Carol Ann Rice Rafferty, Susan Stockwell and Angela Bright. Carol Ann Rice Rafferty sees herself as working between fine arts and crafts. She integrates coffee filters in some of her various works, including a dress which is one of my favourites amongst what I have seen until now.
"My body must intuitively respond to the healing, stimulating and refreshing action of coffee mainly due to the presence of caffeine and a volatile oil. I enjoy my daily ritual of preparing filtered water, grinding the fresh beans, start the brewing process, then savour the first cup of coffee. A cup of freshly brewed hot coffee is a sublime pleasure I look forward to each day. The rest of the day it is Green Tea all the way…"

Carol Ann Rice Rafferty
Now you have the opportunity to see some Coffee Fashion live, you might be lucky, too. The coffee dress Dessing Gown to Filter Out Bad Chi – Coffee Filter Dress from Carol Ann Rice Rafferty will be shown at the Rochester Contemporary Art Center, as part of the Northeast Regional Juried Contemporary Fiber Exhibition.
The jurors reviewed over 250 entries from 99 artists and selected 28 works from 21 artists.
Opening: April 1st and May 6th / from 6 – 10 p.m. Rochester Contemporary Art Center / 137 East Ave., Rochester, NY 14604, (585) 461-2222,

[email protected]
Enjoy coffee anyway you possibly can!
 .