This week I've been daydreaming about my future art studio.
I've now experienced both–an in-home studio, and and out-of-home studio, and I want the best of both worlds–I want a back yard studio. Literally in my back yard, a small outbuilding separate from my home. That way I can walk out the door, walk into another door, and be at work. Kinda like having a studio space somewhere else, but without any commute time. And, kinda like working at home, but in a private and focused space, without small children wandering in and getting into my art supplies.
Do you remember Clare's art studio in The Time Traveler's Wife??
I recently discovered a company called Studio Shed and have been drooling over their website.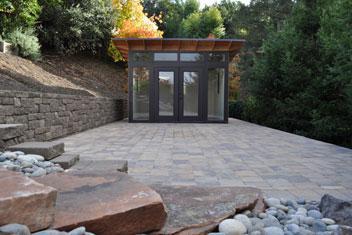 A Studio Shed
I've been eyeballing prefab garden cottages and yurts as well. Then of course there is the adventure of building something myself. A Google Image search for "Small Art Studio" provides lots of inspiration.
Obviously I'll be limited by a budget and/or time and energy for this project when the time comes–there are always limitations. But dreaming is the first step! Assuming my family's next home has a suitable build site for such a space (it's a good assumption–we're working on that) what do you think? What kind of studio would you put there?