My final year at University is looming, so naturally it feels right to start thinking about my next move. If you have read some of my previous publications I have mentioned about going to the 'Middle East' to be a flight attendant for Emirates, but I have to keep my options open! The possibility of packing everything up and going to 'China' to teach English to young learners appears to be a challenging and new thing for me to consider. I need to get my 'TEFL' 

qualification and graduate from 'University' before I think about applying. Staying in 'England' just doesn't feel like the right thing to do! You know that I'm always 'Desperately Seeking Adventure!'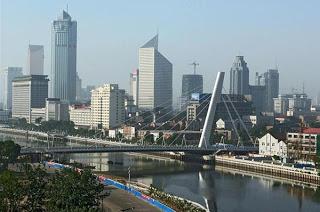 I would be looking to teach English in 'China' I'm not sure where I would definitely decide to go in 'China', but location is everything for me! At the moment I have one place in mind. Looking at 'Tianjin', a prosperous city in 'China' which I have my sights set on at the moment. This city is located in the north-eastern corner of 'China' with the country's capital city 'Beijing' to the north of 'Tianjin'. A high-speed train connects 'Tianjin' to 'Beijing' in just under 35 minutes! It would be fitting to teach in 'Tianjin' because I feel like it would have the same advantage as 'Newark' did for me. I would be in a smaller place but I would have the accessibility to visit 'Beijing' like I had the opportunity to see 'New York', I have all of this mapped out. My friend Catherine taught English in 'Wuhan' another developing city in 'China', which is closer to 'Shanghai' and 'Fuzhou'. I still want to be a flight attendant but I have to apply when the demand is their for men who don't speak the Arabic language. Are things just meant to be?
I have never been to the continent of 'Asia' before, I can't help to begin to think about the scope for traveling if I spent one year in 'China!' Working in 'America' was a unforgettable experience, one that I will never forget but there's so much more of the world for me to discover! I just want to see, concur and explore until I can say I have seen what I wanted to! Emirates is still on my radar, but why put all my eggs into one basket?! Teaching would open another door for me, I'm ready for my chance to be finished with formal education because I'm ready to get out there! 
Why 'China?' I would like to say that I've always had a love for all things Oriental! This vast and historical country simply looks like one big adventure! From the 'Great Wall of China' to the 'Terracota Warriors', the thought of this career move sounds amazing! 'Shanghai' looks like a great place to visit for the weekend, or even 'Taipei' because I always want to experience something new! Aside from 'China's' many historical sites I could visit 'Hong Kong' because this 'Special Administrative Region' looks like the city of the future! I need to get my degree first but I don't see why I shouldn't waste any time looking for what my next move may be! I feel like I already know a lot about places like 'Hong Kong' because my best friend at 'University' is originally from Hong Kong, so thank you Kelly! I know that deep down any choice that I make after my graduation will be worthwhile, I'm not going to be backing out of anything! I know 'England' is a place that holds close to my heart, home is definitely where the heart is but when there aren't any jobs going, why should I stay here?! 
Ok! Back to the job, I'm looking to teach 'English' to young learners who would be classed as 'Early Years' in this country. I have been looking at jobs in 'Tianjin' like I have explained before. EFK teacher are constantly being given jobs, so I have been looking at jobs posted with
 'Gold Star Teaching' which have some really good schools on their books and specify that some of the schools in 'China' include western style accommodation within the job package. As mentioned before my friend Catherine had an amazing experience whilst she taught 'English' to the young children at her school in 'Wuhan' so I have every confidence in myself that I shall love this experience equally as much!
I'm no stranger to working with young children, I was a 'Creative Assistant' for youth theater company 'Kuumba Arts Movement' for a number of years, where I helped teach in drama classes to children who were aged from 5 to 12. I would like to think that working with the children at 'Kuumba' has prepared me for the stresses of being an 'English' teacher in 'China!' My mom works as a 'Early Years Practitioner' at a local children's centre, I have heard about her job a lot and believe that choosing a job like hers for one year will set me up for the airlines, talk about having patients I hope to be as patient as a saint after dealing with young learners in China! All providing I secure a job in 'Tianjin!'
Being in 'China' would make one of my dreams come true! I would be able to take a long weekend to 'Tokyo' because it's only a 3 hour flight from 'Beijing!' I would be able to take a trip on the 'Bullet Train' and visit the trendy areas of 'Shibuya' and also 'Harajuku!' I don't know what I'm more excited about? I must keep the important things in mind, like the job but I can't help let my mind run wild! I have always wanted to be a part of the 'Neon City Vibe' that 'Japan's' capital city is famous for! I can eat as much 'Sushi' as I want and try and remember some of the 'Japanese' phrases that I learnt back at college in 2008.
'Japan' wouldn't be the only country outside of 'China' that I could visit, oh there's many more to consider! Do I have more fun in the 'Philippines?' My friends Valerie and Leah can answer that question! 'India' and 'Nepal' are quite close to 'China' so I could hop on a plane to see something new?!  Or do I investigate 'North Korea?' Now, I know that there would be some risk going to 'North Korea' but I have been watching some documentaries about the country and I can say that a visit to this closed country would certainly be an adventure! 
I'm pretty sure that I will have to work hard to get some pennies to achieve all of these trips, well I didn't do too badly in America for travelling! I'm excited!!!
Teach English In China??? Delay Being Cabin Crew??? Say Goodbye To England???
Joseph Harrison