So we decided to go for a cruise during Christmas on Royal Caribbean International's Mariner of the Seas. This being our fourth cruise with Angel, yes the lucky girl, her first being a Baltic Sea cruise, second Mediterranean Sea cruise, third Norwegian fjord cruise, I'd like to think we are pretty seasoned travellers on cruise liners. That said, it was still a memorable experience because it was the first cruise for Ariel and our first experience as a family of four.
To share with you more about Mariner of the Seas, it the largest cruise ship based in Asia and is in the second generation of Voyager-class vessels. With a length of 311 metres, it has a capacity for more than 4,000 passengers. With a variety of sailings, including three to five-night cruises to Kuala Lumpur, Langkawi, Penang and Phuket; a seven-night cruise to Bangkok and Ho Chi Minh City; and an eight-night cruise to Shanghai with calls at Ho Chi Minh City, Xiamen and Hong Kong, it also features festive cruises lined up with special activities during Christmas, New Year, Chinese New Year and Valentine's Day.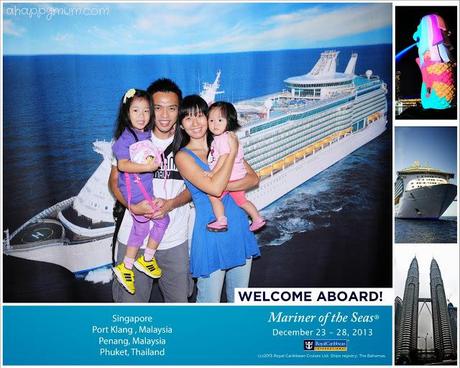 After having gatherings and gift exchanges with friends and family, we were excited to spend the Christmas week away from home and how more unique can it get than to be with Santa amidst the ocean? Join me as I bring you around the ship, give you a tip or two, and also share with you some fond moments from the trip.
******
A tour around the ship and highlights of the cruise
The ship comes with 1,557 staterooms, of which 939 are ocean view rooms (includes 765 with balconies) and 618 (includes 138 with promenade view). For our family of four, we decided to stay in an Oceanview room which comprises of two twin beds that convert to a Royal King, measuring 72.5 inches wide by 82 inches long, sitting area with sofa, vanity area, and a private bathroom. Occupying an area of less than 15m², I can't say there was plenty of room for my baby to crawl about but considering that we were out of the room most of the time, we were happy with the cosiness and the fact that the room was always kept spick and span made it very comfortable to live in.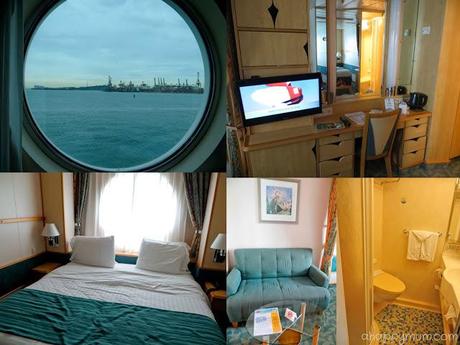 Although our ship only sailed off at 5pm, boarding time was from 11am to 3pm. We arrived around noon at Marina Bay Cruise Centre (parking is available for those who choose to drive), had a smooth and pleasant check-in despite not checking in online previously, deposited our luggage and it was time to explore the ship! For the first-time cruisers, do note that the luggage will take some time to be sent to your room, so make sure you have the necessities in a hand carry or diaper bag, and the staterooms are usually only available from 1pm onwards. However, you can tuck into the buffet lunch at Windjammer on Deck 11 or take your time to just walk around and familiarise yourself with the 15 decks.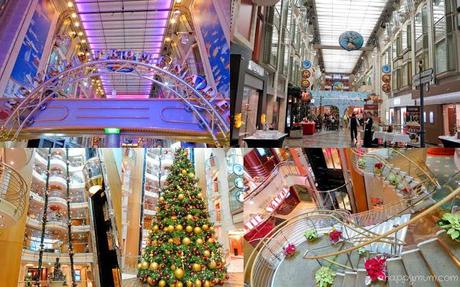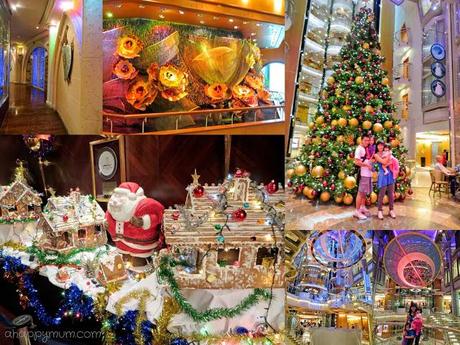 I love the big Christmas tree, the colourful lightings as well as the decorations all around the ship, doesn't it just make you feel the joy of the festive season? One thing you should know, there is never the worry that you will starve on a cruise because food is always readily available! We loved how Royal Caribbean caters to international palates and although we had heard bad reviews about the food on Mariner of the Seas, we were actually pretty contented as a whole with what we tasted and ate. Erm. It's no wonder why I am not a food blogger, right?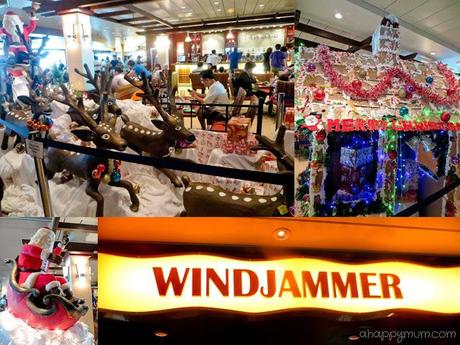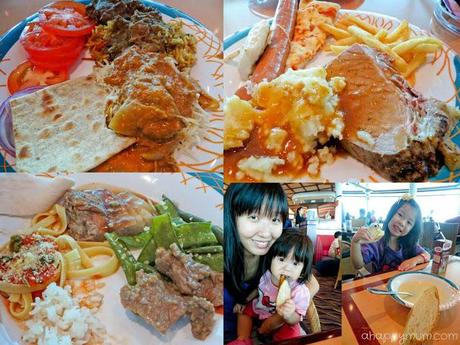 For breakfast and lunch, if we were on board and not on shore, we usually had them at Windjammer. If you have kids who sleep in a little later, you can always call for room service which is available around the clock (charges apply for wee hours) or get the hubby to go to the restaurant and get some food. We did the latter while I dressed the kids to make sure that we made it in time for the excursions which could be early as 7:45am.
For dinner, we dined at Rhapsody in Blue on Deck 3 and we opted for the first seating which was at 5:45pm. The second seating starts at 8pm and you can make your choice when you book your cruise online.  Did you know? The kitchen staff prepares over

105,000

meals every week to feed both crew and staff.
Our waiters were helpful and friendly and it felt really good to sit down and have a good meal with my family every night. Ok, besides the fact that I needed to feed a baby who now likes to climb out of the high chair, meaning I could never truly eat in peace, I somehow still loved the ambience, the food, the company and everything combined. For parents with babies, you can request for congee to be cooked for your little one every night. Despite that Ariel preferred the bread, fruits, ice cream and even our meals over her own, it was still heartening to see that bowl of congee being served for her every time.
Oh, just a tip, do check out the beverage packages when you board the ship. We decided to purchase a Royal Replenish Package which cost USD20 a day, which included premium coffee, tea, bottled water, freshly squeezed orange juice and non-alcoholic cocktails. For those who tend to drink more booze, you can consider the Classic, Premium or Ultimate packages or just pay as you purchase if you prefer. Note that the ship operates on a "cashless" payment system and onboard purchases are charged to your boarding card, also known as your SeaPass card, which you can link to your credit card when you board or alternatively, you can use cash to settle your bill on the last day.
When you get bored with the complimentary dining or would like something more unique, check out the specialty dining restaurants like Johnny Rockets, Chops Grills Steakhouse and Giovanni's Table Italian Restaurant where a fair cover charge treats you to a more exclusive meal.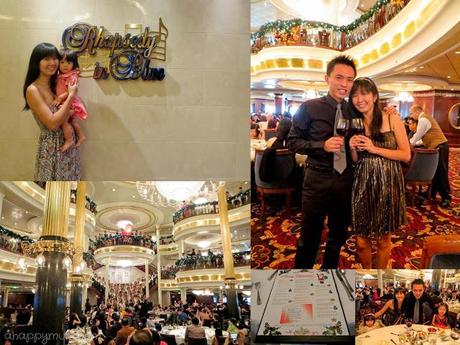 One of the highlights on board Mariner of the Seas is the Dreamworks Experience. Not only do you get to watch the movie Turbo, you also get to come up close with your favorite characters from Shrek, Madagascar and Kung Fu Panda, much to the delight of both Angel and even Ariel.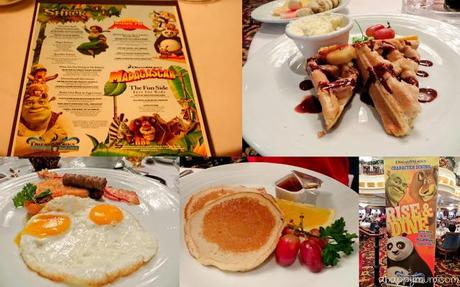 There is also the Rise and Shine with Dreamworks which thrills every kid as the characters dance and take pictures with you during breakfast. Since this is a hot favorite for families with children and comes with limited slots, make sure that you do a booking once you get on board. There is a number for you to call on your Cruise Compass, which is your daily activity guide, but since it might be hard to get through, the best bet is to do what I did - Go to Guest Services located at Deck 5 once you arrive, get the staff to make a call for you and do the reservation on the spot before you even head for lunch.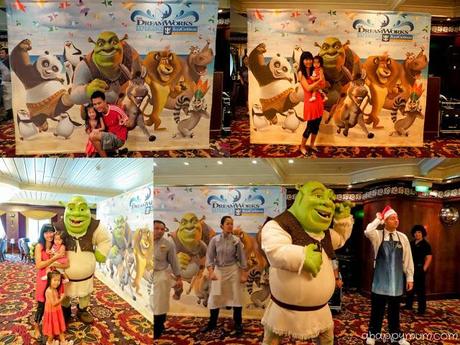 I have to however tell you not to set your hopes too high and think that all the characters will appear! For our hour-long breakfast, we only got to see Shrek and Fiona but not any of the characters from Madagascar that Angel was looking forward to. However, since there were ample opportunities to see them around the ship and take pictures with them, don't be overly upset if you miss the breakfast! Nonetheless, it was very worthwhile for us to drag everyone out of bed at 7am, *ahem* we are late sleepers, because seeing Shrek dance Gangnam Style just two feet in front of us was an experience like no other.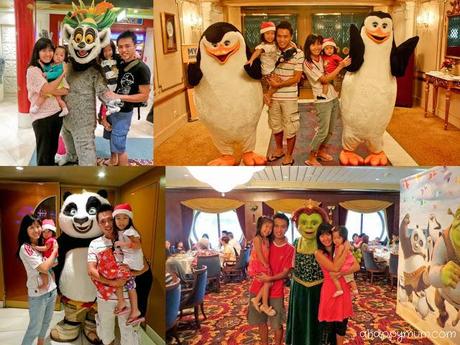 On our first day, there was also a Dreamworks Parade which took place at the Royal Promenade, the main shopping street on the ship. The kids were having their afternoon nap before that so we had to drag them out of bed, only to find that the place was already fully packed when we reached and it was impossible to get a good view. I personally found the place too narrow and small for a parade which was likely to attract all the families with kids and young adults. It would be a good idea for you to grab a seat in a bar or cafe along the promenade ahead of time so that you could have an unrestricted view of the Dreamworks characters. Those who choose to stay in the Royal Promenade view staterooms would also be able to view the parade from their rooms, although that also means that the night partying would keep them up late too.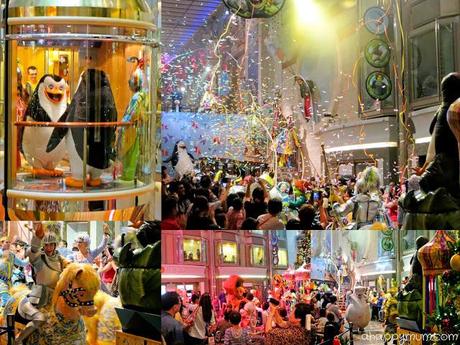 The Adventure Ocean promises to provide children aged 3-17 with daily exciting and educational activities that will keep them both occupied. Some of my friends attest to the awesomeness of this service because it allows them to drop off their kids and go off for some couple time, be it shopping on shore, strolling by the beach or soaking in the jacuzzi. For me, well, I just don't like the idea of getting off the ship without Angel and so we chose to bring her everywhere we went, except on the last day when the ship was at sea, we decided to let her have a couple of hours of fun away from us.
Those with babies might be thrilled to know that there is a Royal Babies and Royal Tots program onboard, the first (ages 6-18 months) offers interactive classes developed by early childhood experts at Fisher-Price and the second (ages 18-36 months) offers 45-minute interactive playground sessions filled with age-appropriate activities and toys. One parent must accompany the child throughout the activity. There is also a drop-off option for toddlers at least one year old in the daytime and evening. Well, I fully trust the trained professionals but it's just that I still prefer to keep my little one by my side or play with her together.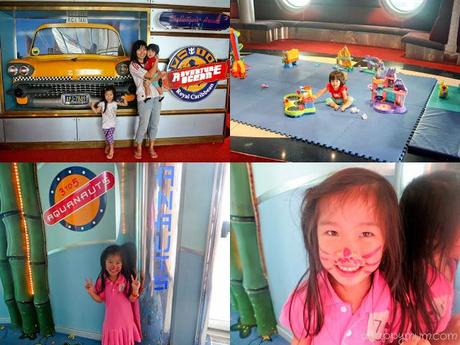 Another facility that thrilled the kids, and us, was the Challenger's Arcade which opens 24 hours. We played car racing, samurai fighting, reaction games, table hockey and gun shooting games which kept both the girls entertained.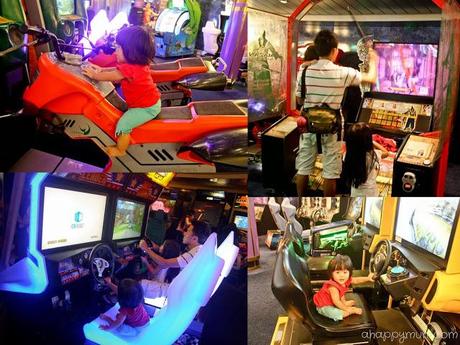 For the sporty ones, there is also a range of activities for you to take part, including rock climbing, mini golf, basketball, table tennis, gym, swimming and inline skating.

Oh wait, there is even an ice skating rink on Mariner of the Seas, how cool is that? Be sure not to miss the breathtaking ice skating performance "Ice Under the Big Top" which I swear will blow you away. These fantastic figure skaters come from different parts of the world and bring to the audience a professional performance complete with spins, drops, jumps, throws, lifts and spirals which will leave you in awe. I love how they also incorporate plots, fanciful costumes and circus acts into the show which make it all the more lively and entertaining. Definitely much beyond what I expected.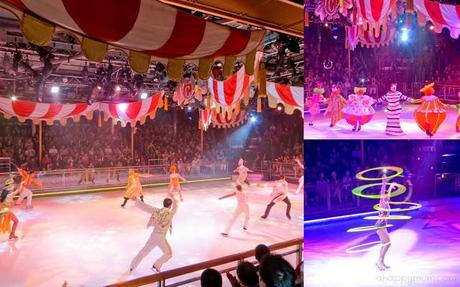 For those who are feeling lucky, Casino Royale offers you jackpot, slot machines and table games from roulette, Caribbean Stub, Texas Holdem, 3-card poker, Blackjack and so on. I have to admit, though the hubby and I are not high stake players or hardcore gamblers, we do enjoy the thrill of card games and would take turns to play a hand or two when the kids are fast asleep. Yeah, that is how we spend me-time on a cruise and as of now, couple-time spent chilling out or having a romantic dance will just have to wait.

For the first time, we didn't manage to go for a dip in the swimming pool, mainly due to the packed itineraries and also partly because of wet weather. All we did was to walk around the pool on our last night, enjoy the sea breeze and let the kids play by the jacuzzi. I was half-tempted to let the kids get into some splashing fun, but then again, our luggage had already been collected and that would mean we had no extra change of clothes. If it is of good news to you, some of the pools and jacuzzis appear to be open 24 hours so you can considering coming here for a soak late at night when the rest of the family is fast asleep.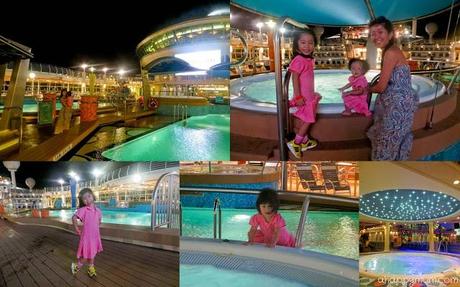 If you are into art, there is also an "Art Auction at Sea" where guests can purchase collectible art pieces. This is seriously not our cup of tea but it was quite inspiring to walk around and see amazing artworks displayed along the gallery.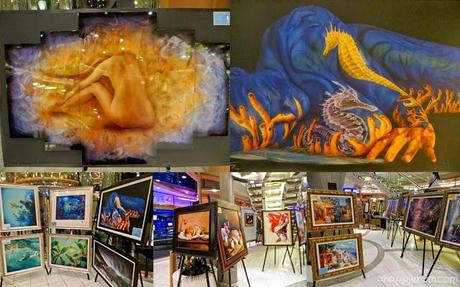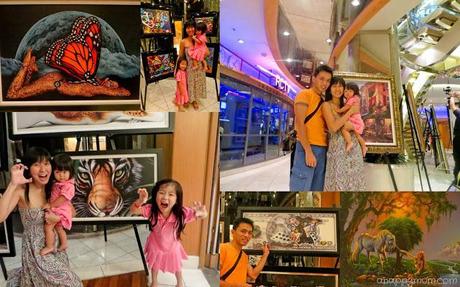 Another highlight of cruises for us would be the daily theater shows, which we made it a point to watch every single night at the Savoy Theatre. I remembered how by the age of two, Angel would stand up, clap and even sway to the music and her eyes would be glued to the stage from start to end. This time, it was no different. We totally enjoyed the shows, from acrobatics to broadway and even comedy, one of the more memorable ones would be the performance by the multi-talented YouTube sensation David DiMuzio, who touched my heart with his version of the song 童话.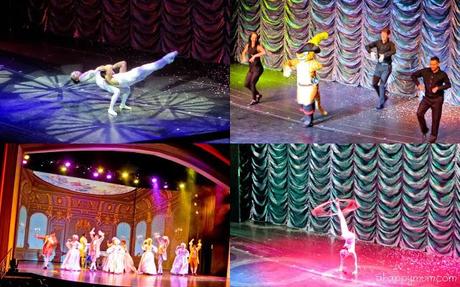 Last but not least, we also loved taking family portraits and getting professional shots with the Dreamworks characters. It was no surprise but these pictures cost a hefty sum (USD250 for all the pictures taken onboard) and it was the first time we decided to purchase everything because there were just too many precious shots. Five photos would have cost USD100, and since we had all 40 pictures for USD250, I suppose we still got the better end of the deal. They usually offer a discount on the first day so if you think you would end up buying the full package like I did, just sign up on the first day and save USD50, yeah?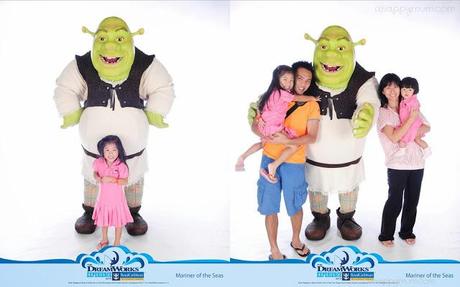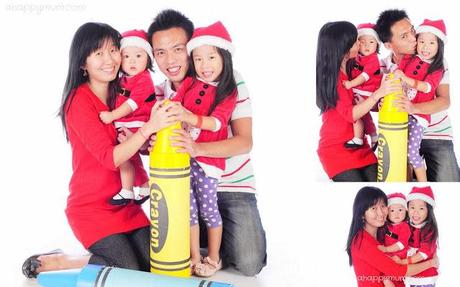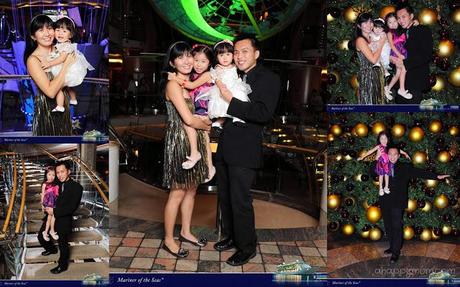 During our five-night cruise, there was also a formal night where all guests were asked to dress up in formal wear. Although some friends had told us that Asians don't make the effort to dress up as gorgeously and formally as Europeans, I was not going to give up that chance to dress my girls in frilly dresses and take some nice pictures as a family.  Contrary to expectations, we did see most of the guests in suits and gowns, some couples even took the chance to reminisce those wedding moments once more and had some beautiful portraits taken with the love of their life.
I am thinking, just thinking, that 20 years down the road, the hubby and I will go on a cruise, just the two of us, and have a honeymoon vacation at the age of 50? For now, we are just happy to have our two lovelies with us because they are absolutely beautiful and they brighten up each day of our family holiday.
Oh, wait, did you think that's the end of the post? Come on, just a few minutes more for me to share with you some of the fond moments from the trip, ok?
******
Our Fond moments on Mariner of the Seas
1) Meeting Santa
On Christmas Day, we woke up early to meet Santa and the kids received their presents with big smiles. From being terrified of Santa to now being able to take a picture with him, Angel has come a long way.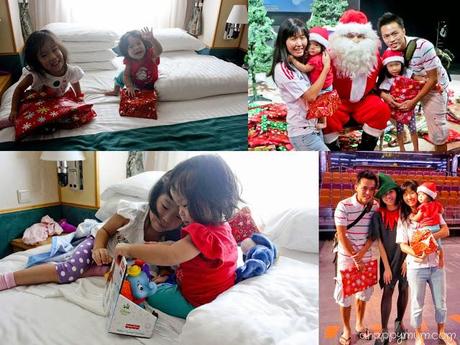 2) Guess who?
We were greeted with a surprise guest in our room every night. This was a personal touch by the stateroom attendants which we loved. I loved the hip-looking elephant!


3) Feasting like kings and queens
It was a delight to tuck in every day and night and my favorite was the lobster treat on Christmas Eve which was finger-licking good.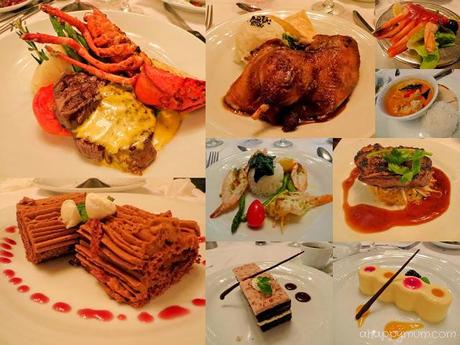 The big girl also got to eat dessert every day and by dessert, I actually mean ice cream.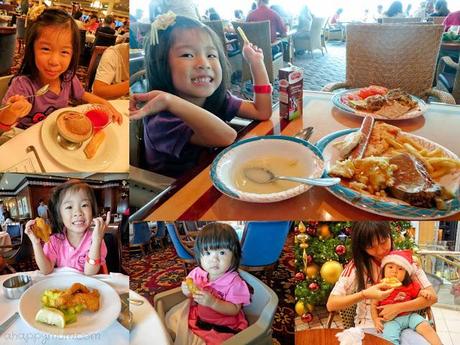 The little one, well, I think she was the happiest person around because she finally got to taste french fries and even pizza. Well, she turned one year old, didn't she? Time to open one eye and close the other.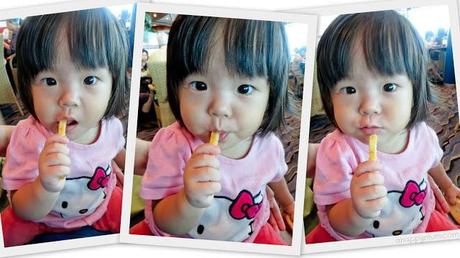 4) All hail the Dancing Princess
I remember on the previous cruise, Angel dazzled the crowd on the dance floor with her cute, one-of-a-kind moves and the crew members would come up to give her a present, hug her or even ask for a dance! This time round, it was no different. Once she was warmed up, she danced with such joy and energy at every party that strangers would come up to me and say "Your girl is a great dancer!" or "She is gorgeous!" and give me a big smile. The fact that we went to almost every dance party, including the late night ones where families were welcome, gave her ample opportunity to move to the beat and dance like she had never danced before. It was a joy just watching her but for most of the time, we decided to dance as a family of four and you should have seen how I threw Ariel high up into the air or spun Angel around till we both saw stars.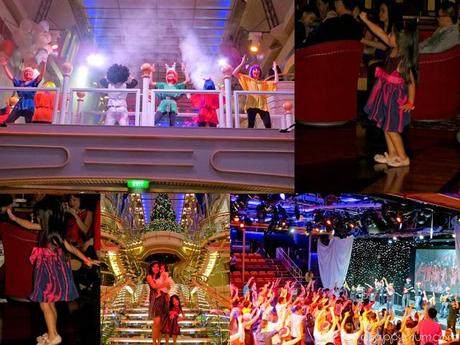 6) B-I-N-G-O!
One of our favorite games on board cruises has always been Bingo. We love the thrill and also take the chance for Angel to practice her numbers. This time round, kids aged 3 and above could get one free playing card for every set of six purchased and Angel was excited to have her own card. And guess what? Lady Luck must have been shining down on us because we won not once, but twice! The first was the hubby who won on Day 1 and Angel who was a joint winner with two others on Day 3. For her one card to win out of hundreds sold that day, the probability was quite low so we were really surprised and thankful about it.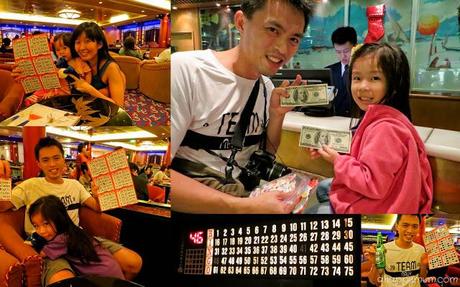 7) Our first ice skating experience
At Studio B, guests could also go for an ice skating experience on selected evenings at no charge. Each session lasts for half an hour but you would have to arrive early to register and secure a slot. Kids are allowed to skate provided that there is an accompanying adult. It didn't take me long to persuade Angel to try it out and since I was there to support her, she was more excited than scared about this first experience. See, she was even brave enough to go into the center of the rink with me! We did it not once, but on two separate nights because she loved it so much and also because the flat-footed hubby simply would not agree to go into the rink.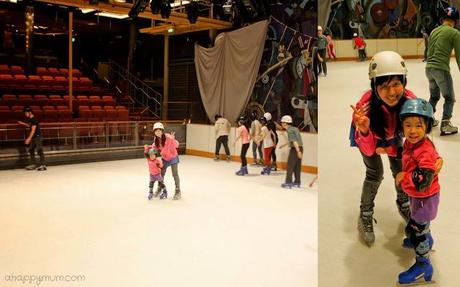 8) Dressing up as Santarinas
Last but not least, I also loved seeing my girls dressed up in cute Santarina outfits on Christmas Day. These were bought in Sweden and since I only got to take them out once a year, I was quite glad they still fitted, though barely. These two just look lovely side by side and seeing the smiles on their faces brought so much warmth to my heart.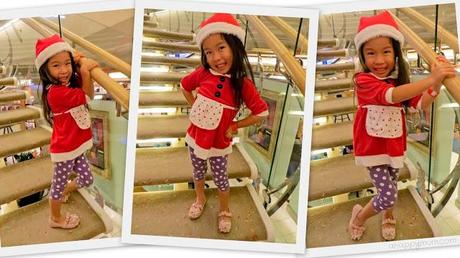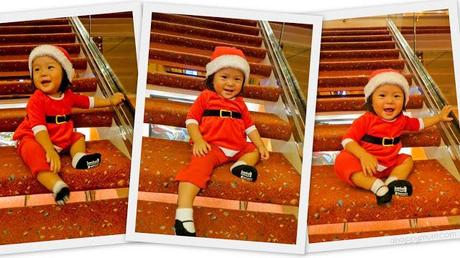 Believe it or not, they had so much fun just chasing each other up the carpeted stairs that I was amazed. By chasing, it actually means crawling on all fours since the little sister has not mastered the art of walking. Seriously, I have no doubt about her energy and strength because this one-year-old surprised us by crawling from the 3rd to the 11th floor in one go. That is 8 stories, y'know? She might have jolly well climbed to the top of that rock wall had I not stopped her because there was a crowd coming on Deck 11. *phew*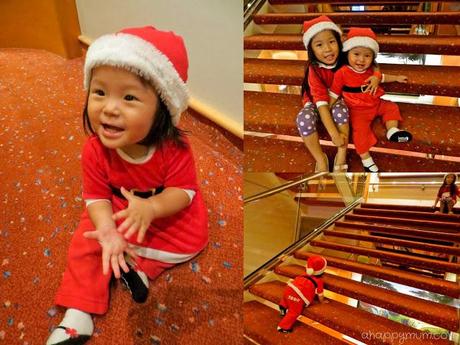 On the last day, we were a little sad to leave and couldn't bear to step out of our cosy room. But I guess, all good things come to an end and that just makes you look forward to the next family vacation, right?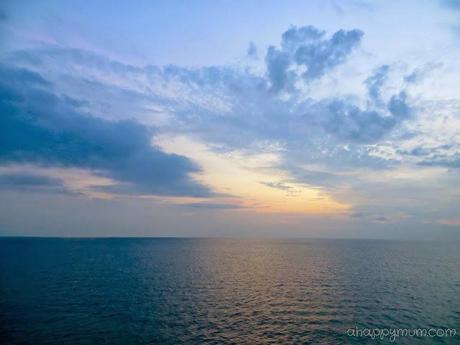 There you have it, our cruise vacation summarised in one blog post. Stay tuned to read more about our adventures in Sunway Lagoon, Penang and Phuket in the upcoming weeks!
Disclosure: This is not a sponsored post. I was glad to take a break from blogging and go for a real vacation without feeling the obligation to write. But, I guess blogging is in my blood and so I couldn't help but write this post out of a pure will to share the awesome experience and pictures with my readers and friends. I sure hope you enjoyed reading!