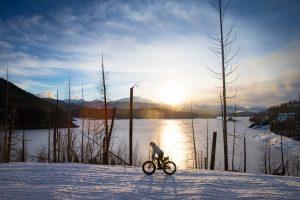 Winter fat-tire biking in Montana
Most of our time in Montana was spent in the north and western part of the state with a mix of time spent both in small cities and the outdoors. We also visited Helena and Billings but those were just quick stops – we spent the majority of our time outdoors exploring a mix of lakes, mountains and beautiful forested terrain.
We also visited the great Glacier National Park and drove the Going-to-the-Sun Road on a fairly clear day and spectacular day but the time we reached the 6,646-foot-high Logan Pass at the Continental Divide; we were surrounded by the cooling confines of mountain fog. I recall pretty flowers, a visitor center and barely able to see both the US and Canadian flags. If I was going to visit again, I would come here in the spring and bike the entire length of this highway; this time of year it is open exclusively to bikes. More information here.
We drove from Glacier down to Flathead Lake as some friends we met at Lake Tahoe (California) every summer own a ranch near the lake. And in the similarity of the Tahoe Tessie, we secretly hoped we would see the Flathead Lake Monster!
We passed near Whitefish; this was in summer and we stopped at several cherry stands to buy fresh cherries. Stopping at fruit stands are often an important part of my road trips. I remember being quite delighted to find fresh cherries long after the cherry season had ended in California.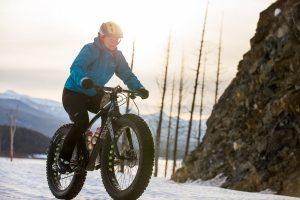 Cricket Butler on her fat-tire bike
Founder, Cricket Butler is a serious biking enthusiast. And her lodge is ideally located to purse her passion. It is at the center three major Adventure Cycling Association bike routes. The world's longest mountain bike route, the Great Divide, the transcontinental Northern Tier Route, and the Great Parks Route (providing access to a number of national parks in this part of the country).
I've heard of fat-tire biking on snow-covered trails but never actually experienced this. Butler is passionate about biking in Montana including in the winter and has this to say, "I think Montana is a special place for biking, it's boundless. And the places that your bike can take you, you just won't find that anywhere else."
Umm yea, count me in! Watch this inspirational video highlighting Cricket's biking experiences in among Montana's great outdoors.
Montana offers a diversity of outdoor experiences for the outdoor enthusiast. For more information on planning your trip visit the official travel guide here: www.visitmt.com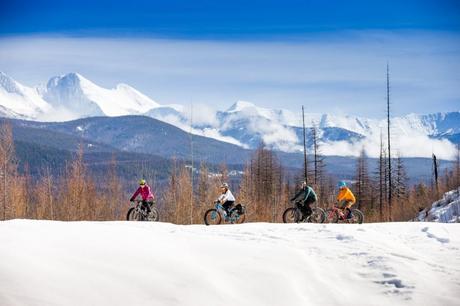 All photos here are courtesy of Montana Office of Tourism