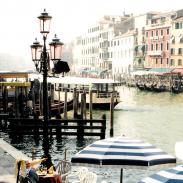 Italy is a beautiful, charming country with a rich culture and a lush history. People from all over the globe find themselves in awe of this peninsula nation, and often they yearn to go back.
If you have the opportunity to spend a year in Italy, you are very fortunate. It doesn't matter if you are going for school, work or pleasure; this will be an enriching experience.
You want to be prepared for your temporary move overseas. By planning ahead, you can have less stress and be able to focus more on the splendor and richness of Italy and its culture. In order to help enjoy this nation fully, there are some things you should do before spending a year in Italy.
Learn the language.
If you are there for a year, the odds are great that you are not a tourist. You probably won't be spending that much time at tourist destinations either. That being said, if you want to be able to go shopping, find your way about town, meet new people or even be able to order lunch, some basic Italian is in order. Don't think you need to sit in class for months, like you did in high school. The Pimsleur Approach is one example of a program that gets fast results in 30 minutes a day.
Know the Residency Requirements
As a US citizen, you can visit Italy for up to 90 days without a visa—longer stays entail specific residency requirements. Learn more about Italy's regulations here on the US Department of State website.
Get Insured
While traveling and living abroad is an amazing experience, emergencies and other unfortunate things happen, and  you will want to make sure that you are covered. Italy has a national health care system, so if you are legally working in the country there is a great chance that you may be covered, but double check. Like anywhere, medical expenses can add up if you don't have coverage. You may also be required to have health insurance if you are going to be a legal resident, depending on your particular situation. Research this before you leave; this may be a big additional expense you will need to save for.
Forward Your Mail
When you are gone, you want a trustworthy person on United States soil to receive your correspondence. This should be someone you know well, as he or she will need to open your mail if it looks pressing and urgent. You can also give banks and creditors your Italian address; mail will take much longer, but you will get it directly.
Save Some Money
If you are moving for a promotion at work, this may not be quite as important. Everyone else, however, should do what they can to have some extra money in their pockets. Even if you aren't in the country for pleasure, you'll need cash. Italy uses euros and you can get a much better exchange rate there if you take dollars, or draw from a debit card at local ATMs, also known as Bancomats. Credit cards tend to give horrible exchange rates, unless you set up a specific arrangement in advance.
Set up Online Accounts and International Banking
Almost every bank, utility and creditor lets you set up online accounts. This allows you to make payments and manage your accounts anywhere in the world. Even if you intend on paying something off before you leave, set up an account so that you can make sure the payment has processed, or no new fees sneak up on you. Also, be sure your debit and credit cards are set to accept international transactions. Some restricted cards and fraud-prevention measures can make activating the card from abroad a real hassle.
Join the Smart Traveler Enrollment Program
Also know as STEP, it's a free service that keeps you in contact with the U.S. Department of State and your local consulate in the event of important news or emergencies.
Stash Your Stuff
You will be gone for a year, give or take, so you need to do something with your belongings. Rather than paying full rent to keep your stuff in an empty apartment, it's a lot cheaper (and safer) to stash it all in a self-storage unit. Even if you are planning on having a tenant in your house or apartment, it's a good idea to store valuable and breakable items to keep them safe.
Italy is a beautiful country. By spending a year there, you are doing something that many people only dream about. It doesn't matter why you are visiting; it is something that you are sure to enjoy if you plan ahead properly.

Kenneth McCall is director of IT for storage.com. In this role he builds the systems that help customers find the best self storage units for their needs. Through Kenneth's and his team's work, customers can find self storage in Philadelphia and other cities. In his spare time, Kenneth likes to bike and participate in outdoor activities.