Hope you all had a Happy Easter and/or Passover if you celebrate them!
I recently purchased a Pentel Arts Aquash Brush, which is a pigment ink-filled brush, to add to my collection of drawing tools. First, I couldn't figure out how to get the ink to flow, but when I did, it came out in a big blob onto the paper.
I used the tip of the pen to spread the ink around, creating lines that radiated out.  I continued to draw with the pen, but the brush and ink flow were hard to control.  Finally, I used a Koh-i-noor fine tipped Nexus studio pen and my black and gray calligraphy pens to develop the image.  For a touch of color at the end, I added some orange.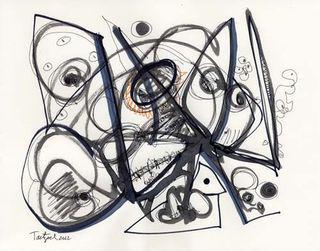 2012 Drawing #1, 11 1/2" x 9" ink on paper.