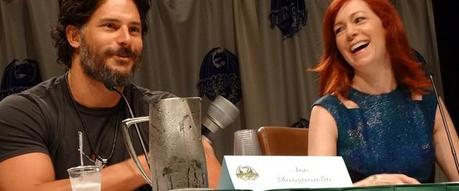 The first day of Dragon Con 2012′s True Blood panel, the fire alarms kept going off intermittently. On the second day, the difficulties translated to the microphones not working as they should. But I am almost positive no one noticed because everyone wanted to see the actors! Nelsan Ellis (Lafayette Reynolds), Carrie Preston (Arlene Fowler), Sam Trammell (Sam Merlotte), and Joe Manganiello (Alcide Herveaux) returned for day 2 of the panel with Joe getting a particularly loud response when he came out onstage.
I had a front row seat for the event. So please enjoy the videos and photos of this event below!
The photos will be added when they are finished uploading.
Sources: YouTube.com- "Dragon Con 2012 Day 2 True Blood Part I"
YouTube.com- "Dragon Con 2012 Day 2 True Blood Part II"
YouTube.com- "Dragon Con 2012 Day 2 True Blood Part III"
Image/Video Credits: True Blood Fan Source.com