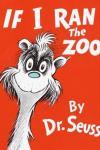 Read Across America Day (Dr. Seuss Day) is Saturday, March 2, 2013.  Celebrate by reading a book!
Dr. Seuss, whose real name is Theodor Seuss Geisel, was born on March 2, 1904. (He died in 1991, but if he were still alive he would be 109 years old!) Here is a link to suggestions for 44 fun crafts you can make to celebrate his birthday and his books.  Ranging from Cat in the Hat marshmallow lollipops (there are a lot of food ideas) to costumes and printable posters, you could use these ideas for a child's birthday party or for a class party to celebrate reading.
I remember my first introduction to Dr. Seuss's books as a very young child when my parents read to me And To Think That I Saw It on Mulberry Street and If I Ran the Zoo. They were among the many books we checked out on our weekly trips to the public library. I loved those books and got hooked on reading for the rest of my life.
HAPPY BIRTHDAY DR. SEUSS!