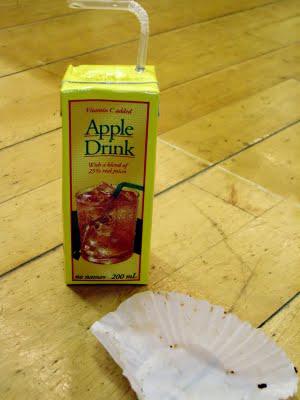 I am really upset about this controversy. I feel like Dr.Oz has a solid background of good judgement. If he thinks there is a chance apple juice has arsenic in it, I am going to listen. My kids go through a ton of apple juice-probably four large containers a week! It gets expensive, so we buy the cheap stuff. I do hope more testing is done on apple juice if there is any question at all about its safety. What are your thoughts?
FROM NBC: Parents who saw "The Dr. Oz show," Wednesday may be throwing out their bottles and boxes of apple juice, this morning. The show says an independent lab it hired.. found some brands have potentially dangerous levels of arsenic, but the F.D.A. says Doctor Oz got it wrong.
In fact, the FDA is questioning the lab work that was done for the Dr. Oz Show and calling the show "irresponsible" for what it says is bad information. For the audience, watching the Dr. Oz show Wednesday, the allegation was startling:
Dr. Oz: "Some of the best of best apple juice names in America have Arsenic in their apple juice!" The show says it hired an independent lab to test samples of apple juice produced overseas. That lab found a third of the samples contained levels of arsenic higher than what the EPA allows in drinking water. "But, guess what, there is no limit on arsenic in apple juice." "But the FDA says that's misleading! Because there are different types of arsenic.
Some dangerous - like from pesticides, and some arsenic that's naturally occurring, and not-as-dangerous. And the Dr. Oz show only counted the total amount of arsenic, without differentiating." In letters to show, a senior scientists at the FDA warned that, "it would be irresponsible and misleading for the Dr. Oz Show to suggest that apple juice contains unsafe amounts of arsenic."
The FDA also questioned the testing methods used by the show, since the FDA conducted its own tests of the same apple juice lots and found arsenic levels well within safe margins almost zero. Don Zink/Food and Drug Administration "To try and interpret the data to mean that apple juice is unsafe is misleading, it's irresponsible and I think they're needlessly scaring parents."
Dr. Oz responded by calling for more scientific research: "I don't want folks to stop drinking apple juice - I want us to figure out whether we have an issue with apple juice." Dr. Oz says he's still buying American-made apple juice, while the juice industry insists all of its products are tested and safe:
Dr. Gail Charnley/toxicologist for the Juice Product Association "Apple juice is tested before it enters the country, apple juice is tested before it enters the marketplace, apple juice is tested after it enters the marketplace. Apple juice has been tested by FDA for years and FDA has no cause for concern." The Dr. Oz show, of course, is very popular and Dr. Oz himself has become something of a national health guru. But in this case, he's accused of getting it wrong and scaring his audience.