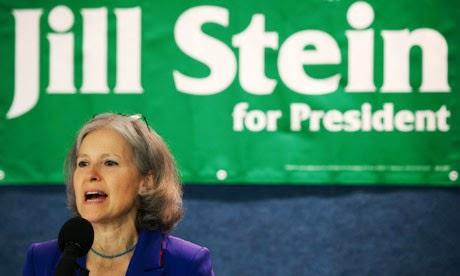 (This image of Dr. Jill Stein is from ian42.com.)
There is a small group of progressives that are unhappy with the thought of Hillary Clinton being the Democratic nominee for president. They don't think she is progressive enough, and are trying to get Senator Elizabeth Warren to run in 2016 (even though she has repeatedly denied that she will run). Well, if they want a woman to the left of Hillary to run for president, then their wish may have come true.
Dr. Jill Stein, the Green Party's nominee for president in 2012, announced on Friday that she is putting together a committee to explore the possibility of a second run for president. In plain language, she is seeking the nomination of the Green Party for president in 2016 -- and considering the hard work she has done for the party since 2012, I think she'll get that nomination. Here is what she said in her announcement:


 " (the) demand for deep change has grown to a fevered pitch. Workers are fighting for living wages and the right to a union. Students are demanding an end to college debt that's crippled a generation. Young people are leading the courageous Black Lives Matter movement to end police militarization and racist violence. Momentum is growing against abusive high stakes testing that forces poor kids down the deadly school to prison pipeline. The fight is building against predatory mass incarceration. Hard-working immigrants are standing up for a humane path to citizenship, not simply a 3-year deferral of deportation. Frontline and Indigenous communities are leading the resistance to toxic fossil fuels that threaten to disrupt civilization as we know it in our lifetime." . . .




"This is the time to come together. Solutions are in our hands. Justice is in our hands. Democracy is in our hands. Together we can create a world that works for all of us, and ensure that People, Planet and Peace will prevail. It's in our hands."


If you must have a candidate with progressive credentials more "pure" than Hillary Clinton's, then you should take a hard look at Dr. Jill Stein. Elizabeth Warren is not going to run, but Dr. Stein is -- and she is progressive to the core. I admit that a vote for Dr. Stein in 2016 would be largely a symbolic "protest" vote -- but if you're honest, you have to admit that any vote for Warren would be the same.