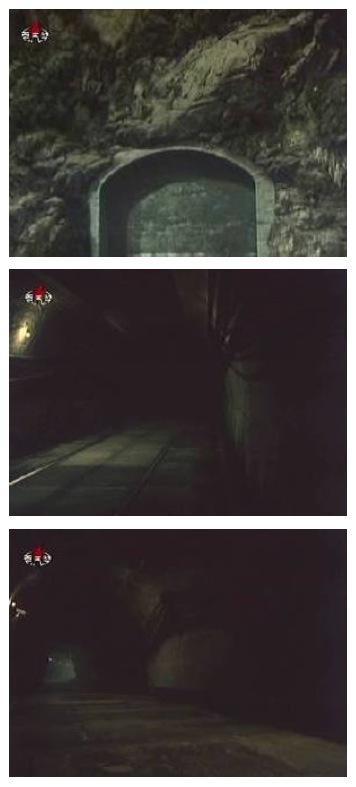 Images of a tunnel entrance (top) and tunnel leading to the nuclear detonation site. These images appeared in episode 4 of the 2009 Korea Film Studios' feature The Country I Saw, which included a depiction of the 25 May 2009 nuclear test (Photos: KCTV screengrabs)
Yonhap News Agency reported on 26 January (Saturday) that an editorial in Rodong Sinmun, the daily newspaper of the Korean Workers' Party, said that " A nuclear test is the demand of the people and no other choice can be made" and "It is the people's demand that there should be something even greater than a nuclear test."  The 26 January 2013 editorial was published three days after the United Nations Security Council [UNSC] passed resolution #2087 (2013) which "condemns" the 12 December 2012 launch of the U'nha-3 rocket and "demands that the DPRK immediately comply fully with its obligations under resolutions 1718 (2006) and 1874 (2009), including that it: abandon all nuclear weapons and existing nuclear programmes in a complete, verifiable and irreversible manner; immediately cease all related activities; and not conduct any further launches that use ballistic missile technology, nuclear test or any further provocation."  The 26 January Rodong editorial said that that UNSC "gave us no other choice . . .but to go to the very end."  It is not clear if going "to the very end" is part of an "upcoming all-out action" which announced in a 24 January (Thursday) statement by the DPRK's supreme power organization the National Defense Commission.  
The Rodong editorial was published the same day as DPRK state media reported that the country's 23 January Foreign Ministry statement "as regards the fabrication of the 'resolution' by the U.S. and its allies at the U.N. Security Council in wanton violation of the inviolable sovereignty of the DPRK was distributed as an official document S/2013/50 at the UNSC on Jan. 25 (Friday)."  On 26 January (Saturday) DPRK state media conducted a few "man on the street" interviews about the UNSC resolution.  According to KCNA the slogan (likely authored by Korean Workers' Party Secretary and Director of Propaganda and Agitation [publicity and information] Kim Ki Nam, the country's slogan master) "'Death to the U.S. imperialists, sworn enemy of the Korean people" can be heard everywhere in the country."  KCNA reported that "Many young people are volunteering for military services, out of their will to annihilate the enemies while other people visit military posts with aid materials."  In one interview elderly Moranbong District resident Kim Tok Jong said, "A nation's sovereignty is more precious than one's life" and that he "lived for nearly 70 years. The past years clearly shows that words do not go on the U.S. and only force is needed to settle accounts with it.  If a war breaks out, I will take arms in my hand to fight against the U.S. scoundrels.   I will also do my utmost to wipe out the group of evils running amuck to trample down the nation's right to existence and development."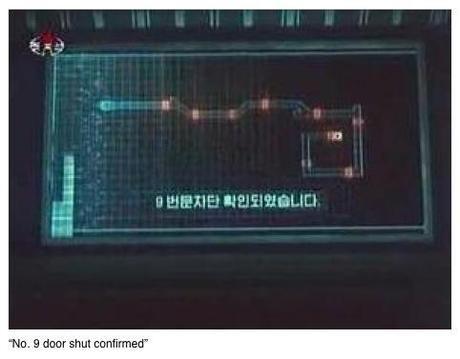 (Photo: KCTV screengrab from The Country That I Saw,)
Meanwhile, in Punggye-ri, Kilchu County, North Hamgyo'ng Province, "satellite imagery from January 23, 2013 and previous images dating back a month reveal that the site appears to be at a continued state of readiness that would allow the North to move forward with a test in a few weeks or less once the leadership in Pyongyang gives the order," according to an analysis by Jack Liu for 38 North.
Liu's analysis shows that imagery "reveals continued activity at the area near the possible test tunnel entrance through the appearance of bare ground and open roads. There was significant snowfall in November 2012, and the area has been cleared in the dead of winter, indicating the intent to maintain site readiness."  Another image reveals "a close-up of a December 24 GeoEye satellite image shows an apparent pile of material in the yard of the main administrative buildings near the entrance to the possible command bunker.  (The presence of a bus, probably used to transport personnel working at the site, is another indicator of continued activity.) The purpose of that material remains unclear. One possible explanation is that it is intended for 'stemming' or sealing the tunnel in."  An image captured in early January shows a significant personnel presence " another indicator of continued activity and readiness at the site. Thirty or more personnel, possibly soldiers or security guards, can be seen in formation in the same area. They may be there for special duty, for example to greet visiting officials, or for some other more routine purpose."  Finally, an image taken three days ago, as the NDC warned of "all-out action" finds that "that the pile of material in the yard of the administrative area has shrunk. If this material is intended for stemming, one possible explanation is that operations have begun to seal the test tunnel. This image also provides the clearest view of the tunnel entrance to date. Roads to the entrance continue to remain clear."
Even if a third experimental detonation (using HEU), there remains the matter of a deliver system.  The Japanese Defense Minister, Itsunori Onodera said at a meeting attended by new PM Shinzo Abe that DPRK missile research capability had "entered into a new stage."  According to Xinhua English (note the media source), " Onodera said that "the missile, which the DPRK called as a rocket to send a satellite into orbit, could reach U.S. western coast more accurately with a range of more than 10,000 km (6,213 miles)" and "that the capability of the DPRK's short-or-middle-range missiles has also been improved, posing more threats to Japan's security."  Onodera's remarks were based on an analysis of the 12 December 2012 U'nha-3 launch.
On 25 January (Friday) UNSC Resolution #2087 (2013) and the DPRK's reactions to the resolution was a hot topic at the US State Department's daily briefing (during the course of Victoria Nuland's briefing it seems a group of people got lost in the building).  Still on North Korea? Yes, indeedy.  The relevant sections excerpted (for Empsonian close reading and interpretation) below:
QUESTION:North Korea threatening to go to war with the South?

MS. NULAND: As you know, my colleague Jay Carney spoke to these issues yesterday. These statements coming out in North Korea are needlessly provocative. Any kind of further test would be another significant violation of UN Security Council resolutions and only will serve to further Pyongyang's isolation. As you all know, the UN Security Council passed Resolution 2087 earlier in the week in response to the December missile launch, and that resolution tightens the sanctions on North Korea and works hard to ensure that it cannot succeed as a proliferator of missile technology, et cetera.

And it's just – it's really a pretty sad story because the new North Korean leader has a choice to make, as the Secretary has said so many times. He can serve to focus on the needs of his people, to bring his country out of isolation and back into compliance with international obligations, open it back up to the world, or he can continue to waste what little money the country has on missile technologies and things while his people go hungry. So –

QUESTION: I have a question on that. The new leader is not all that new. I mean, you have a pattern of events that you can look at – the original failed test, the subsequent missile test that was successful, and now the threat to conduct a third nuclear test. Does it seem to you all now that he has made his choice and how – what kind of a strategy, a diplomatic strategy, can you pursue if he is not interested in serious talks about his nuclear and ballistic missile programs?

MS. NULAND: Well, you're not wrong that the pattern of choices is concerning, which is why we felt very strongly that the international community – oh, we seem to have some guests. Hi, guys. Not sure who they were, but I think they were lost.

So again, the pattern of choices appears to be quite concerning. That's why it's been so important to keep the international community united in response to these negative choices, why we took the time we did to get it right with Resolution 2087, to make clear to North Korea that particularly the Six-Party states, including all of North Korea's neighbors, are united in ensuring that there is a price to say, that there will be increasing sanctions, that we are going to be vigilant about their proliferation activity, the activities of their banks, and that it's going to take the country in the wrong direction.

I think you know that Ambassador Glyn Davies is out in the region now. He is in Beijing today, had very productive and useful meetings with counterparts there, including Vice Foreign Minister Fu Ying, his counterpart Special Representative for Korean Peninsula Affairs Wu Dawei, and others. He was in Seoul yesterday and he's going on to Tokyo tomorrow. So very much a project to stay coordinated with our Six-Party counterparts in watching this and in ensuring that North Korea gets the message that nothing good is going to come from this.

QUESTION: And turn back to the China issue in this whole mix. Today, the Chinese press seemed to be suggesting that they've told North Korea that if it goes ahead with its nuclear test that they will actually – Beijing could cut its aid to Pyongyang. That seems to be an interesting move on the part of the Chinese. What would you have to say on that?

MS. NULAND: Well, I didn't see those particular comments. But we have, as you know, regularly encouraged Beijing to use the significant influence that it has with Pyongyang. They have, at various times, been able to make clear that the continued support of Beijing in terms of trade, aid, the energy relationship, et cetera, depends on North Korea making the right choices. Again, China joins strongly with us in Resolution 2087, which was important, and we, as Glyn Davies said – he had a very good visit to Beijing in terms of plotting the course forward together.

QUESTION: How important – if they go ahead and do something like that – how important could such a cut in Chinese aid to North Korea be in changing the calculations of the North Korean leadership?

MS. NULAND: Well, I don't want to speculate on scenarios to be determined. But obviously, North Korea remains quite dependent on its aid and trade relationship with Beijing.

Jill, still on this?

QUESTION: Toria, are the Six-Party Talks off, as they seem to be indicating in the North Korean statement?

MS. NULAND: Well, we've made clear for more than a year now that the Six-Party Talks couldn't go forward to a new round unless we saw real evidence that the DPRK was prepared to meet its obligations. So we're still in the state that we've been for more than a year in terms of not having the kind of intent that we need to go forward.

QUESTION: New topic?

MS. NULAND: Still on North Korea?

QUESTION: Still on North Korea.

MS. NULAND: Yeah. Please, here.

QUESTION: Do you – this time around, do you have any reason to believe the North Koreans will get that message and actually take astep on – well, make the – what you would call the right choice and actually open up to dialogue, or perhaps discontinue their programs or even do anything in the right direction?

MS. NULAND: Well, anybody who endeavored to be predictive about North Korean behavior is probably foolish. But what's been important to us is strong unity among the Six-Party Talks countries, strong unity in the region about a positive course forward, and the fact that there will be consequences if they keep making bad choices.

QUESTION: One more?

MS. NULAND: Yeah.

QUESTION: What types of consequences?

MS. NULAND: Well, I think –

QUESTION: Because there's been few besides UN resolutions that haven't changed their behavior. There hasn't really been any significant consequences otherwise.

MS. NULAND: I would reject that, Brad. If you look at UN Security Council that was just passed, 2087, and go through it, and I would commend to you the fact sheet that USUN put out on this, it imposes new sanctions on North Korean companies and government agencies, including a broad range of sanctions against their space agency, which was responsible for the launch, as well as the Bank of East Land and several individuals in the North Korean system who had previously not been sanctioned. Six entities and four individuals will have their assets frozen and will be prohibited from engaging in financial transactions. This is UN sanctions, not just U.S. sanctions. There's an updated list of nuclear and ballistic missile technology that's going to be banned from transfer to or from the DPRK. I could continue. But –

QUESTION: Do you think there's space to squeeze them further on the sanctions route, that this country which is perhaps the most heavily sanctioned in the world can still be – there's still consequences along this sanctions route left?

MS. NULAND: Well, obviously, and we wouldn't have put new sanctions on them if we didn't think that they would be effective.

Please.

QUESTION: I just wanted to follow up quickly as far as North Korea's missile technology or missiles are concerned. Despite UN Security Council resolutions or UN sanctions, international sanctions, still North Korea is continuing and not listening to the international community. So if China is with you, Madam, since China was always helping North Korea. But who else is behind this technology or behind North Korea?

MS. NULAND: Well, again, I think what we just have been through here is the fact that the international community now with this new resolution has spoken with one voice in putting on increasingly tough sanctions on the DPRK, including getting at the space agency, getting at the banks, naming individuals who had not previously been named, as contributing to taking the country in the wrong direction. And we will continue to look for further opportunities to make our views clear in this kind of a way if the DPRK doesn't change course.

QUESTION: And when this new leader came in North Korea, everybody hoped that things will change to the right direction for the people of North Korea, but still they are going in the worst direction as far as the people are concerned.

MS. NULAND: Well, again, we would certainly agree with that. I mean, as you know, we were a year ago engaged in trying to work out some kind of a food assistance deal, but we didn't get the kind of assurance that we needed from the government that it was going to go to the right place. So it's very disappointing.

Please.

QUESTION: Thank you.

QUESTION: Does the United States have any separate plan for additional sanctions toward North Korea for the third nuclear test?

MS. NULAND: In response to the December test, what you will see and what you've seen in the last couple of days are U.S. decisions that implement the larger UN Security Council decisions in 2087. So you're starting to see us put out our own sanctioning information to ensure that we are complying now in our own law with 2087.
Filed under: 2007-2010 kpa management, 2013 Strategic Rhetoric, 2nd Academy of Natural Science, Central Committee, Central Military Committee, critical infrastructure, DPRK Cabinet, DPRK Civil Defense Forces, DPRK Diplomat Corps, DPRK External Relations, DPRK General Department of Atomic Energy, DPRK Intelligence Community, DPRK-China Relations, DPRK-Japan Relations, DPRK-Japan rels, dprk-unc, DPRK-United Nations Relations, DPRK-US Relations, Gen. Kim Myo'ng-kuk, Gen. Pak Jae Gyong, General Affairs, gsd, gsob, Guard Command, Hwang Pyong So, Jang Song-thaek, Kang Sok Ju, KCTV, KJI Personal Secretariat, Korean People's Army (KPA), Korean People's Army Supreme Command, Korean People's Internal Security Forces, Korean Workers' Party (KWP), KPA construction battalions, KPA construction brigades, KPA East Command Zone, KPA General Political Bureau, KPA General Political Department, KPA General Staff, KPA General Staff Nuclear Chemical Bureau, KPA Large Combined Units, KPA supernumerary organizations, KPA Supreme Command, Kwangmyongsong-3, KWP Science and Education Department, Machine Building Industry Department, military security command [msc], Ministry of State Security, Ministry of the People's Armed Forces (MPAF), MPAF GPB, National Academy of Defense Sciences, National Defense Commission (NDC), NDC Administration Department, North Korean press, nuclear weapons, Operations Bureau Department 10, Organization and Guidance Department, Pak To Chun, Political Bureau, Propaganda and Agitation Department, Second Economic Committee, Second
Economy
Commission, Secretariat, Six Party Talks, State Security Department, transportation, tunnel construction, VMar Hyon Chol Hae, VMar Kim Yong Chun