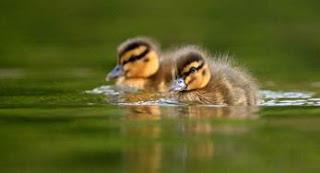 © WWT
The Wildfowl and Wetlands Trust (WWT) award winning Downy Ducklings experience has been re-vamped ready for families to enjoy this summer half term at selected WWT weltand centes.
Downy Duckling Days let visitors go behind the scenes at our world famous duckeries for a full egg to duckling experience.  Families can get a sneak preview of baby ducklings, goslings and cygnets in the egg, watch live hatchings, see baby birds take their first steps and watch them splashing about.  Some of the baby brids on show include more exotic breeds such as Black-bellied whistling, Mandarin, Eider and Common golden eye ducklings.
New elements have been added to the Downy Ducklings tour this year, including being able to put eggs to your ears to hear ducklings chirping inside the egg at Martin Mere and hatching live cam at Washington.
Outside at our centres, families can find even more cute baby birds, such as Nene goslings, Shelduck ducklings (known as humbugs due to their stripey down) and flamingo chicks waddling about. Beyond, on our wetland reserves, look for wild lapwing chicks and families of mallard ducklings.
Visitors can take part in Downy Duckling Days at Slimbridge (Gloucestershire), Martin Mere (Lancashire), Llanelli (Carmarthenshire, Wales) and Washington (Tyne and Wear) WWT wetland centres from 27 May to 4 June.  Castle Espie Wetland Centre (Northern Ireland) is holding Downy Duckling Days every weekend in June.
WWT Duckery Warden, Phoebe Vaughansaid:
"Our Downy Ducklings tours are unique to WWT wetland centres, offering visitors a fascinating glimpse into a day in the life of our busy duckeries.  Here families can learn about all the stages of a baby bird's early life – from egg to duckling – it's an incredible journey."
As well as close encounters with young wildlife, there's lots of adventurous things to do at our centres this summer half term including:  
·

  

Paddling or gliding through reeds, spotting kingfishers, water voles and lots more on our canoe or boat safaris at Martin Mere, Slimbridge and Arundel.  
·

  

Splashing about in our water play areas such as Welly Boot Land at Slimbridge and The Rushes at Martin Mere
·

  

Pond dipping at special exploration stations at most of our WWT wetland centres across the UK
Other events running over the half term at WWT centres include:  
·

  

Caerlaverock Wetland Centre (Dumfriesshire, Scotland) – GIANT LEGO® brick animal trail (6 May – 30 July), including a gigantic otter, supersized kingfisher and huge frog
·

  

Llanelli Wetland Centre (Carmarthenshire, Wales) – Celebrity Giant Dusty Duck trail (27 May – 25 June), 14 six foot Dusty Ducks for the public to discover on a special trail, each designed by a celebrity, including Joanna Lumley's Absolutely Fabulous Patsy Dusty, Chris Packham's Ziggy StarDusty and Kate Humble's Camo Dusty 
·

  

Castle Espie Wetland Centre (Northern Ireland) – Giant Wetland Wildlife Top Trumps (29 April – 4 June), can you beat Castle Espie at a game of giant top trumps featuring some of our favorite wetland superstars
For more information on all half term activity please visit the What's On pages of the WWT wetland center you'd like to visit:
·

  

WWT Slimbridge Wetland Centre, Gloucestershire 

(

wwt.org.uk/slimbridge

) (Downy Ducklings tours are part of the Spring to Life activities)
·

  

WWT Martin Mere Wetland Centre, Lancashire  (

wwt.org.uk/martin-mere

) 
·

  

WWT Llanelli Wetland Centre, Carmarthenshire, Wales 

(

wwt.org.uk/llanelli

) 
·

  

WWT Washington Wetland Centre, Tyne & Wear

 (

wwt.org.uk/washington)
·

  

WWT London Wetland Centre, Barnes 

(

wwt.org.uk/london

) 
·

  

WWT Arundel Wetland Centre, West Sussex (wwt.org.uk/arundel)
·

  

WWT Welney Wetland Centre, Norfolk (

wwt.org.uk/welney

)
·

  

WWT Castle Espie Wetland Centre, Northern Ireland (

wwt.org.uk/castleespie

)
·

  

WWT Caerlaverock Wetland Centre, 

Dumfriesshire

,

 Scotland (

wwt.org.uk/caerlaverock

)