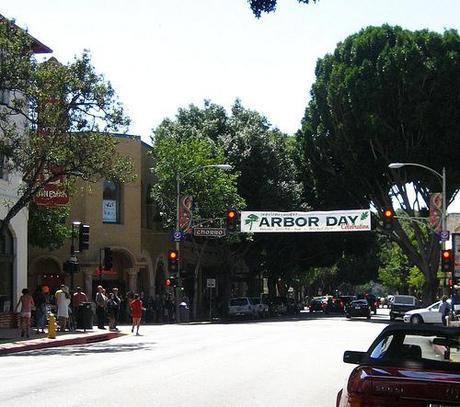 The sun is almost overhead and the doves have scattered again.   We seek one of the shaded springs of which San Luis Obispo County has so many,  and eat our luncheon,  washing it down with cold spring water with such zest as only a crisp morning in the California hills can give.
After luncheon, we explore a bit and come across the ruins of an old adobe hacienda,  reminder of days of romance gone these fifty years.   From the hilltops ...we look out over a vast expanse of country,  a beautiful country hemmed in to the east by one range,  and to the west by another of the picturesque Coast Mountains.Intervening,  lie rounded hills and fertile valleys.   
Oaks are everywhere,  great spreading oaks,  where half a herd may seek shelter from a too friendlv sun.  There is plenty of color in the scene:  the rich brown of the upland,  the deep green of the thick-leafed oaks,  the brighter green of orchard and pasture,  and here and there,  some housetop peeps out from amid the trees.   This is not a bare,  desolate land  - every acre is rich in something.   Any season of the year in California gives to the lover of nature the freedom of out of doors, and today after luncheon,  some of our party indulge in a siesta,  spreading themselves comfortably in the shade while the others gathered, with wonderful views to examine....
~ Sunset, Vol 5, Southern Pacific Company, 1900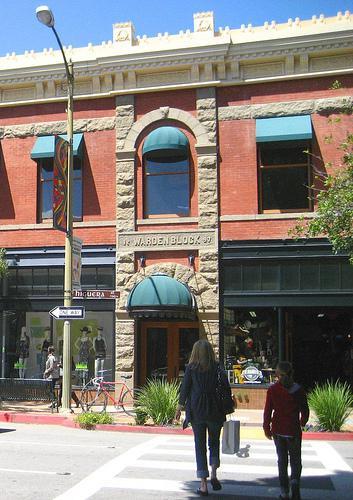 The little city of San Luis Obispo is situated in the midst of unique and beautiful countryside.  There is a decidedly Norcal flavor here - a refreshing contrast to the Socal feel of Santa Barbara.
Situated along the coastline and extending well inland, San Luis Obispo County borders Santa Barbara County to the south, and Monterey County to the north.  
The Pacific waters along the coast have fostered a tight-knit commercial fishing community, and sport fishing is a favorite pastime, too.   Halibut, abalone, crab, lobster, shark, prawns,  red snapper,  cabezon and other varieties of seafood are available in season.  Lopez and Nacimiento, large inland lakes, offer freshwater fishing opportunities.  It's a great environment for the outdoorsman -fishing, hunting, hiking, surfing, horseback riding, off-roading, and other outdoor sports can be enjoyed almost any day of the year.
San Luis Obispo is also home to a deeply embedded ranching culture that began with the Spanish vaqueros who arrived here not long after Padre Serra.  This is where cattle is king, and you are sure to see more cowboys here than in the state of Texas.  If you want to experience a celebration the cowboy way, plan to visit the annual MidState Fair.  There are pro-rodeo events, livestock shows and sales, cowboy art, authentic local barbeque,and you'll meet lots of folks who actually wear spurs and chaps to work.
The  California Polytechnic State University, San Luis Obispo, is another important influence in this area.   "For 18 years in a row, Cal Poly has been rated the best public-master's university in the West by U.S. News & World Report, in its 2010 America 's Best Colleges guidebook."  Wow.  Cal Poly educates future superstars in the agricultural, architectural, business, and environmental fields who will soon  lead and change our world for the better.  Their influence in the county is everywhere, and they impart a decidedly collegiate flavor throughout.
So, you see - the San Luis Obispo community is a diverse and interesting one.
Recently, K&A invited me to go along  to spend the afternoon in San Luis Obispo.  We rolled up Highway 101, admiring  the hillsides covered with lush green waves of wild grasses and tall drifts of yellow mustard blooms.  The road also skirts the coastline much of the way; my mind drifted above the indigo water that reflected the bright vault of sky.  White puffs of downy clouds punctuated the scene aloft.  It was the perfect day to explore the town of San Luis Obispo.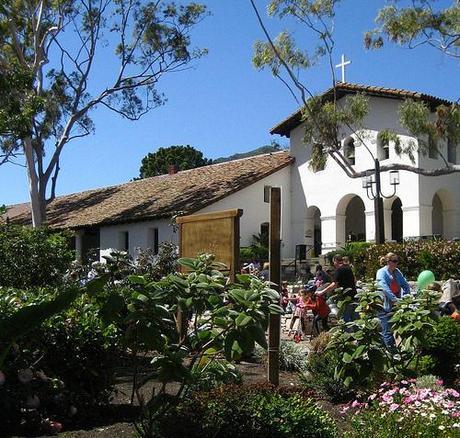 The community grew up around  Mission San Luis Obispo, the fifth of 21 missions built by the Spanish during their colonization of California in the late 1700s.  The San Luis Obispo Creek, dappled with the shade of sycamores other riparian lovin' trees, runs alongside the mission property, right through the middle of the downtown area.   There is a little recreational area along the creekbed.
The city is known as SLO, by those who love her.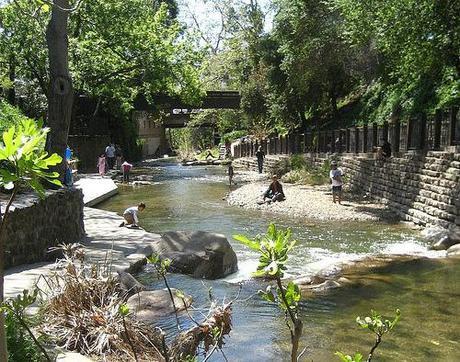 The historic district of Downtown San Luis Obispo is a colorful, lively place full of stores, bars, restaurants, galleries and coffee shops.  The city streets that make up the downtown district, Higuera, Monterey, Marsh, Palm, Garden, Morro and the others, are surrounded by charming neighborhods where many of the Victorian, carpenter gothic, craftsman, and California cottages are beautifully maintained.  Many of them have old, flourishing gardens that were planted about 100 years ago.   Much of  the downtown area is canopied by large old trees that cast a deep, cooling shade over streets and sidewalks.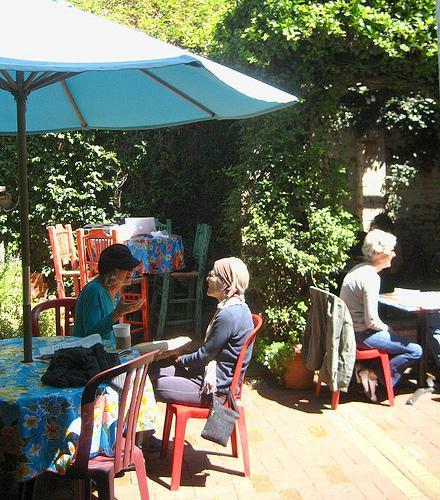 SLO has dozens of restaurants downtown, serving everything from sandwiches, seafood, barbeque, and bakery goods, to Italian, Chinese, Thai and Mexican cuisine. Pubs and breweries are popular here, and are sprinkled throughout the area.  Linnaea's Cafe , a long-time favorite of locals, has a sunny little garden hidden from the street, the perfect place to meet for an afternoon latte, or enjoy a pastry and cup of tea on a warm summer evening.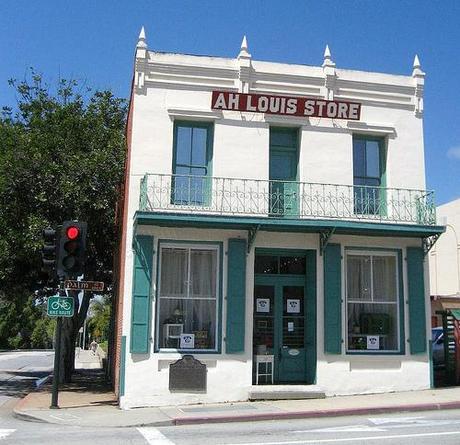 The residents of San Luis Obispo have preserved many of the architectural treasures from the earliest days of the city's history.  The Ah Louis building, once a general merchandise store, provided goods to the Chinese residents of SLO.  It is still located in what was once the heart of Chinatown in San Luis Obispo.
The Chinese came to this area originally as laborers on the Southern Pacific railroad project.   They built tracks along ocean cliffs, and bore immense tunnels through the coastal mountains for trains.   Other architectural reminders in this part of town pay homage to the early Asian residents who were so important to the development California. 
In addition to the Chinese, in the 1800s SLO became home to many Swiss, Italian, Mexican, and Portuguese immigrants.  Descendants of those earlier residents still call this area home; their roots are deeply entwined in the ranching, fishing, and farming communities that are so important here.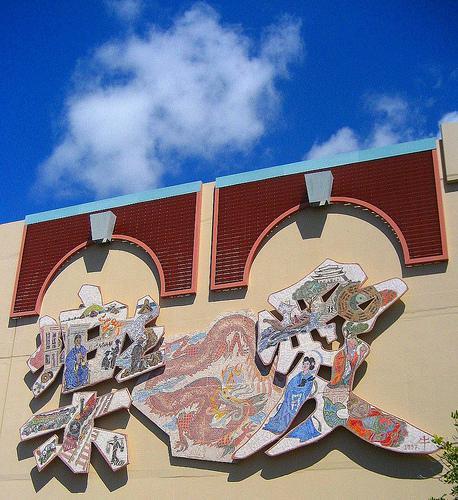 The annual SLO Holistic Living Expo and UFO Festival might be a fun way to meet those who are interested in alternatives to traditional society.  There are a number of holistic healers in town, as well, who offer  an eclectic mix of the healing arts: massage, chiropractic, reiki, aura cleansing, acupuncture, and wu shu tai chi, and other practices are found here.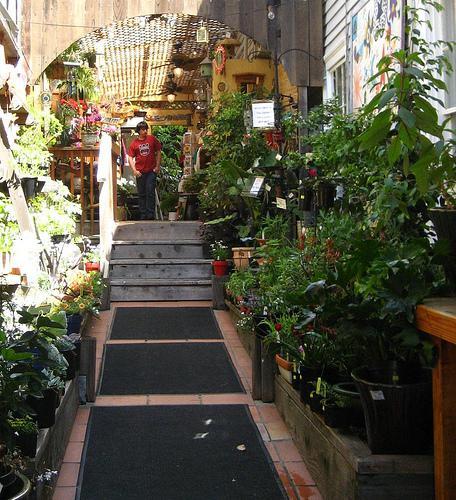 On our recent trip, I discovered The Growing Grounds Nursery.  Tucked away on a little strip of real estate between two tall buildings, the Growing Grounds has created a luxurious environment, where green and blooming things thrive.  I learned that the nursery and gift shop is sponsored by the Transitions - Mental Health Association of San Luis Obispo.  The Growing Grounds Farm and Nursery is located just out of town, and was created to offer those suffering with schizophrenia, bipolar disorder, or other major mental illnesses the opportunity to experience horticultural therapy, by working on the farm and at the nursery.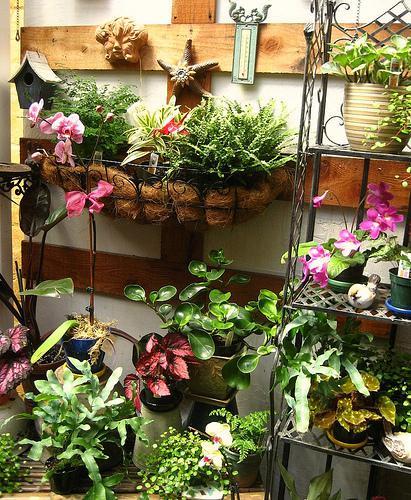 The dowtown nursery and gift store offer beautiful succulents, bedding and vegetable plants, as well as houseplants that were started on the farm. They also offer garden gifts, cards, orchids, large-leaf begonias and other specialty plants. The Growing Grounds Farm also has plants available through their wholesale nursery, as well. The Growing Grounds Downtown is the culmination of a city's determination to offer those with mental illness the opportunity to work the land, and grow strong, and earn a paycheck, and offer beautiful, healthy, lovely plants and gifts to their community. It's a must-see shop on your next trip to SLO town. (Located at 956 Chorro St / www.t-mha.org)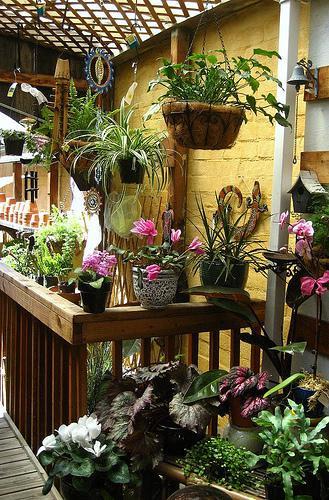 As the afternoon lengthened, K & A led me toward their favorite store in town, their local game-lovin', comic-book-obsessin'  mecca: Captain Nemo Comics.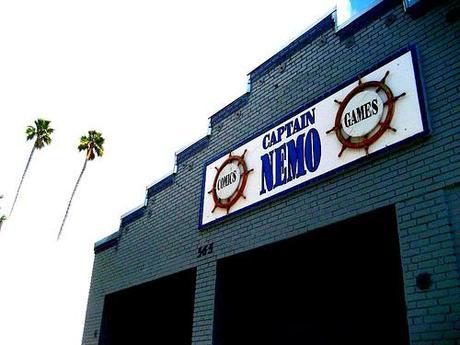 Next door to Captain Nemo is Cheap Thrills, an old school record store that offers thousands of LPs, CDs, DVDs, and video games.  Nemo's and Cheap Thrills are local traditions, bringing the best of music, movies, comics and gaming to SLO since 1971.  I used to frequent the place when I was in high school, and brother, you can't get more old school than that.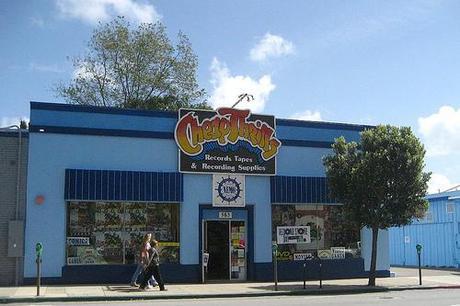 San Luis Obispo is a great little city whose vibrant personality results from a blend of youthful energy mixed with deep ties to history and tradition.  It's a great place to live, and a most excellent vacation destination, as well.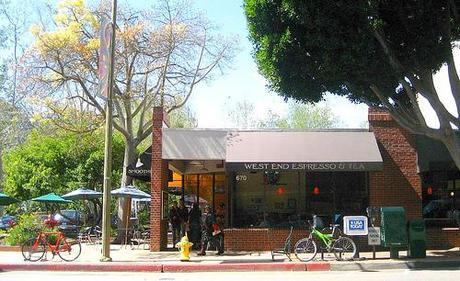 If you haven't been SLOd recently, maybe the best way to see the town is to visit the Thursday night San Luis Obispo Farmers' Market.   Growers from the San Joaquin Valley come each week to bring their freshest seasonal favorites, and local farmers offer fruit, vegetables, flowers, grown right here.   You'll also be able to purchase fresh seafood, beef, lamb, eggs, and some of that great, summertime Cal Poly corn.  There are lots of street food vendors, as well as live music, kids' activities, and theatrics - whether planned or spontaneous.  The whole community comes out to spend one evening a week together, to revel in their great good fortune to live in this strong and beautiful community known as  SLO.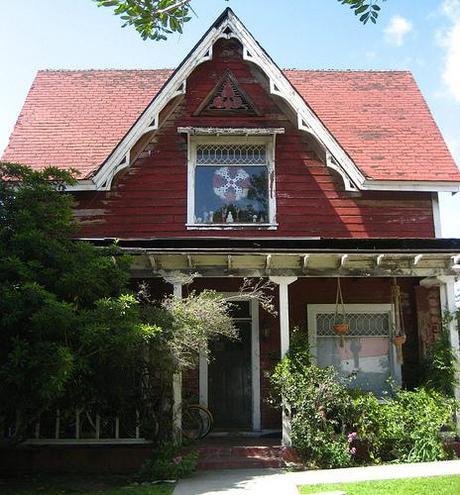 To learn more about visiting San Luis Obispo, visit the San Luis Obispo website.