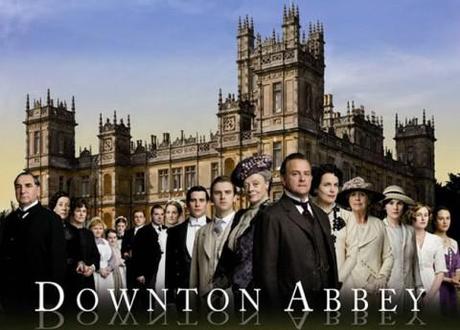 The cast of Downton Abbey. Promotional poster.
Downton Abbey, the award-garlanded television series by Julian Fellowes,  is now as familiar and comforting as a cup of Horlicks before bed. Shown on the commercial channel ITV, and set in the earlier parts of the twentieth century, it concerns the lives and loves of the family of the (fictional) Earl of Grantham (Hugh Bonneville). He has a brood of beautiful daughters (Ladies Mary, Sybil, and Edith) who need marrying off; a distant cousin as an heir (Matthew Crawley, played by Dan Stevens); a fabulously wealthy American wife, and Maggie Smith as his uber-snobbish mother, the Dowager Countess of Grantham. There's also a household of servants including a butler who was once a clown, a Communist chauffeur, a feisty maid, a slightly wet skivvy and a nearly-blind cook called Mrs Patmore. We've seen Mary and Matthew fall in and out of love; we've seen everyone that falls in love with Mary come to a horrible end (drowning, unexplained death, paralysis); we've seen lots of shots of the beautiful house (seemingly always in the sun, even in November 1911); and we've laughed when we're supposed to – and when we're not.
It's been going for two series now (the second is about to finish); and has been gaining regular audiences of 9 million viewers (rising to 11.5 million once "consolidated" viewing – ie on the internet – is taken into account). The second series has been accused of having an over-complicated plot – and, well, of not really being as good as the first one. But it's still pulling in the viewers. Now the makers have announced that there will be a third series, set in the 1920s, to be broadcast in September 2012. Commentators are mostly worried that the series has, in TV parlance, "jumped the shark" (referring to an episode of Happy Days where the Fonz jumped over a shark – it was thought this moment marked the show's decline); but they are still jubilant about its return.
ITV has also accidentally revealed which character will die in the final episode of series two (to be shown this Sunday) in a Spanish flu epidemic – by releasing a cast list for the show.
"It's rare to find a drama that the audience connects with so strongly and we're extremely proud to have commissioned a series that has become such a phenomenon," said Laura Mackie, ITV's Director of Drama Commissioning, quoted on Entertainmentwise.
Julian Fellowes added, also on Entertainmentwise: "I am extremely grateful to ITV for this.  I have grown very fond of my Downton family and I certainly do not want to say goodbye to them quite yet."
Doomed cakes! Viv Groskop, in her Guardian blog, said that she still remains "loyal to the show", despite "recent disappointments". The dialog is ridiculously "expositional", with practically every character having to say " 'I feel that the war has somehow changed me.'" Groskop likes the ice-cold Lady Mary, though, and particularly enjoys cook Mrs Patmore making cakes with skivvy Daisy, suggesting there should be a spin-off series: "Daisy and Mrs Patmore Make Doomed Cakes."
Everyone's doomed! Glenda Cooper, in a piece on The Daily Telegraph lamenting the second series' qualities (or lack of), said that the television idiom "jumping the shark" applies very well to Downton Abbey. For Cooper, it happened when somebody pretending to be the heir to Downton (thought drowned on the Titanic) showed up – she was just surprised that Patrick didn't "turn up with a literal shark under his arm as proof for the sceptical Lady Mary that he had indeed struggled in the icy waters of the Atlantic." "Coronets and entails? Forget it. It'll be all carnage and entrails from now on."
But it's still going to be fun! Media Monkey on The Guardian was rejoicing at the news : "No other show on UK TV currently delivers so consistently when it comes to unintentionally hilarious plot twists."
For some lovely expositional dialogue, watch this clip: