I'm in love with a Masterpiece Theater mini-series. Yes its true! I can't get enough of Downton Abbey! The characters are superb and the costumes are insane. I so want to move to England and live in Highclere castle. Hmm....how can I make this happen?!
Downton Abbey (Season 2) Recap Mondays, yes sir its going down. I'm adding TV/film review to my fashion blog. With an emphasis on fashion of course. Duh! I love fashion and feel that it can be celebrated in many other creative outlets like film/TV. So here's hoping my veteran readers stay with me in addition to gaining some readers. 
Let's get in to it! 
Cousin Violet and Lady Grantham didn't fair well this episode. As Cousin Violent began to step on Lady Grantham's toes, while interfering with the managing of Downton Abbey. Cousin Violet better recognize. What woman is going to let you come into her house and try to run it!? I don't think so. Mr. Mosley tried to move in on Mr. Bates's job and woman (that woman being Anna). Watch yourself Mr. Moseley. Mr. Bates has a stick, my guess is he'll use it if you keeping trying to put the moves on his lady. Poor Sybil was in daze after Mr. Branson (the Chauffeur) persuaded her that she is in love with him. Sybil, don't do it girl. Mr. Branson is broke and you are sitting in the lap of luxury. Then there's Ethel (the maid) who was caught being knotty with an Officer. Mary and Edith sang a deut together. It was a lovely to see the sisters getting along. Matthew Crawley went missing but showed up right has Mary was singing. The love was written all over Mary's face. She's still in love with Matthew! Nosey O'Brien is up to something. Is it me or does O'Brien need a Man. A love interest would do O'Brien some good, if only to help her mind her on business. Until episode 4.....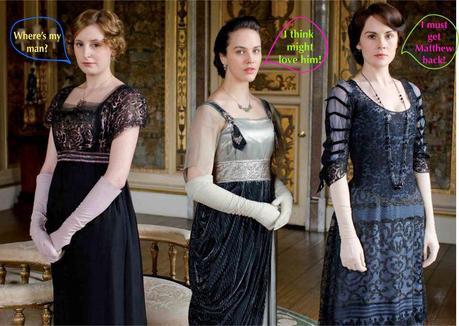 LOVE!!!! Lady Mary's chocker!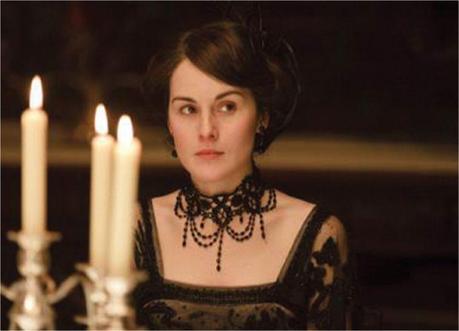 Episode 3 Rating: 








Click her to watch: Episode 3
Official Rating System: (don't laugh, its very efficient to use popcorn for a rating system.)
MOVIE/TV RATING

= major fail


 = the popcorn was my favorite part



= great score, lighting wasn't bad




= must own the DVD





= EPIC filmaking

FASHION RATING

= major fail


= needs some fashion love



= love the shoes




= must own these clothes





= Epic styling /costumes