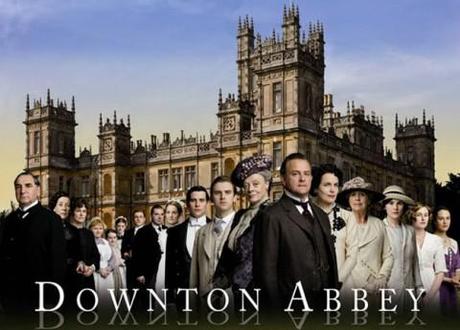 The cast of Downton Abbey. Promotional poster.
The second series of Downton Abbey has drawn to a close. So what have we learned?
Lavinia's terribly convenient death wasn't so convenient after all. As languid Lavinia drew her last breath in a Downton bedroom, it seemed as if a major impediment to Lady Mary and Cousin Matthew's marriage was gone. All that remained was for Sir Richard to drop dead from the same strain of Spanish flu, and the will-they-won't-they plotline would finally be over. But no! For starters, Mary's fiancé remained obstinately alive. But more significantly, Matthew turned into a zombie. At least, that what's the ITV makeup department appeared to be trying to convey through his corpse-like pallor. The official reason he gave his lovestruck cousin for crushing her hopes of a reconciliation was that Lavinia had witnessed them kissing and died of a broken heart, and his guilt was too great. That, and the fact he's now undead and wants to eat her brains.
Lady Sybil hearts Branson. But Lavinia's not-so-terribly-convenient-death did benefit one member of the Crawley family: at her funeral, the Earl of Grantham decided to give his blessing to youngest daughter Sybil's union with chauffeur-turned-journalist Branson. And according to The Daily Mail, Sybil and Branson may be a real-life couple, although actress Jessica Brown Findlay's publicists have denied the rumor.
Bates is under arrest. Joanne Frogatt was given yet another opportunity to bust out her truly impressive lip-trembling skills as maid Anna Smith, when John Bates was led away by police just days after their secret wedding. Grantham's valet stands accused of disposing of the first Mrs Bates through the judicious application of rat poison.
Papa don't preach. Despite declaring last week that he didn't believe the child was his grandson, Major Bryant's father had an off-screen inexplicable change of heart and came thundering back to Downton to demand custody of baby Charlie. To no avail. Even though she's in trouble deep and has been losing sleep, former Downton maid Ethel Parks has made up her mind: she's keeping her baby.
The critics may be thawing. The second series of Downton has not exactly been universally beloved, with critics and viewers complaining about ludicrous plotlines such as Matthew's "I can walk!" moment. (In fact, given Dr Clarkson's talent for misdiagnosis, the Downton residents may want to check that Lavinia is actually dead.) However, there are signs the finale may have won back some of the naysayers. Jan Moir wrote in The Daily Mail that "the second series bowed out in tremendous style", while The Telegraph's Ceri Radford said "a light has gone out from the Sunday night TV schedules". However, not everyone's convinced, with John Crace describing the last episode in The Guardian as "a helter-skelter theater of the absurd".