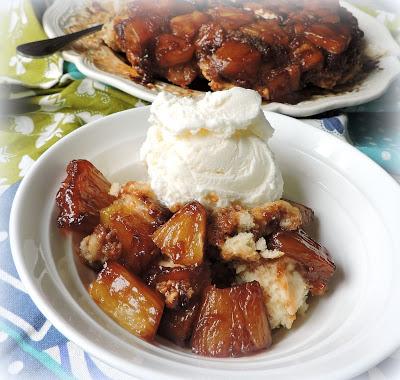 This just might be one of the ugliest desserts you have ever seen, but it also might be one of the most delicious.  This is a case where you definitely should not be judging a book by its cover because this fabulous cobbler is one of the tastiest I have ever eaten!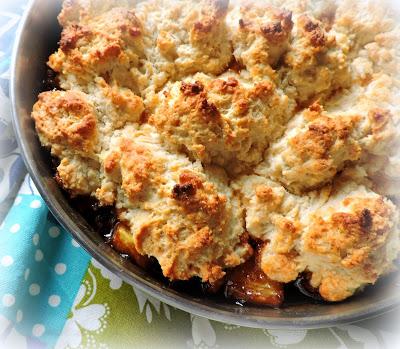 I love desserts that include buttery biscuit cobbler toppings.  My Apple Pan Dowdy is very similar to this, except it uses apples instead of pineapple and you actually create a molasses vinegar syrup to cook the apples in. Its a very old recipe.  There is no faffing about with creating a syrup in this recipe.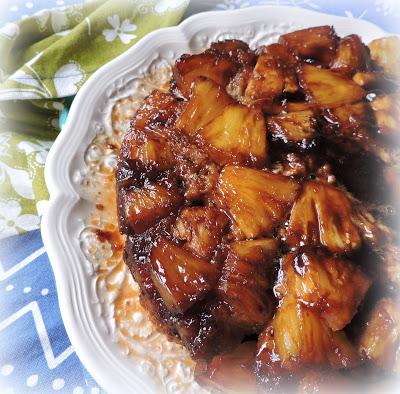 It begins as a Pineapple Upside Down Cake would begin  . . .  with creating a base of melted butter and brown sugar  to lay your fruit on, in this case chopped fresh pineapple.  I am no stranger to Upside down Cakes. I have an excellent recipe for a Pineapple Gingerbread Upside Down Cake on the blog along with another recipe for a Pear and Maple Upside Down Cake, both of which are excellent cakes!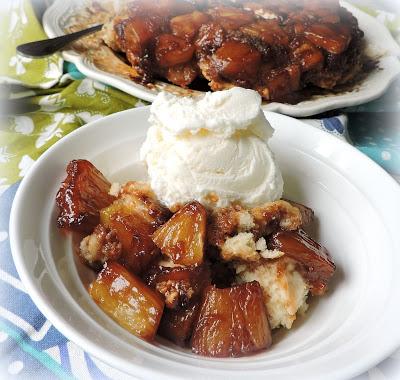 This differs in that it is a dessert not topped by cake, but by buttery biscuit cobbles . . .  all shaggy and craggy and buttery with lovely crisp edges . . .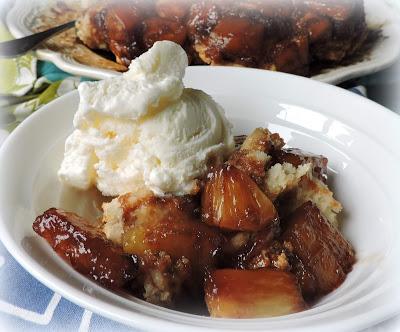 I like to use fresh pineapple when I have it. Tinned would do, but if you have fresh pineapple then there is no excuse not to use it really.  It tastes incredible!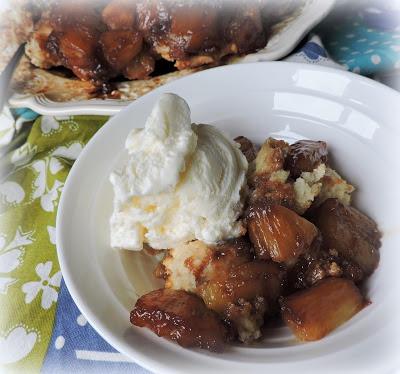 The pieces of fruit caramelise in that brown sugar and butter, creating something quite magnificently moreish  . . .  I could just eat the fruit on its own  . . .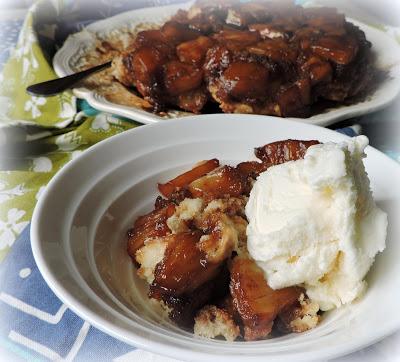 but then again, that buttery biscuit topping is to die for  . . .  and some a lot of that syrup soaks into the bottom of that lovely topping  . . .  creating, once again . . .  something which is really quite moreish.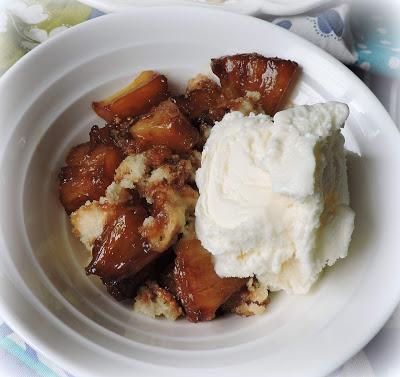 Served warm and topped with a nice scoop of vanilla ice cream, you will find it very difficult to resist  . . .  your spoon wants to dip into it again and again  . . .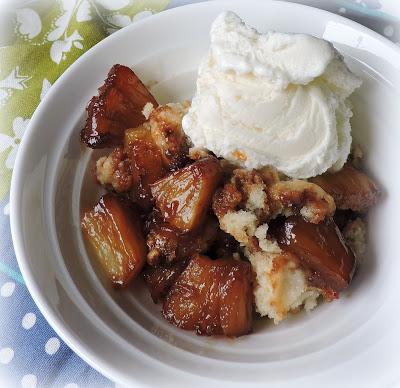 Carrying that sweet, sticky almost jam-like brown sugar fruit, with that buttery crumble  . . .  mixed with the sweet coolness of the vanilla ice cream up to your lips . . .  you can't help but close your eyes and go . . .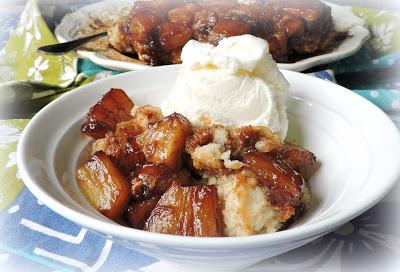 Mmmmm . . . . mmmm . . .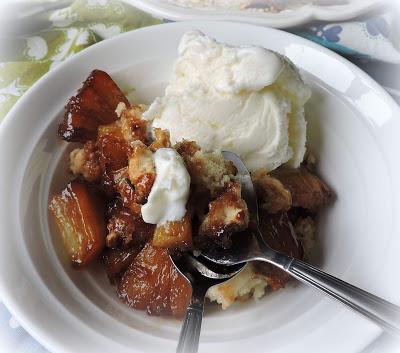 and mmmmmm  . . . again and again  . . .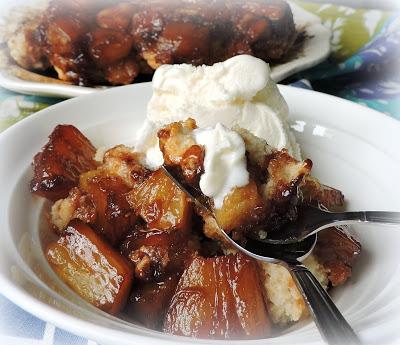 Just look at that tasty mouthful  . . .  impossible to resist . . . almost dangerous.  Turning something quite ugly into something most beautiful indeed!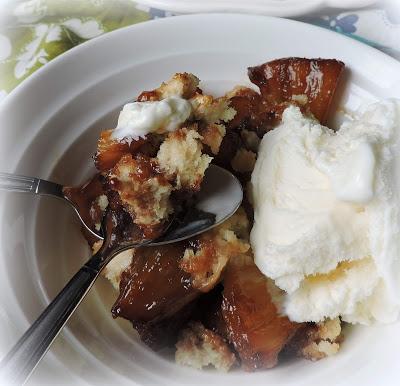 *Downside Up Pineapple Cobbler*Serves 8 - 10(Depending on how hungry people are)Printable Recipe  
Every bit as tasty as an upside down cake, but a whole lot easier. Serve warm with ice cream.  
150g soft dark brown sugar (3/4 cup, packed)3 TBS butter345g chopped fresh pineapple (1 1/2 cups)
For the biscuit topping:280g plain flour (2 cups)2 tsp baking powder1/4 tsp baking soda1 tsp sugar3/4 tsp salt86g butter, frozen (6 TBS)240ml cold buttermilk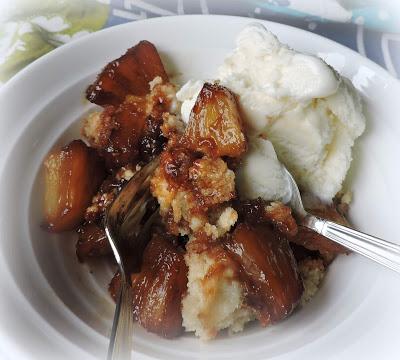 Preheat the oven to 220*C/425*F/ gas mark 7.  Heat the butter and soft brown sugar for the pineapple over medium low heat until melted and amalgamated.  Pour into a 9 inch round cake tin and swirl to spread over the bottom. Top with the chopped pineapple.
Sift the flour into a bowl along with the baking powder and soda.  Whisk in the sugar and salt.  Using a box grater, grate in the butter.  Quickly work in with your fingertips until evenly distributed.  Stir in the buttermilk with a fork, mixing in just until all of the pieces are damp and moistened.  You may not need it all, or you may need more.  For some reason this seems to depend on the weather.  Drop by dollops on top of the pineapple and brown sugar mixture.
Bake in the preheated oven for about 20 minutes, until the pineapple mixture is bubbling and the biscuits are golden brown. (Test in the center to make sure all are cooked through. If not cook for a few minutes longer.) Invert onto a serving plate and serve immediately, with or without cold vanilla bean ice cream.
Note - if you think the cobble is browning too quickly towards the end, lightly tend with foil.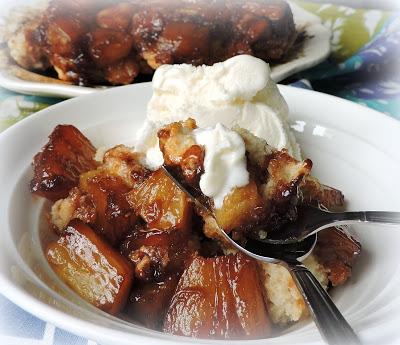 The original recipe is adapted from one I found in the book entitled, Perfect One Dish Dinners, by Pamela Anderson. (No, not that Pamela Anderson! This one is a great cook!!) 
The Clever Cook could add some halved Maraschino Cherries, or even fresh cherries and coarsely chopped pecans to the base along with the pineapple.
If you make one dessert this weekend, you really can't go wrong with this one!  Bon Appetit!