It is with great pleasure and relief I present you with my collection of the best of this year's SXSW artists. It takes place from the 16th of March in Austin, Texas over in the states and oversees a multitude of up and coming artists as well as steadily estabilished regulars and a few surprise shows from big hitters thrown in for good measure.
I've got to give a huge shout out to Ewan over at SXSW Baby who showed the site great support first time out and who I've had a fairly constant dialogue with throughout this process. His site has done their own collection which you can get here, there's a whole load of tracks over there I haven't featured but there's a few that I simply could not leave off mine. It's a good time for music.
The wonderful thing about doing this collection each year, is you get to fill it with nothing but great music. Sure there's highlights but there's no filler tracks to try and get it to a certain number (I found it impossible to cut any to get it below 100!). As a result of this you are presented with 106 tracks from every genre of the musical spectrum that you can use to prepare yourself for the festival or, if you're not going (which I am not) still find out about as many great bands as anyone else will who did end up making the pilgrimage.
Once again, as I did last year, I remind you- 1. This took me ages 2. It's just my opinion 3. If you don't like it do it yourself :p I actively encourage the latter even if you do dig my taste as it's one hell of a musical odyssey swimming through 1500+ tracks to find the gold.
I'll be posting about my particular Hallelujah moment tracks over the next week and up to the Festival start but otherwise I don't want to influence your listening. Enjoy, it'll be a ride…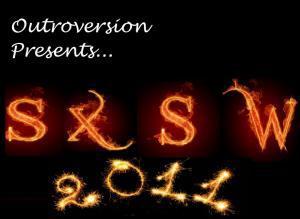 Outroversion Presents…
SXSW 2011 Showcasing Artists
Alessi's Ark- The Robot
Alvarez Kings- Patience is Strength
American Music Club- All the Lost Souls welcome you to San Fransisco
April Smith and the Great picture show- Colours
Army Navy- Saints
Automatic Loveletter- Heart Song
Banner Pilot- Central Standard
The Bears of Blue River- Betty Homemaker
Birds of Avalon- Invasion
Bleu Edmonson- Riot Night
Brett Dennon Ft. Femi Kuti- Make you crazy
Brother- Time Machine
Buck 65- Paper Airplane
Carla Morrison- Compartir
Celldweller- Switchback
Chappo- Come Home
The Chevellers- Stacy Loves Cocaine
Chino XL- Word Smith
The Civil Wars- Barton Hollow
Clean Hotel Room- Recycled Air (Postal Service Cover)
Cold War Kids- Hand Me up to dry
The Crookes- Bloodshot Days
Cruiserweight- Witness
Cults- Go Outside
Dance Laury Dance- Living for the roll
DaVinci- What you Finna do
The Dears- Blood
Doll & The Kicks- Skeleton
Dylan Mcdonald- The Trip
The Eastern Sea- The Menu
Eatliz- Zoo
Electra- Coming to get you!
Emanuel and the Fear- The rain becomes the clouds
Emma Acs- Green Stars and an Orange Sun
The Epstein- I held you once
Erland & the carnival- Trouble in mind
Fake Problems- Soulless
Fang Island- Daisy
Fever Fever- Monster
The Flatliners- Monumental
Foster the people- Pumped up kicks
Friendly Fires- Jump in the pool
The Frontier Brothers- The Strut
Futures- Oxygen
Gabby Young and other animals- We're All in this together
Gold Motel- Safe in L.A
Goldheart Assembly- King of Rome
The Good natured- Prisoner
A Great big pile of leaves- We don't need our hearts
An Horse- Postcards (x 2… whoops!) // Trains and Tracks
I was totally destroying it- Come out, Come out
Intimate Stranger- Beastie Queen
Jenn Grant- Getcha Good
Jeremy Messersmith- Organ Donor // Violet!!
Jesse Malin and the St Marks- Burning the Bowery
John Grant- Marz!
John Vanderslice- Fetal Horses
Jukebox Ghost- Empire
Kopecky Family Band- Birds
L'Altra- Nothing can tear it apart
Le Butcherettes- Henry Don't Got Love
Light FM- Friends aren't friends
Living Things- Let it rain
Mega Ran & K-Murdock- Dream Master
Money Brother- Born Under a bad sign
The Mother Hips- White Flacon Fuzz
mylittlepony- The grass that's still wet
The Naked and Famous- Young Blood
NEeMA- Escape
Netherfriends- Bret Easton Ellis Novel
The Novacaines- Cup of coffee
Now, Now Every Children- Neighbours
oh sunshine- I belong to you (English)
The Pauses- Go North
Pete and the pirates- Selina Master
Pint Shot Riot- Not thinking straight
Pitch Blond- Sun Scream
Polyphase- I like the way you wear that dress
Portugal, the man- People Say
PS I Love you- Facelove
Rah Rah- Salty Cities
Rams' pocket radio- Dogs run in packs
Red Fang- Hank is dead
Scala and Kolacny Brothers- Creep (Radiohead cover)
Screaming Females- Wild
The Seedy Seeds- Verb Noun
Semko Fontaine Taylor- Before you leave canada
Smile Smile- Tempo Bledsoe
Smoosh- This Modern Love (Bloc Party Cover)
Sounds Under Radio- Portrait of a summer thief
The Spinto Band- Pumpkins and Paisley
The Stripminers- No Luck
The Submariners- Birds
The Submarines- Submarine Symphonika // Waiting for a war
Surfer Blood- Swim
Sweet Jane- Close your eyes
Thao, with the get down stay down- When we swam
Veronica Falls- Found love in a graveyard
Wordburgular- Cream of wheat
Your Youth- Diamond
Zowie- Broken Machine
DOWNLOAD