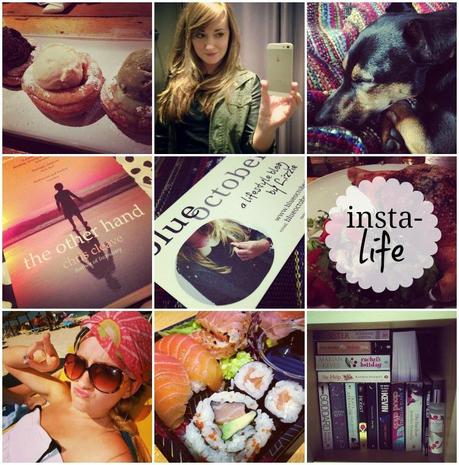 Zizzi pudding from heaven, Got my hair did, Sleeping pooch
Latest read, Fancy new blog cards, Zizzi calzone
#throwbackthursdays - me in Tunisia, Sushi lunch, Packed bookshelf
Life has been pretty hectic this week - a busy working week, catching up with my home girls and a payday meal with the work girls, seeing my parents and pooch, getting my hair done... I feel exhausted!
Going home makes me realize how I miss the little things - having a cwtch

(a cuddle for those who haven't lived in Wales!)

with the pooch on the sofa, Mum's fish finger sandwiches, an actual fire, and chatting about the mundane with my Mum. When we speak on the phone it is almost always for a purpose... never the normal 'how was your day' and 'did you hear about so-and-so' chatter! 
Does anyone else find the same?! 
I'm going out for lunch with my Dad next week which will be lovely, as he's usually at work when I visit. 
The most exciting news from this week... we booked our holiday! We're going to Malaysia for two weeks with Rich's best pal and his girlfriend and I am so bloody excited. I went to KL and the Perhentian Islands with Kat a couple of years ago and just fell in love, I can't wait to explore more. 
Have you been to Malysia? Can you recommend anywhere?
You may notice my fancy new blog business cards above, I was lucky enough to be given a huge 1000 of them - if you would like to have a go at designing your own and have a chance to win a whole load for yourself stay tuned over the next couple of weeks!
Follow me on instagram here!