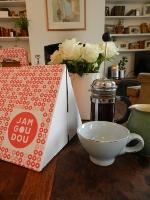 For those people who try not to contribute to the devastating unregulated palm oil industry by avoiding foods and products that contain it, it can be very difficult (almost impossible) to indulge in sweet treats with a nice cup of coffee with friends, as most shop-bought baked goods contain either vegetable fat or oil with no indication of what they contain let alone whether or not any palm oil used is sustainable.
This however, is no longer the case, thanks to a local Suffolk-based business called Jam Gourmet Doughnuts (JamGouDou). Their utterly delicious handmade doughnuts come in a variety of flavours from the classic glazed and fruity options, to the moreish smorz (chocolate with melted marshmallow) and are cooked using "a frying oil that is covered by Green Palm certificates, which supports the production of sustainable palm oil".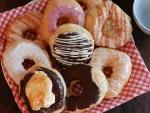 In order to find out more about the use of sustainable palm oil in their doughnuts, we contacted Pete Smith and the lovely folks at JamGouDou to see what they had to say about using sustainable palm oil and why it was important to them to do so...
1. Which products or parts of your products, contain sustainable palm oil? We use Palm Oil to fry the doughnut.
2. Do you only use sustainable palm oil in your products? Palm oil because of its' large molecule less oil gets into the dough making the finished product less greasy. Sustainable because I love my world too.
3. How long have you been using sustainable palm oil in your products? Since I joined the company.
4. Why do you feel it is important for you to use sustainable palm oil in your products? People are far more concerned with where their food comes from and what it does to them and the planet, so it's good to give them what they want.
5. Where is your sustainable palm oil sourced from? I use a company called Olleco who stock PREP Oils who have the sustainable accreditation.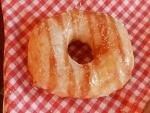 6. Do you find that using sustainable palm oil in your products is of benefit to you as a company? From a moral stand point yes, but nobody has said I use Jamgoudou because you use Palm Oil.
7. Have you found there to be any difference in your products since using sustainable palm oil? The palm oil produces a better quality end product.
8. Has the transition to using sustainable palm oil been an easy one or has it led to complications? Really easy and an added bonus Olleco take my waste oil for recycling into biofuel.
9. Do you feel that other companies would be able to use sustainable palm oil in their products? If they use Palm Oil, the difference in cost is minimal if they then produce a waste oil like me they will be paid for it making it very cost effective.
10. Is there anything that you would like to mention that has not been covered by the above questions? Unless people are aware of what and how they consume a resource and the effect that has on the environment, they can not change their actions. So, we must never miss an opportunity to educate.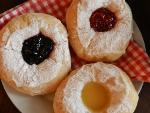 Their yummy doughnuts come in boxes of 12 with an assortment costing just £10.95 and if things couldn't get any better, they also deliver nationwide so you can have your doughnuts sent straight to your home or office by midday the following day!! For more information about them and to order your doughnuts online, please visit their Website, Twitter Feed and Facebook Page.