Supergirl
is among
The CW
's
DCTV
shows back from hiatus and it's not been disappointing!  
Picking up from the big winter cliffhanger in "Legion of Superheroes" (3×10), we find Kara (Melissa Benoist) in a coma in what Brainiac-5 (Jesse Rath) calls a mind prison.  This leaves her friends to defend the city against Reign (Odette Annable) without her help. 
The Legion of Future Superheroes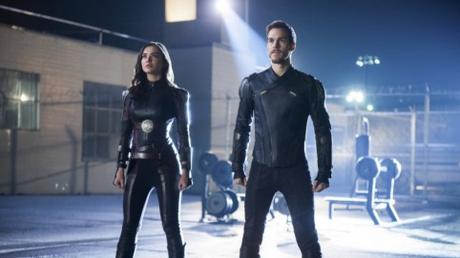 Mon-El (Chris Wood) and Imra (Amy Jackson) finally have something to do, oh and Brainy helps them too.  They are very much the center of this episode, which is likely why the episode of titled as it is.  We mainly see Brainy working to pull Kara from the mind prison, but when it's not as easy as he thinks (or Kara for that matter), Alex (Chyler Leigh) turns to worry when even Brainy is concerned that Kara might not wake right when there's another Reign attack on the city.  
What I love about the future trio is that they're definitely quirky and we get this sort of internal tension and they're really not all on the same page, which not only brings us more character development (my favorite) but it also brings us to know more about them and why they haven't been more helpful before.  Of course, they have good reason, but I thought it was sort of nice that they eventually have Imra who breaks through that they actually have to help.  Also, I appreciated that we got to hear why they don't know events, I think that it makes it a better show for it.  They know a couple of key things, but the whole time travel thing seems to make it less troublesome.  I'm actually finding myself more of a fan of Mon-El with this episode than ever before.  They did a really good job at making the ship and the costumes (for their superhero selves) look awesome without being too complicated.
James/Lena shenanigans
They're very much continuing this ship, which I still haven't 100% decided if I'm on board with or not.  James (Mehcad Brooks) and Lena (Katie McGrath) are definitely really great together.  The best part with them in the episode was definitely when James couldn't figure out how to explain Kara's absence properly (since she's in a coma) and he tells her that Kara has the flu.  Though I thought Lena was so cute wanting to be a good friend and take Kara soup, all I could think was about how many germs there were and how there's no way that Lena would be able to afford being sick.  Even if it's your best friend, you get them a care package and like leave it at the door (after you text them, knock, and then run before you can become infected).  They have to have a ship name by now, someone tell me.
The DEO side of things
With no Supergirl, that leaves the DEO to try to come up with a plan to keep Reign from destroying National City.  They did a really good job of balancing the serious nature of imminent threat plus Kara possibly not waking up with humor, and it seemed to be rooted more in the DEO characters and subplot.  The most hilarious was definitely J'onn (David Harewood) having to go as Kara talk to Lena (who was bringing soup).  It's always fun getting to see J'onn having to shapeshift to cover for Kara, but this one might have been the best because of the awkward conversation.  
Something that was brought up that was sort of like a 'really?' moment was the fact that there's basically back-up Kryptonite should they need it (though not because J'onn hid a cache of it from Clark/Superman (Tyler Hoechlin).  Their outsmarting of Reign by pretending to rob a bank and having DEO agents populate the bank as civilians was super clever and entertaining (even if I realized it once J'onn and Alex walked in).  Reign definitely doesn't appreciate it and once again we get to see that she isn't a normal Kryptonian and isn't affected the same way Kara or any other Kryptonian is by Kryptonite.  Did anyone else notice that this is the second time that Alex has gotten seriously injured because of a Kryptonian exposed to Kryptonite?  This time she broke her tibia, but last time her arm was broken when Kara was exposed to Red Kryptonite in "Falling" (1×16).  
Danvers Sisters & What it is to be human
Kara finally figures out how to get out of the mind prison she's been trapped in when she notices that the loft contains Kara's things (remember, this whole season she's been battling whether she's Kara or Supergirl – Human or Kryptonian) and then Brainiac mentions that Alex had just told him that "Kara Danvers is her favorite person".  This seems to be enough to bring Kara out of it and back to Alex.  As a huge lover of the relationship between Kara and Alex since episode one, I absolutely love the moments in this episode between them (even when the other can't hear).  Towards the end of "Reign" (3×09), Alex tells Kara to be cold and to be Kryptonian when it comes to Reign and my immediate response was "NO!" and then grumbling about how that was against the whole theme of moving back towards being Kara Danvers and I have to say that it was really great to see that we see Alex take it back (and of course blame herself, because that's what she does) while Kara was in the coma.  The end scene with the Danvers sisters was very reminiscent of season one with them, which I've been waiting for them to get back to (they are totally the heart of the show).  The one thing that made me sort of scream and cringe is when El-may-arah (stronger together) which is normally the theme of Alex and Kara is said by Reign, her mentor hologram, and creepy cultist guy.  
What did you think of the episode?  Are you shipping Lena/James?  Are you holding out for Karamel?  Did you enjoy seeing the Legion of Superheroes in action?  Were you excited about Danvers sisters?  What are your thoughts on where the show's going with the Reign storyline?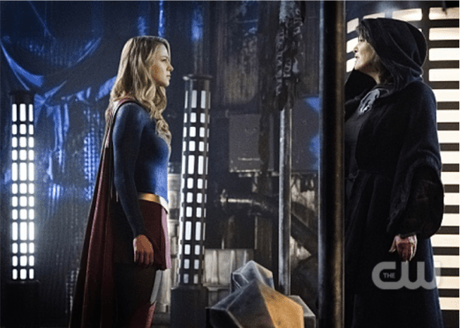 The second episode back from hiatus brings us back to "Fort Rozz" (3×11) and gives us this spiffy title.  It's also basically shouting out the center of this episode.  With the alien prison having floated to a blue star (seriously, how far would it have drifted?), Kara/Supergirl (Melissa Benoist) has no powers and no boys allowed making it a very female-driven mission to get information from Jindah Kol Rozz (Sarah Douglas).  I thought it was sort of cool to find out who Fort Rozz was named after and even more ominous is her connection to Reign (Odette Annable)
Team Girl Power
Now, I'm always down for a female-driven episode (though I have to say that I would have been more excited if Alex (Chyler Leigh) had gotten to go…especially because it's in space).  It reminded me a little of the all girl mini version of DC's Legends of Tomorrow (heroes and villains teaming up), since it's Supergirl and Imra Ardeen (Amy Jackson) teaming up with Livewire/Leslie Willis (Brit Morgan) and Psi/Gayle Marsh (Yael Grobglas).  They definitely had a good amount of options when it came to bringing ladies along for this mission in space and they all would have been great as well: Lucy Lane (Jenna Dewan-Tatum), Agent Vasquez (Briana Venskus), Miss Martian/M'gann M'orzz (Sharon Leal), and/or Silver Banshee/Siobhan Smythe (Italia Ricci).  I thought it worked with who went, but I just immediately thought that they had more choices.  I did appreciate that we got to see a villain that has been in every season thus far and then a more recent one.  
I really appreciated that there was different groups that formed between these four on Fort Rozz so we got to see and learn more about them.  The one thing that I wished that we learned during this episode was what Imra saw when Psi wammy-ed her.  After all we saw with how Kara was affected in "Triggers" (3×02).  The one big thing that I didn't feel like had to happen was that Livewire died, sacrificing herself to save Supergirl.  They build up this relationship throughout the episode and Leslie definitely redeems herself, but I felt like it would have been better to have her injured and allowed to go home and live her life.  I don't feel like the sacrifice added to the episode positively and it didn't feel like it added to the theme either (I mean, I could probably argue something, but still I don't think it was necessary).  
Adventures in Babysitting with a Broken Leg
So, Alex is my favorite character and I have to say that I could watch an entire episode of Alex doing basically anything.  Seriously, I could watch her shop at Target and be happy and entertained.  This episode, we get to see Alex play badass aunt/babysitter/temp mom to Ruby Arias (Emma Tremblay) and hear Kara's memories of her big sister babysitting her as a teenager.  Ruby definitely reminds me of teen Kara (except not so constantly marveled at everything all the time), so it's nice seeing the bond that seems to be growing between her and Alex.  Though I did love Maggie (Floriana Lima) being brought up because of a text, good to know that she hasn't just been retconned, and that there was this great conversation between Alex and Ruby…it wasn't my favorite part of their scenes in this episode.  Supergirl's writers are always including topics that are very important and very relevant with what's in the news.  This time they tackle bullying and cyberbullying by having Ruby reveal that she didn't let a girl cheat off of her and showing Alex what was posted online.  The best part was really when Alex went to the girl's house as an FBI agent investigating the bullying, not only was it badass (and what every kid who's ever been bullied has hoped to have happen for them) but it really makes Alex the best babysitter and aunt.  
Reign's Human Soul
There's some great stuff in this episode when it comes to Reign like how she has her powers on Fort Rozz and how she just kills the priestess who you would think could really help her and even that there are multiple sleeper Worldkillers out there.  I think that the core of this episode in regards to her, though, is that the theme of the season really applies to her.  There's this fight between Reign and Sam and when Psi uses her powers against Reign, we see what Sam fears not what Reign fears.  I am hoping that this is showing us that the evil Kryptonian sleeper programming can be fought against and their human selves can be aware which I'm really hoping that that can mean that the human self can come forward later on in the season.  I am hoping that there's going to be a look into Sam and where she went that she doesn't remember in the next episode (and maybe connect her to Reign)…I'm also worried about Sam losing her job.  At least Kara has the ability to cover her life, but poor Sam is losing time and has absolutely no control over things when Reign takes over.  
The trailer for the next episode "For Good" (3×12) doesn't seem to give us much of what to expect next week, but I know I definitely have some hopes for what we see in the next episode.  What are your thoughts?  Did you enjoy the episode?  What are you looking forward in the next episode and for the remainder of the season?  
Photo Credit: The CW