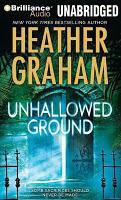 Unhallowed Grounds
by Heather Graham
Genre: Mystery/Suspense, Thriller
Length: 9 hours, 5 mins.
Read by: Emily Durante
From Amazon:
When Sarah McKinley is finally able to buy and restore the historic Florida mansion that she has always loved, she dismisses the horror stories of past residents vanishing and a long-dead housekeeper who practiced black magic. Then, in the midst of renovations, she makes a grim discovery. Hidden within the walls of Sarah's dream house are the remains of dozens of bodies—some dating back over a century.

The door to the past is blown wide open when Caleb Anderson, a private investigator, shows up at the mansion. He believes several current missing-persons cases are linked to the house and its dark past. Working together to find the connection and stop a contemporary killer, Sarah and Caleb are compelled to research the history of the haunted house, growing closer to each other even as the solution to the murders eludes them.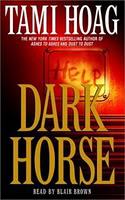 Dark Horse
by Tami HoagGenre: Mystery/Suspense, ThrillerLength: 13 hours, 56 minutesRead by: Beth McDonald
In a trailer in a Florida swamp, time is running out for Erin Seabright. A pawn in a kidnapper's terrifying game for a ransom no one can pay, her last hope is a washed-up ex-cop who has already lost it all - not once, but twice.

A lifetime ago, undercover sheriff's detective Elena Estes worked the mean streets and back alleys, living by her wits and playing the long odds until she took one risk too many. Now Estes lives on the ragged edge of lost hope and self-hatred, hiding from the past and believing she doesn't deserve to have a future. 

One trip to the showgrounds where Erin worked as a groom, and Estes is quickly pulled to the dark side of a glamorous sport. Behind the ultra-rich facade is an ultra-ruthless world of drugs, payoffs, and dirty deals. And in that world stalks a killer who will lead Estes down a twisted trail of mayhem and murder to a final showdown that could cost her everything.  A race in which Estes is the dark horse...and no one is betting on her to win
Rating:

My Reviews:
Unhallowed Grounds
(audio):  This audio took some getting accustomed to.  My advice, when you are listening to books, choose those that only have one or two narrators.  It is hard to follow different characters when you are listening and to start over quite a few times, before I realized I had to just look out for it.  This who-done-it had a mystery that went all the way back to the U.S. Civil War.  It was fascinating and exciting and I loved the romance between Caleb and Sarah.  But Alas, the end was so rushed and they answer to the mystery was a let down.  AND... they didn't solve all of them...  What?!  You've got to give me something!!  Sadly, this one was just meh  :/.  At the end, I just felt like I listened to it all for nothing.  It was better than a yuck because it was good till the rushed ending.  Maybe it would have been better reading it?
Dark Horse
(audio):   This was a case of multiple mini who-done-its that came together at the end (but not in a neat little bow). The story started off slow but ended well.  However, this audio was kind of a waste of time.  I think this book would have been better read rather than listened to.  Things finally got interesting around hour six and the ending was absolutely crazy!  I was worried that the ending would be rushed because there seemed to be so many lose ends, but the ending was the best part.  It was interesting, surprising, and the pacing was great.  I was not a fan of Beth McDonald and will try to avoid her if I continue to listen to audiobooks.  She wasn't horrible but she had a rather smoky voice that didn't adapt well to the different characters.
After these two reads, I think I will venture away from the mystery-suspense audiobooks.  Next up?  Romance maybe?  I really don't know.  I'm checking these out from my library.
Does anyone have any general tips for choosing audiobooks?  I don't think I did a great job in picking these two.  Are there genres that are more preferable than others?  Please help.  I need something to listen to while I drive.  In the meantime, I will await your wonderful advice : )