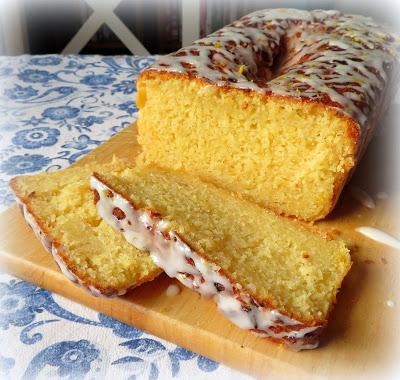 I am a real lover of the flavor of lemon and this is the time of year we have them in abundance in our shops, being imported from Spain, which is a country that grows lots of lovely citrus fruits.  Oh I do so love to see them.  I like to keep my lemons in a bowl on the counter top. I smile every time I walk past.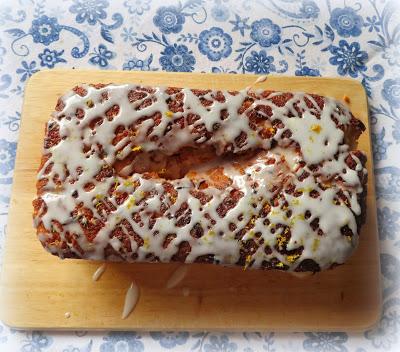 One of the favorite things my mother would make for us when I was growing up was Lemon Meringue Pie. She always used a mix, but we loved it.  That cold jelly like lemon filling with the soft billows of meringue on top.  She always made a separate bit for my brother outside of the pastry because she thought pastry was not good for young children.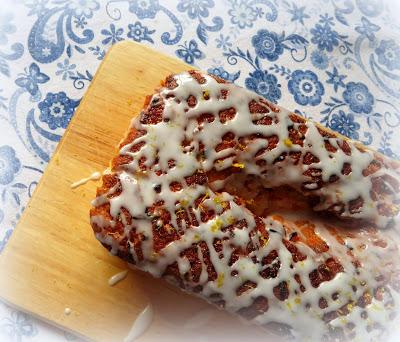 I wonder if he remembers that?  Mom wasn't much for baking us sweets and things outside of special occasions.  She didn't want us to over indulge on sugary and fat filled treats.  On the other side of the coin however, she would give us jello/jelly for dessert, sprinkled with sugar and topped with milk.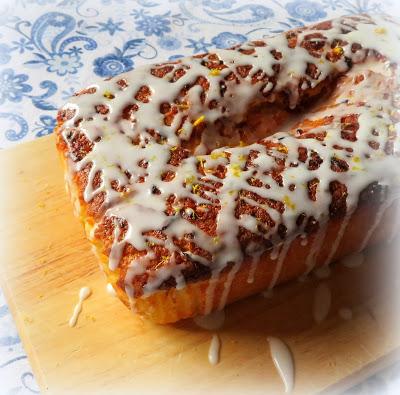 I have vague memories of our mother having ladies over for tea on occasion.  She would make lots of tiny sandwiches and give us the crusts to munch on. They tasted so good with their little scrapings of filling on them.  She would also bake tea loaves or breads, much like this lemon loaf I am sharing today.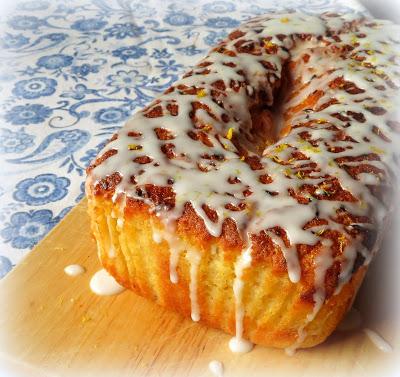 I have shared several different recipes for lemon loaves/breads/drizzle cakes on here through the years.  Can there ever be room enough for one more???  I think so!  I am always keen to try a new recipe for lemon anything!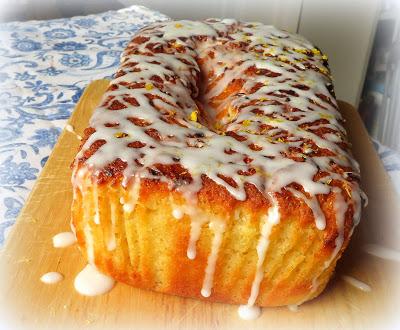 I saw
this recipe
for a Double Lemon Drizzle Cake on the Sainsbury's recipe site the other day and instantly wanted to try it.  What compelled me was the fact that a whole lemon, cooked until soft, is used in the batter.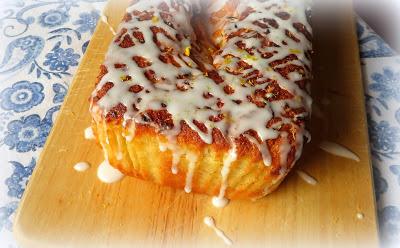 It was very easy to cook the lemon in the microwave and then puree it in my blender.  The rest of the cake was a real doddle to throw together.  Easy peasy.  When I took it out of the oven it looked fantastic, but then I noticed when I started to poke the toothpick into it for the lemon and sugar drizzle it was sinking in the  middle a bit.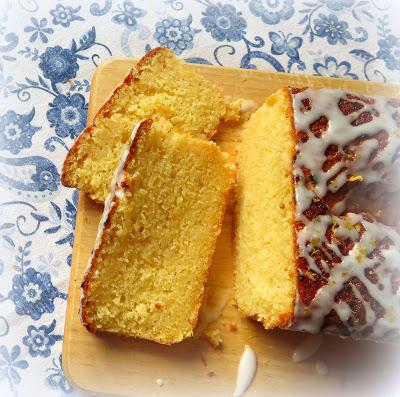 Uh oh . . .  I thought.  It can't have been cooked in the middle.  The skewer was coming out clean, but  . . .  you never know.  So I popped it back in for a further 5 minutes or so.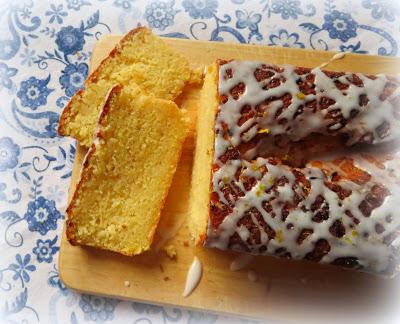 The end result was that that lemon syrup kind of candied on the loaf, which was a delicious surprise, and not at all a bad thing . . .  a happy mistake, as it were, turning lemons into lemonade!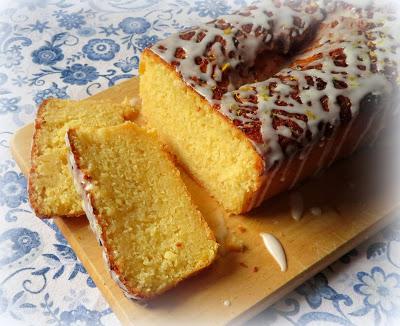 In looking at the photo on the Sainsbury's site, they have covered the center completely with candied lemon slices so I am thinking that perhaps this is a cake that sinks a bit in the center.  I quite like how it looks actually.
And as you can see, it cuts beautifully once cold.  I added a lemon and icing sugar drizzle, which I thought looked really pretty.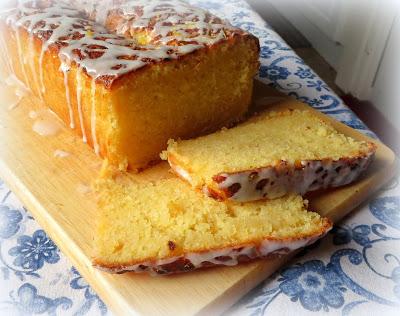 Its a lovely moist loaf, filled with LOTS of lovely lemon flavours, from the pureed cooked lemon in the loaf, to that candied lemon syrup sinking into the cake and lightly coating the surface not to mention that lovely lemon icing drizzle.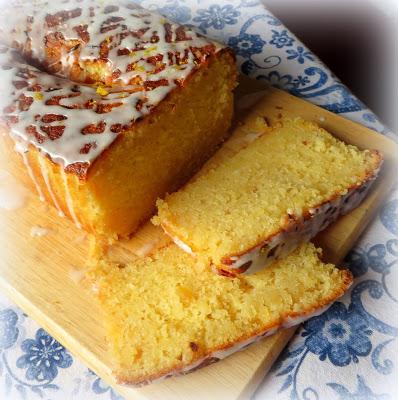 I could quite as easily have just seen this as a failure and thrown it away, but I didn't.  I think my mother would have approved of this . . .  making lemons into lemonade.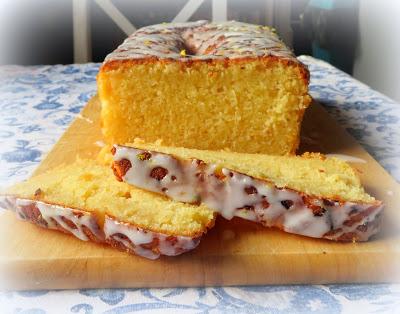 Every pun intended.  Mmmm . . . this went down really well with a nice hot drink.  I like herbal teas but I am sure it would taste just as nice with a regular cuppa.
Yield: Serves 10 - 12
Author: Marie Rayner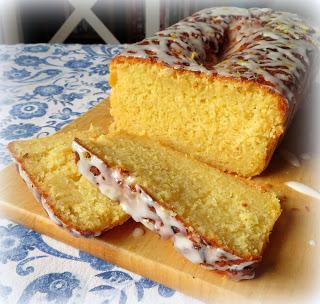 Double Lemon Drizzle Loaf
prep time: 15 mins
cook time: 50 mins
total time: 65 mins
A happy and most delicious accident.
ingredients:
For the loaf:
1 small thin skinned lemon (pick one that is heavy for its size)
200g butter softened (7 ounces) (7/8 cup)
200g caster sugar (1 cup +  1 TBS)
4 medium eggs, lightly beaten
250g self raising flour (1 3/4 cup)
For the drizzle:
the juice of 2 lemons
75g caster sugar (6 1/2 TBS)
For the glaze:
130g icing sugar (1 cup)
the juice of 1/2 lemon
finely grated zest of 1/2 lemon (optional)
instructions:
Preheat the oven to 180*C/ 350*F/ gas mark 4.  Butter and line a medium loaf tin with baking paper.  Set aside. (8 inches by 4 inches)
Prick the lemon all over with a fork. Place into a small bowl, cover with plastic cling film and then cook in the microwave for 2 to 3 minutes until tender.  Cut into quarters.  Remove and discard any pips/seeds.  Place into a blender along with any juices and puree until fairly smooth.
Cream the butter and sugar together until light and fluffy, about 3 minutes. Gradually beat in the eggs.  Stir in the flour and the lemon puree.  Spoon into the prepared loaf tin, smoothing the top and then bake in the preheated oven for 45 minutes.
While the loaf is baking whisk together the sugar and lemon juice for the drizzle until smooth and the sugar is dissolved. 
Take the loaf from the oven and prick it all over with a toothpick. Spoon the drizzle over top, letting it soak in.  Return to the oven and cook for a further 5 minutes, until glazed.
Remove from the oven and allow to cool in the tin completely.  Once cold, tip out onto a wire rack and turn right side up.
Whisk together the ingredients for the glaze until smooth.  Drizzle decoratively over the cake.  Sprinkle with the lemon zest if using.  Allow to set before cutting into slices to serve.
Created using
The Recipes Generator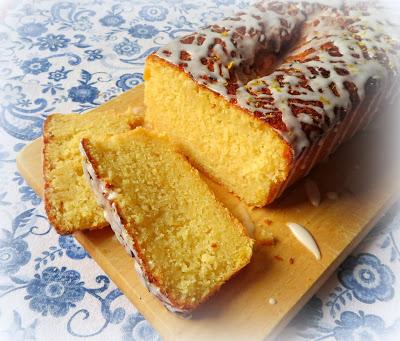 I love it when what are seen as accidents or failures actually turn into happy things and successes, don't you?  Bon appetit!