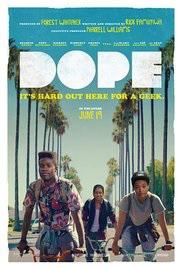 Director: Rick Famuyiwa
Writer: Rick Famuyiwa (Screenplay)
Starring: Shameik Moore, Tony Revolori, Kiersey Clemons, Zoe Kravitz, Forest Whitaker, Rakim Mayers, Kimberly Elise
Plot: Life changes for Malcolm, a geek who's surviving life in a tough neighborhood, after a chance invitation to an underground party leads him and his friends into a Los Angeles adventure.
There may be spoilers the rest of the review
Verdict: Where is the Hype?
Story: Dope starts as we meet Malcolm (Moore) who lives with his single mother and considered a geek with his two best friends Diggy (Clemons) and Jib (Revolori) who are not like the rest as they want to have their own punk band while getting good grades as they are looking to escape their rough neighbourhood.
The threes lives will change forever when local drug dealer Dom (Mayers) invites them into an adult drinking party where the high school students get their first experience of the drinking culture and the gang culture. The three's life is turned upside down when they get caught in the middle of a drug deal gone bad as they learn about the other side to the drug world.
Dope is a film I only ever heard great things about and I found myself thinking really, what is the real hype about this film. It has a coming of age feel about it while also have a wild crime story. I found the over use of the 'N' word completely unnecessary for this film and takes away the creditability of this film. I do think the actors all do a great job and I do think the character arc Malcolm goes through to be brilliant I just found all the stereotypes to be almost insulting to us the viewer.
Overall: Great character arc but poor dialog usage takes away from final story.
Rating