Door awnings are a fantastic way to make your house seem incredibly welcoming for your guests. However, door awnings are not just decorative features as they serve a very practical purpose too. After all, the front of your home or business can be very exposed to the weather and therefore door awnings provide great protection from the sun and the rain.
The most popular types of awnings are generally canvas or metal. However, there is no doubt that canvas door awnings are far more aesthetically pleasing than the metal equivalents and as such more popular with home owners. You can also find a great range of colors with canvas awnings that will suit the style of the property or the taste of the home owner.
Shop owners are also keen to have door awnings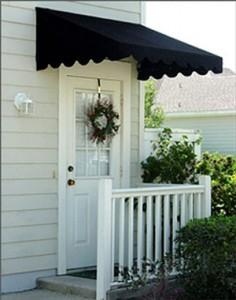 as a welcoming feature for customers. It shows a caring attitude to browsing customers and will make them feel more inclined to browse inside. Of course for home owners a nice garden at the front of the house offers the same effect, but door awnings give that extra welcoming touch.
The aesthetics are important but there are very practical uses here too. Door awnings are proven to absorb heat from the sun, meaning that property owners do not have to rely so much on air conditioning to keep the house cool. As an addendum, awnings provide great protection from the wind, rain and other unwanted particles the environment chooses to throw at us.
Fitting awnings to the doors of your home or business is a really good idea. In tough climates doors can be prone to damage making them unsightly and can cause some harm. Awnings will save the cost of repairing or replacing your doors on a regular basis as well as the cost of air conditioning. It is also a much more cost effective way of protecting the front door than building a porch for example.
Door awnings do not just have to be applied to the front of the house as they can be fitted to patio doors, garage doors or even doors on mobile homes. These are a relatively cheap way to protect your doors and provide a good look to the home. In fact, door awnings will add value to your home so long as they are well looked after and of good quality.
PYC Awnings offer fantastic made to last door awnings that customers can purchase in a wide array of colors. These awnings are constructed with ¾" OD galvanized frames that are designed to withstand gusts of up to 50 miles per hour. Aside from the excellent quality of the awnings, they are very simple and quick to install and are available in widths of up to 240″ and a projection of 40″.
Take a browse around the PYC Awnings website to see all the colors and sizes of door awnings that are available. You will find that fitting a door awning is a great addition to the home.