Do-nut miss the sweetest fest of the year!

Photo Credit: Donut Fest
Chicagoans with a sweet tooth, rejoice! And head to Wicker Park on Sunday, January 29 for Donut Fest. Chicago, Cleveland, and New York are the only cities lucky enough to have Donut Fest come to town. With the recent opening of Krispy Kreme in Chicagoland, it seems like there's no shortage of donuts around here.
Hurry and grab your tickets while you still can! General admission tickets are sold out, but it's not too late to get VIP tickets.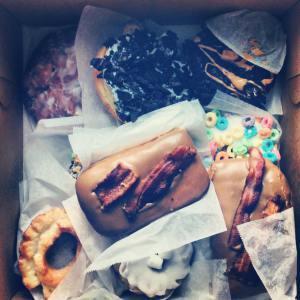 Photo Credit: Donut Fest
VIP tickets, available for $50 include:
Early entry into the fest. General admission session begins at 10am.
Tickets to receive samples from each of the session's participating donut vendors, all local restaurants and bakeries.
Three coffee tickets. There will be seven vendors serving coffee specifically.
A limited-edition Donut Fest mug.
A take-home goodie bag.
You'll receive a ¼ donut sized sample of each participants' signature donut. Don't worry, you aren't limited to bite sized pieces! Many vendors will also have donuts and coffee available for purchase. Only donuts and coffee are available within the fest, but you can purchase alcohol at the Chop Shop bar if you want Donut Fest to serve as a boozy brunch.
Participating vendors will compete for the "Best Donut." All attendees will be able to cast their vote for "Crowd Favorite," so don't forget to cast your vote! Vendors are subject to change at the last minute.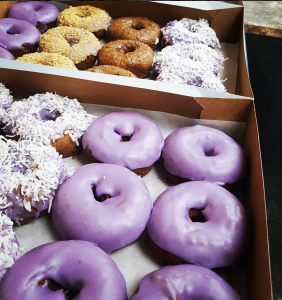 Photo Credit: Gurnee Donuts
Donut Vendors
Beavers Coffee + Donuts
ChemSaw 13 DonutZ & Comics
Gurnee Donuts*
Longman & Eagle
B's Sweet Bites
Cochon Volant
Glazed and Infused
Bad Day Donuts
Stan's Donuts & Coffee
Doughnut Vault
Urban Belly
*Gurnee Donut's "Ube Donut" (purple yam) was 2016's Donut Fest winner!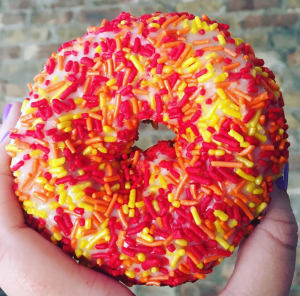 Photo Credit: Elaine Plack
Coffee Vendors
Dark Matter Coffee
Metric Coffee
Metropolis Coffee Company
Big Shoulders Coffee
DAVIDsTEA
Fonda Frontera
La Colombe Coffee Roasters
Find the fest in Wicker Park at Chop Shop 1st Ward, located at 2033 West North Avenue. If you're planning on attending, submit your sweet donut-y pics to the all-new UrbanMatter app for a chance to get featured!