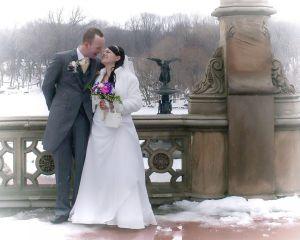 Donna and Matt came to New York City this February to get married in Central Park. It was an elopement. They did not tell people they were coming over here to get married, they just surprised them with the news when they got home.
They are both from Derby in the UK. They have had the same group of friends for a long time and met around thirteen years ago, had a brief relationship then went their separate ways. Then, almost three years ago, they started dating again but this time it was forever. Matt surprised Donna with a trip to Venice, Italy for their second anniversary of being together, then surprised here even more by proposing on a gondola!
When Donna and Matt discussed getting married they started thinking about locations near to home, but they could not find the type of wedding they felt suited them. A church wedding did not feel right, and neither did a registry office. Also, everything seemed so expensive.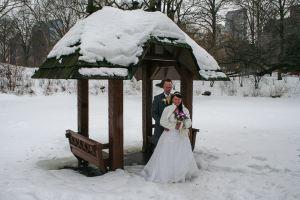 The couple had already booked a trip to New York City to see Kings of Leon here, as Donna's Christmas present from Matt. So, Donna started thinking about getting married while they were on vacation. She suggested a Central Park wedding to Matt. They both thought the idea made perfect sense, even though it was a last minute decision.
Then the panic set in. Donna is a self-confessed "stress head" and does not usually do things on a whim. They had less than three weeks to organize everything so she started to worry about whether it was possibly to do it all with such short notice. I have done several weddings with short notice, some less than this, "lucky for us Claire explained everything and gave us sound advice and everything fell into place," said Donna. They also had to get their wedding rings while they were in New York, and of course, they are British, so they worried about the weather.
They had their ceremony at Wagner Cove because they wanted somewhere quiet, private and out of the way. There was so much snow in Central Park that day that they could not see the Lake at all, it was hidden under the snow, and Wagner Cove is right on the Lake! After the ceremony they went over to Bethesda Terrace and had photographs taken there and at the Fountain. "It was all covered in snow, and looked so pretty," said Donna. They went on to the Boathouse to warm up after their photographs.
Donna and Matt's guests were a couple who were friends of friends and they helped out with some of the organizing, and took the photos. They also did the important job of taking them for a toast in the Boathouse after the wedding. After saying goodbye to their guests they went back to their hotel and had some wedding cake, which they had collected that morning from Magnolia Bakery, then got changed and went out for a meal at Keens Steak House.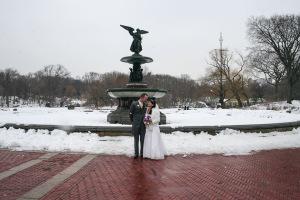 Donna had a beautiful wedding dress, and she wisely wore a faux fur jacket with it, to keep out the cold. She also wore white boots and wedding gloves. She looked the perfect Winter bride, but she did warn that if you are considering getting married in Central Park in the Winter then to be prepared for the very low temperatures.
Donna said that "Wed in Central Park were amazing, Claire answered all my questions and gave me as much help and advice as I wanted. Claire gave me details of where to get a cake from, hair and make up people, photographers, marriage license information, everything. We would not have been able to do it if not for her help."
Thanks for sharing your story with us, Donna and Matt, and good luck for your future together! For more information on planning your own Central Park wedding, visit our website, or "like" us on Facebook for photos and more inspiring stories.