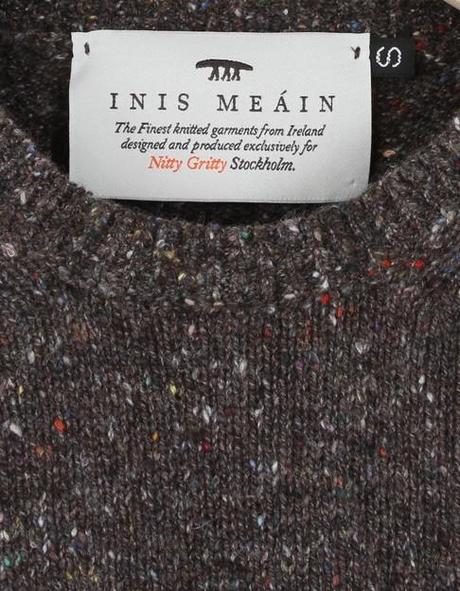 For the last few years, Inis Meáin has been making flecked wool sweaters every fall and winter season, which their stockists describe at "Donegal knits." Not because they're actually made in Donegal, but rather because the flecks are reminiscent of the hallmark tweeds that come out of that region. Little bits of wool in differentiating colors are allowed to glob onto the knitted yarns in irregular ways, giving the garment a beautiful, earthy feel.
In the past, I've only seen these made from a relatively thick, pure wool. The flecks are usually a bit nubby and they add a bit texture to the knit. The Bureau Belfast and Nitty Gritty used to carry these, but they're all gone now. Manufactum still has the gray one, however, and that's the version I have. The flecks are a bit more prominent in real life than they appear in the photos. When worn, it almost looks like you've put some kind of granite slab in front of your torso. I admit, I find the pattern a bit overpowering when the sweater is worn alone, but it does look fantastic when layered underneath a waxed cotton Barbour jacket or a Loden coat.
This season, there are softer cashmere versions - both to the touch and to the eye. Those are available at A Suitable Wardrobe and Frans Boone, with the second carrying two more colors than the first. The navy version, however, is what I think is the real gem. Little bits of orange and light blue yarns decorate the surface and give the navy sweater some beautiful depth. 
Unfortunately, these cashmere sweaters are pretty expensive, with the lowest retail price right now starting at $500. For something more affordable, A Suitable Wardrobe has a ribbed wool-cashmere blend on sale for about $332. And although not flecked at all, Hartford York has a pretty nice green knitted scarf by for $50. It's not decorated in the same way, but even the frugal should be able to stay warm.