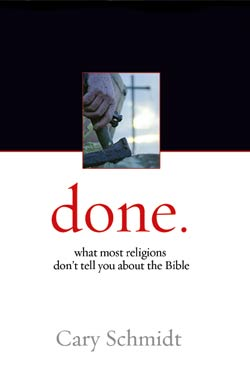 This post is all about sharing the gospel with friends, family, and co-workers. If you know someone who doesn't know Christ, read on:
Perhaps you are familiar with the little book I wrote several years ago entitled "Done—What Most Religions Don't Tell You About the Bible." It's a small book (about 100 pages) that shares a simple, clear presentation of the gospel. It's been a tremendous joy to receive emails every week from people around the world who trusted Christ after reading "Done."
I'm happy to report that this little book is now available for free at both Amazon.com and Apple's iBookstore in ebook format for the Amazon Kindle and for Apple devices. The Spanish version is also available for free on iBookstore. Normally, I would not make a request like this, but in this case I feel it's appropriate…
May I ask you to consider sharing this witnessing resource over social networking with friends, co-workers, and family? More and more people are reading books on electronic devices, and this free book gives you a great reason to share the gospel and an easy way to do it.
The book is written in a friendly tone, contains much scripture, and a clear explanation of God's truth. For friends and relatives that have refused to "hear you" regarding your faith, this may be a simple and disarming way to help them consider the gospel.
Hardcopies of "Done" are available from Striving Together Publications in English, Spanish, and Korean. Also an audio version and free PDF copies of the book are available on this blog (also in Chinese and Romanian.)
Again, consider sending a link for the Kindle of iBook edition over email or on Facebook or Twitter. Who knows how God would use your simple effort to spread the gospel in this way.
Here are the links if you want to copy them:
http://www.amazon.com/done-religions-about-Bible-ebook/dp/B002RS66HE/ref=sr_1_1?s=digital-text&ie=UTF8&qid=1320037498&sr=1-1
http://itunes.apple.com/us/book/done./id460210609?mt=11