Title: Don't Tell My Husband
Genre: Josei, Action, Drama
Artist: Kei Kousaki
Publisher: Shusuisha (JP), DMG (US)
Original Release Date: January 17, 2013
I have to admit, I had a lot of preconceptions about Don't Tell My Husband before I read the first page. It looked like it was going to be a cliché-fest of a woman's affair or some other embarrassing, unpleasant secret that was going to drag on and on for the two volumes I was asked to review. I hunkered myself down with plenty of drinks and snacks, because I was sure this was going to be a long one. Surprise doesn't begin to encompass what I felt after the first volume (or even the first chapter)–amazement maybe, or utter captivation. Don't Tell My Husband is one of those unassuming reads, simple and old-fashioned in its appearance, but refreshingly new and exciting in its interior.
Don't Tell My Husband follows the adventures of Minano Senrou, a housewife who's been sheltered by family and wealth most of her life. Despite being married to the president of the top conglomerate in Tokyo and having more money than she knows what to do with, Minano maintains a humble personality and a kind heart. These two volumes explore her independent escapades–from going to the bank, grocery shopping, and going out to eat at night–and the mishaps that inevitably follow–bank robbery, fire, and kidnapping. Minano, despite her wealth and easy lifestyle, is not one to be messed with, and fearlessly asserts herself as the heroine of her own story, rescuing herself and others from dangerous and often deadly situations.
What's so enjoyable about this series is Minano herself. She's not the epitome of a harlequin romance female lead, all fluff and damsel, nor is she the stubborn and defiant tomboy of an action-adventure series. She's a harmonious blend of femininity, a good conscience, and resourcefulness and has a mind of her own that isn't easily swayed by the influence of others. She's confident and in control of herself, assertive of her morals, and patient with other human beings. She's a real person, multidimensional, flawed, yet doing her best to live a satisfying, good life. Minano defies traditional conventions about female characters–she proves that you can be a housewife, but that doesn't make you weak or materialistic, and you can enjoy jewelry and nice clothes but also have a flair for adventure.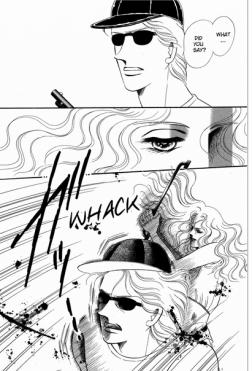 Underestimating Minano (or this series) will be your first, and perhaps last, mistake.
The only criticism I have for Don't Tell My Husband is that the format probably can't carry the series much farther. As enjoyable as the short stories are, by the end of the second volume they begin to feel formulaic–Minano goes somewhere or does something, usually against her husband's wishes, and she ends up stopping a crime along the way. Cue the happy ending, humanitarianism and all. While there's nothing wrong with framing a series like that, it will surely become repetitive after a few volumes, and because the characters and dynamic is so interesting, it's hard not to want a more solid storyline that will give some breathing room for more character and relationship development. The potential is certainly there, because the second volume does introduce more long-term characters and shares the spotlight among secondary characters. The cook, Maki, is a hilarious and balancing addition to the Senrou household; she's unafraid to criticize Minano (or her husband) and voice her opinion, and that's one of the reasons Minano is so attached to her. We also see Minano getting help from other people more, which is nice because obviously one person can't always be the hero and it maintains a sense of realism.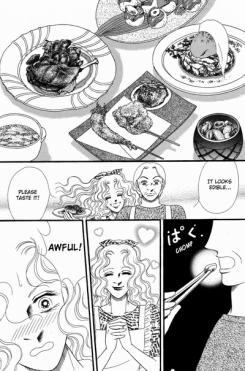 We could all use a dose of Maki's honesty from time to time.
Don't Tell My Husband is a fun, quick read that will surely surprise its readers who are expecting a melodrama about married life, women in traditional subservience, and men in domineering and overprotecting roles (while Senrou may be protective and cautious with Minano, he has a clear soft spot for her quirks and never tries to control her). The ease of the flow of the story, the captivating action, and heart-warming conclusions make this a good series to take along for travel, vacations, or just whenever you need a good read to pass the time.