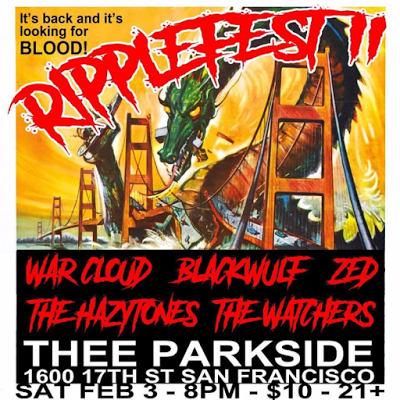 It's back!
Be prepared as Ripple Music takes over Thee Parkside stage for the second RippleFest!
This time, bigger and badder than ever, RippleFest II (a.k.a The Ripple Rager) features 5 (!) Ripple bands including Montreal's The Hazytones as they stop by on their cross North American Tour.
Jam to the heaviness of The Watchers, The Hazytones, ZED, Blackwulf and War Cloud, Saturday night Feb 3, at 8pm at Thee Parkside in San Francisico.Tickets available at the door and can be pre-purchased at : https://holdmyticket.com/event/298537​
Here's the facebook event page with more info! https://www.facebook.com/events/1637628336300054/
Don't miss one of the Bay Area's premiere heavy events of 2018!
California-based Ripple Music is one of the world's leading purveyors of heavy psych, stoner, doom and heavy rock.All Ripple releases are available in physical and digital formats world-wide, and at the Ripple Music webstore and Bandcamp pages.Check out the Ripple Music website for all news and information.