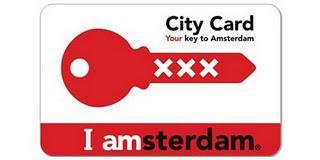 The great news for tourists in the Netherlands is that there are so many discount cards and passes available. There's the Museumkaart, the Holland Pass, the Rotterdam Welcome Card, the HaGuest Pass, and the CJP Youth Card.
And, most recently, Amsterdam intruduced the Iamsterdam Card.
Regardless of whether you are visiting or living in Amsterdam, this card will open doors for you and allow you to explore the Netherlands' capitol without busting your wallet.
Back in December of last year, I was a guest poster at All About Travel to share some information about the Iamsterdam Card. If you are intersted in finding out more, you can read my post Don't Leave Amsterdam Without Your Iamsterdam Card.
Do you have any experience with the Iamsterdam Card or any of the other discount passes listed in this post? Care to share those experiences? Leave a comment!