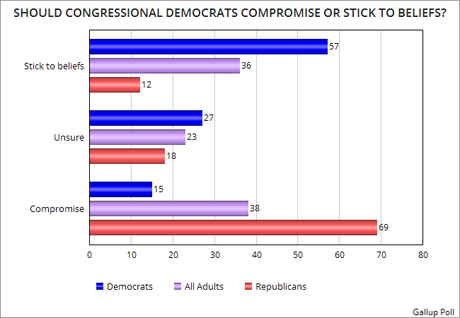 When President Obama was in office, the Republicans made it a point to oppose everything he tried to do -- and compromise on nothing. It was probably the most partisan period for our government in modern history.
Democrats remember that, and as this poll shows, they are in no mood for their congressional representatives to compromise with Donald Trump and his GOP cohorts. A substantial 57% majority of Democrats say their elected officials should stick to their beliefs, while only 15% say they should compromise.
On the other hand, Republicans are now touting compromise for the party out of power. I don't think they really mean compromise though, but simply want the Democrats to give in to their demands (since their elected officials have done nothing to reach out to Democrats with any compromise proposals).
Meanwhile, the general public is split right down the middle -- with 36% wanting Democrats to stick to their principles and 38% wanting them to compromise.
These numbers make it pretty clear that a partisan government along ideological lines is what we can expect for the foreseeable future.
The chart was made from information in a recent Gallup Poll -- done between March 9th and 29th of a random national sample of 1,526 adults, with a 3 point margin of error.