With less than two months until the highly anticipated release of "Push and Shove, " fans of No Doubt are already counting down the days.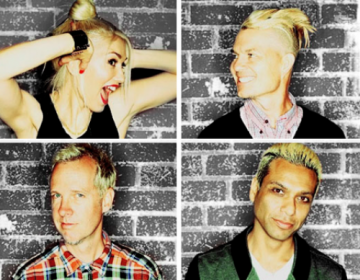 Image from http://www.somekindofawesome.com
As one of the famed 90's kids, I was raised in a decade of ska, grunge, and alternative rock music. I may not have known the names of the artists on the radio, or even the name of the song playing, but the music stayed with me. As I got older, I began to seek out my childhood soundtrack; cue the entrance of the Red Hot Chili Peppers, Bush, Collective Soul, and No Doubt, among others.
No Doubt was formed in 1986, a testament to both their longevity and their continued relevance. By the time Gwen Stefani's voice reached my eardrums, No Doubt was a group of seasoned musicians. The band has had a pretty solid line up throughout the years, only varying to welcome different instruments into the mix. Core members include vocalist Gwen Stefani, guitarist Tom Dumont, bassist Tony Kanal and drummer Adrian Young.
6 years into the band's history, No Doubt released their first full-length album, No Doubt, on Interscope Records. Originally an independent release, the album was re-recorded after signing on to Interscope in 1991. Despite being backed by Interscope, the band had to fund the album's only single, "Trapped in a Box." Unfortunately, the world was not yet ready for the angst No Doubt had to offer, leading to little recognition and dismal sales.
No Doubt independently released their second studio album The Beacon Street Collection in 1995 under the label Beacon Street Records. Produced by the band and recorded in a homemade studio, the raw sound resonated with ska punk audiences. Thanks to an impressive 100,000+ copies sold, Interscope's interest was renewed, leading to a third studio album.
Diamond certified album Tragic Kingdom was also released in 1995, and was the first album to reach mainstream audiences. In a span of three years, seven singles were released, including "Don't Speak" and personal favorite, "Just a Girl." The album rocketed the ska genre into the spotlight, earning No Doubt Grammy nominations for "Best Artist" and "Best Rock Album."
2000's Return of Saturn displayed a reggae, new wave sound. Despite it's number two début on the Billboard 200 chart, the album failed to replicate the success of Tragic Kingdom. Of the four singles released, "Ex-Girlfriend" is one you should know and love.
Released in 2001, Rock Steady was the last album recorded before the band's hiatus in 2004. Fully embracing the reggae sound, Rock Steady was primarily recorded in Jamaica. Four singles and two Grammy's later, the album launched No Doubt onto a whole new platform of success. If you haven't already, go download single "Hella Good."
Fast-forward 8 years, and it is time for the band's sixth studio effort, Push and Shove.  Fresh off an extended hiatus, the "Hollaback Girl" and her crew are picking up right where they left off. The first single from the album, titled "Settle Down," was released on July 16th.
Musically, "Settle Down" is a cross between reggae fusion and new wave. In other words, it's a tune to dance to. Lyrics like "I'm hella positive for real, I'm all good, no I'm fine" give the track a feel good vibe. If this track is any indication of the rest of the album, No Doubt fans are in for a treat.
Push and Shove hits shelves on September 25, 2012.