It's bitterly cold weather at the moment, so I've recently been sleeping in a base layer and my PJs.  Yes, that's right - I've been wearing my Roxy snowboard thermals, two tshirts and then my PJs (including my boyfriends woolie hat) All in the hope to try and keep some sort of circulation going when I'm catching Z's. 

My clothes have been buried under bodywarmers, oversized jumpers and quite frankly I've looked a royal mess. The cold weather is a time my sort of species (Annie Bean's) need to hibernate, as I can't (unfortunately I have to work - dammit!) so my only option is to plan how to boost my mood in the glum exsistance.
I know many of us suffer from SAD (
Seasonal Affective Disorder
) the January blues I like to call them, when the weather is terrible and we're all on a Christmas come down.  As I had mentioned in my previous post, I think it's good to keep positive and my new way is by dressing more colourful.  I'm not saying sundresses and sandals as my goodness we'd freeze, but by dressing appropriately for the weather with the added warmth of color.  You tend to find this time of year we don't always look after ourselves, comfort food comes out, trackies, snuggly big jumpers, blankets and no make up seem to be the way forward.  This only causes more problems the long you continue it, small doses of slobbing out are great but with this you don't tend to eat well or really look after yourself.  
As previously shown on my other post in my exciting new red jeans, you certainly can bring some spice into your everyday outfits.  I never used to wear jeans much and prefered dresses, especially on nights out but in this weather covering your legs up seems a good idea - adding some color to those jeans is the genius part of it. 
I've teamed my jeans with simple items again as they are rather statement on their own.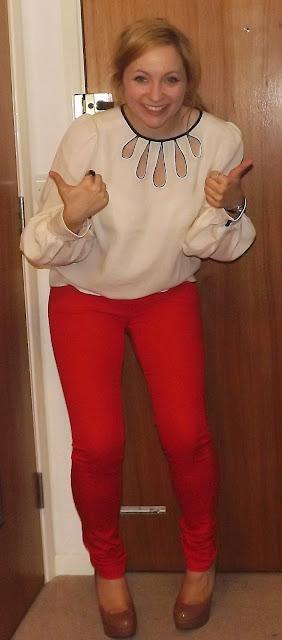 You can even wear boots or flats with these, I don't always where heels so sometimes to keep it casual  so opt for flats or boots.
You will have noticed in the shops plenty of colourful legwear and Next have so many different colours available. ... head over and have a peak here