Daily Constitutionalist David Moore, who provided the wonderful shots of Battersea Power Station a few weeks ago (catch up with that post HERE) has been in touch to draw attention to a protest in Camden Town. (It's very appropriate that David's email should arrive on Rock'n'Roll London Friday.) David writes…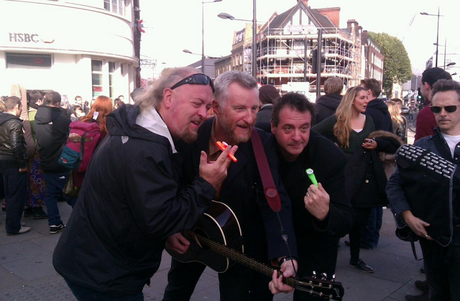 "Just in case you miss this. There was a musicians' demo in Camden yesterday lunchtime, protesting at Camden Council's initiative to potentially kill off free music in Camden by coming down hard on unlicensed buskers, and trying to predefine where, when and what they can play. These three (ABOVE) were there to lend their support, rather than play. The crowd in the background are watching the buskers, rather than the celebs. I was too star-struck not to take a photo though.
Thought it might be of interest for your blog."
Of interest indeed, David, thanks for sharing.
The "these three" in David's pic are (L to R) comedian and musician Bill Bailey, singer, songwriter, poet, West Ham fan, legend and activist Billy Bragg, and comedian and activist Mark Thomas.
If you support the buskers, you can make your voice heard on change.org's Don't Banish The Buskers petition. Click HERE for more. 
A London Walk costs £9 – £7 concession. To join a London Walk, simply meet your guide at the designated tube station at the appointed time. Details of all London Walks can be found at
www.walks.com
.