Don't Ask Julia Roberts About Turning The Big 5-0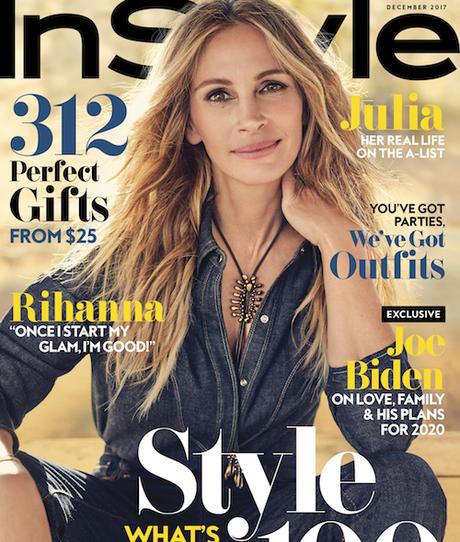 Known terror to the food service industry, Julia Roberts is having a busy year both personally and professionally with a new flick out, a TV show in the pipeline, and a recent wedding anniversary with Danny Moder, but don't you dare try and get her opinion on what it feels like about turning 50`.
People reports Jules got interviewed by friend and Time Inc. Editorial Director Jess Cagle for her InStyle cover story, which is a good thing, because I'd hate to see what would happen if an editorial intern asked her these oh-so-hard-hitting questions! Grab your air sickness bag because Julia is here to remind the world how her life! Is! One! Happy! Exclamation! Point! No, really:
"There's no way to describe it without sounding sappy or ridiculous because everything in my mind ends with an exclamation point. The thing is, [Danny and I] have these three human beings who are just a complete reflection of the affection we have for each other."
She also played a game of kiss (InStyle keeps it PG), marry, kill with George Clooney, Brad Pitt, and Hugh Grant. Julia said she would kiss George, marry Brad, and send Hugh six feet under. Speaking of Brad and George, Julia brought them up when she was asked about turning 50 this year:
"There's nothing different about this birthday than any other one. Really, people? Are we still in that space? Did anyone go over this with George Clooney or Brad [Pitt] before their 50th birthdays?"
I don't get the fuss over 50th birthdays anymore since I always follow the Oprah Winfrey scale of birthdays. Each time the Mama O hits a milestone b-day, she declares it the new whatever. 60 was the new 50, making Julia only 40, and me still waiting to be joined up by my parents egg and…ew, moving on.
Pic: InStyle/Carter Smith
Source: Don't Ask Julia Roberts About Turning The Big 5-0
3 total views, 3 views today