Hi Huneybees,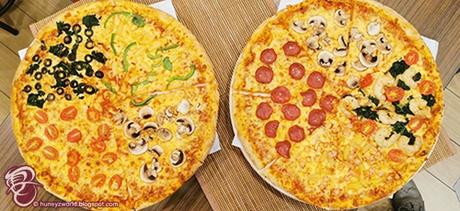 Hawaiian? Chicken? Beef? Seafood?  No Olives? More Pepperoni? Is this what you always have to consider when ordering your pizzas? Hubby and I always take a long time deciding which pizza flavor to go for; getting 1 pizza, means someone has to give in or if we get 2 pizzas, it will be too much to finish. 
Dining should be fuss-free right? Thankfully, Domino's Pizza launched the new Quattro Pizzas and last week, we had a great time enjoying the multi flavors. 2 menu additions - Quattro Fiesta Pizza and Quattro Veggie Pizza let one enjoy 4 times the flavor in one pizza pie. You will always be able to satisfy everyone's taste buds at any pizza party, team lunch, movie or game night!
The Quattro Pizzas are now already available in Domino's stores and via www.dominos.com.sg for a limited time only and you can get them in Large or Extra-Large sizes.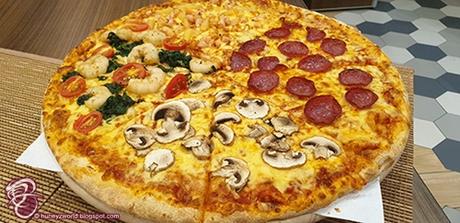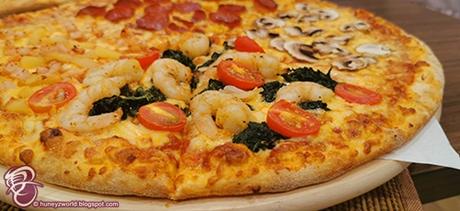 Quattro Fiesta Pizza
Lovingly created with 4 of Domino's hot favourites, meat lovers can find 2 slices of each flavor in a pizza pie - Roasted Chicken with Pineapples, Prawn Sensation, Beef Pepperoni and Simply Cheese with Mushroom. 
There is a nice mix of meat with seafood in this pizza topped with tomatoes, spinach and a hearty helping of cheese, it's my favorite out of the 2.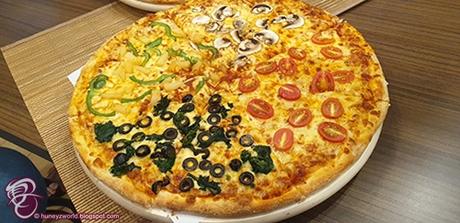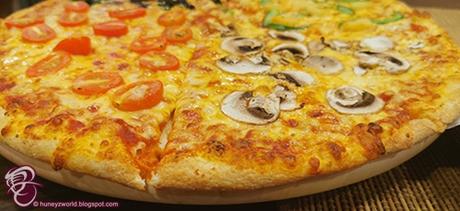 Quattro Veggie Pizza
Created for pizza lovers who don't eat meat, the new Quattro Veggie Pizza offers 4 irresistible veggie combinations topped with 100% mozzarella cheese and Domino's all-time favorite signature sauce. There are succulent olives and spinach, cherry tomatoes, green peppers, pineapple chunks together with mushroom slices on this pizza pie.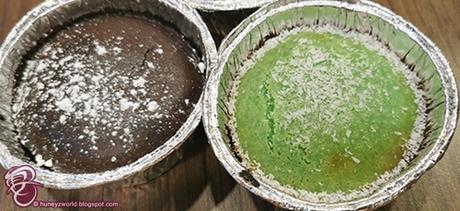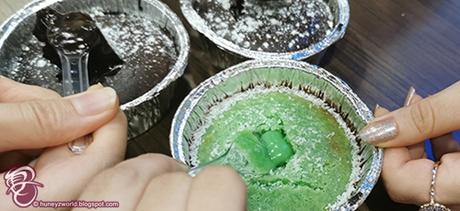 Chocolate and Ondeh-Ondeh Lava Cake
End your pizza meals on a sweet note with their Lava Cakes. Many of you might have already tried the Chocolate version, but my favorite and recommendation is the Ondeh-Ondeh version. With a local Nanyang touch, the newly launched flavor offers a delightful twist to the traditional dessert, blending fresh, aromatic notes of pandan with sweet and salty flavours of the molten Gula Melaka core.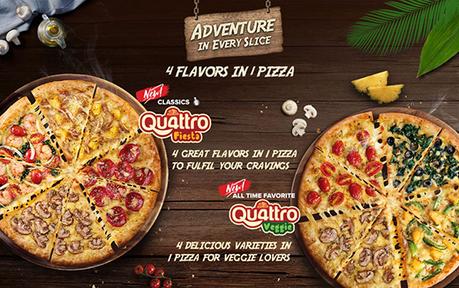 The Quattro Fiesta Pizza is available from $37.90 a la carte and the Quattro Veggie Pizza is available at $32.90 a la carte. Get them both at $33 (Large) or $44 (Extra Large).
As for the Lave Cakes, with every purchase of a 2 for $22/$3/$44 pizza deal, Domino's is offering the best of both worlds of the
Chocolate Lave Cake
and the
Ondeh-Ondeh Lava Cake
at just an additional $10.
For more information on Domino's Pizzas promotion and combo deals or to place your order for the new Quattro Pizzas, visit
www.dominos.com.sg
.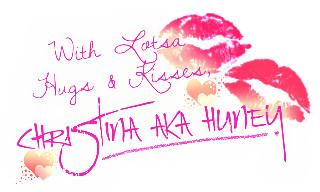 Don't forget to stay tuned to my blog / like my blog's Facebook page / follow me @huney_84 on Twitter & Instagram  for the latest updates!
http://www.huneyzworld.blogspot.com