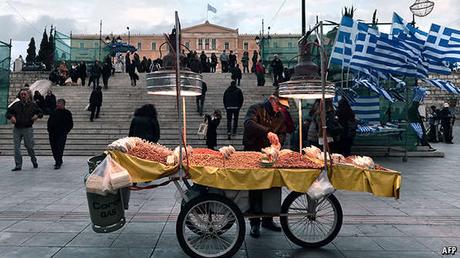 Fears of a sell-off, or a sell-out
ALEXIS TSIPRAS, Greece's new left-wing prime minister, was always going to face a near-impossible task as he tried to balance the demands of the country's creditors with those of his bitterly aggrieved and hugely expectant voters.
A month after his heady election triumph on January 25th, his political skills were being tested to the limit. Finance ministers from the eurogroup had grudgingly accepted as a "valid starting-point" the reform plan submitted by the Greek government in the hope of keeping its monetary lifeline intact.
But Mr Tsipras could hardly hide from his own radical supporters the fact that he had made a series of painful climbdowns to get to that point. First he had abandoned his Syriza party's pre-election pledge to write off a big chunk of Greece's sovereign debt (amounting to 175% of national output at the end of last year) and hence draw a line under five years of harsh austerity imposed by the hated "troika" of bailout monitors from the European Commission, International Monetary Fund and European Central Bank (ECB).
Yanis Varoufakis, the…