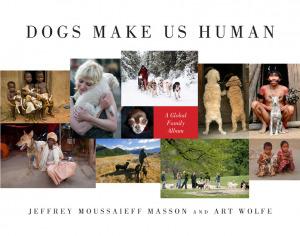 Most of the books that I have worked on have been narrative non-fiction. I'm starting to do more work with fiction now and it is a lot of fun. One genre I never really expected to be representing is photography books. But I have said many times before that my life as an agent is full of surprises.
This week, Bloomsbury USA  published Dogs Make Us Human: A Global Family Album with text by Jeffrey Masson and photographs by Art Wolfe. It is a gorgeous photographic book  filled with pictures of dogs and their human companions in work and play throughout the world. We wanted to avoid the usually cutesy-wutsy doggie pictures. There are enough of those kinds of books  already. So  we used as our inspiration the classic and enduring photographic book, The Family of Man by Edward Steichen. We wanted to do a kind of "family of man and dog". After all, Jeff Masson has been saying for years that the bond between dogs and humans is unique, the only love bond that is truly cross-species. And it appears to be a bond that is universal to the human experience worldwide.
 Art Wolfe is one of the world's great wildlife photographers. He has worked on every continent. He has done numerous spreads  in National Geographic. He has been photographing dogs for years and his work has finally found a home in this book. You see dogs with Asian boat people, dogs with children in African villages, dogs herding sheep in New Zealand. Oh, and my favorite. A stone age Yanomami warrior and his dog, both dressed up in war paint.