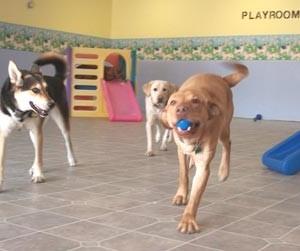 Do you want to put a smile on your lonely dog's face? Arrange for him to spend a day or more weekly at a doggy day care center. This type of dog facilities will give him the chance to strengthen his social skills, perhaps practice his basic obedience commands, and unleash his pent-up energy – all under the watchful supervision of trained dog professionals.
Doggie day care can be an excellent alternative for those of us with lifestyles that make it impossible for us to exercise our dogs on a consistent basis. Although it is not a substitute for structured, quality time with you, it can be a positive experience for your dog. It's essential that you do your homework to make sure you're sending your dog to a reputable facility. After all, the day care business you choose will be responsible for the care of your beloved pet in your absence! – source
In finding the right doggy day care for your pooch, contact your local animal shelter, groomer, or veterinarian for the names of day care centers in your area. To help you select the day care that best meets your dog's needs, follow this initial checklist.
Schedule an appointment to visit the center with your dog on a leash.
Make sure to ask for a complete tour of the facility. Be leery of centers in which employees are reluctant to show you around.
Compare the size of the center with the number and size of the canines. Likewise, compare the ratio of dogs to staff.
Check the cleanliness of the center.
Examine the layout of the place. Are there separate interior areas for play, nap times and lounging?
Check out the security and safety of the center. Ask for the credentials of the director and staff.
Ask if you and your dog are allowed to do a trial run.
Are the rates reasonable? Will the center give you a list of references of clients for you to contact on your own?