Before you know it, Thanksgiving (and Chanukah) will be here, in a few weeks. Plan for your human dinner and you might also consider the following items to feed your special four legged furry family members. As part of the family, they deserve a special turkey dinner, too.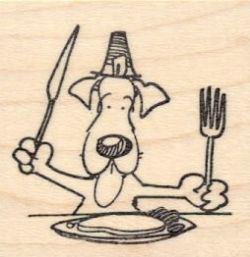 -Thanksgiving Turkey: Yes dogs can certainly eat turkey; however Thanksgiving turkey is typically high in fat.  For this reason, we recommend cooking up a separate piece of turkey especially for your dog.  You can dress up the turkey with some rosemary, sage and chicken stock.  You could also serve them turkey franks or ground turkey burgers raw or cooked.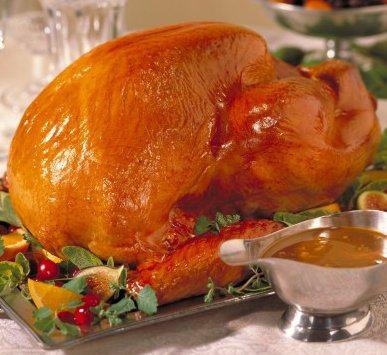 -Green Bean Casserole: A classic dish. But this dish is loaded with not so friendly doggy foods like the fried onion toppings, mushrooms and creamy soup base. That doesn't mean your dog can't enjoy some plain steamed green beans with his turkey. Or green beans and cheese. 
-Pumpkin Pie:Pumpkins are great foods for dogs, but butter, sugar and fat are not. We recommend making pumpkin doggy biscuits instead. There a lot of recipes out there, buthttp://www.food.com/recipe/pumpkin-dog-biscuits-28099is a recipe from Food.com that looks so easy to make that you might start to make it year round.
-Mashed Potatoes: Buttery, creamy mashed potatoes & gravy – yum! Potatoes do offer nutritional benefits, but the butter and cream, and sometimes garlic, should not be consumed by your dog. Better than a mashed potato? A baked potato. Remember to only serve your dog a small portion (Think 1/4th or 1/8th of a potato). This is because potatoes are high in carbohydrates, which is not good for your dog's blood sugar.
-Baked Sweet Potatoes:Sweet potatoes are found in a variety of high quality dog foods and offer a lot of nutritional benefits. Although on Thanksgiving, they are usually covered in a bed of marshmallows, which is definitely not a doggy friendly food. If you skip the marshmallows and the sugar, baked sweet potatoes are a great treat for your dog.http://www.food.com/recipe/sweet-potato-chews-for-dogs-248608is a recipe from Food.com for homemade sweet potato chews. (Hint: There is only one ingredient)
-Foods to Always Avoid:These foods should never be given to your dog – not even in small quantities: grapes, raisins, chocolate, onions, garlic, alcohol, plums, sugary foods, fatty meats and cooked bones of any kind (unless specifically pressurized & made for dogs).
With a little bit of substituting, you can always find a way for your pup to join the party & the feast.
Suggestions from:
Andrea Servadio
Co-Owner, Fitdog Sports Club
Santa Monica, Calif.
In June of 2009, Andrea Servadio co-founded Fitdog Sports Club with business partner Brandy Han.  Their goal was simple: to provide high quality products and unique services that enable dog owners to create a healthy and active lifestyle for their dogs.